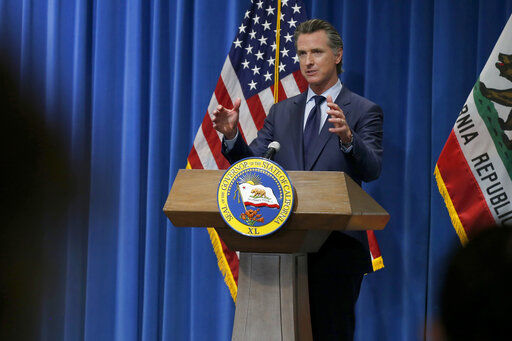 A top-ranking Democratic lawmaker is pushing back against part of Gov. Gavin Newsom's revised budget proposal, arguing it would curtail the Legislature's power over COVID-19 spending decisions.
Sen. Holly Mitchell, D-Los Angeles, raised concerns during a Monday budget hearing about nearly $3 billion that Newsom is proposing to spend on COVID-19 response, including on protective equipment like masks, critical medical supplies and hospital surge preparations.
Lawmakers should be involved in the decisions to spend that money, but the governor's proposal doesn't give them enough of a say, said Mitchell, who chairs the Senate Budget Committee.
Vivek Viswanathan of the governor's Department of Finance told Mitchell that the proposal is written to allow the administration "flexibility" to respond quickly in the event of a surge or second wave of COVID-19 cases, or another emergency.
"We do think that it is important," he said. "This is a once in a century emergency, and nobody knows how it's going to go."
Mitchell responded that the Legislature is also capable of responding quickly and should be included in those spending decisions.
"We fully appreciate the need for the administration to be nimble and be empowered to respond in a timely manner," she said. "But I think it's very important that the administration find a way to balance your ability to respond timely with acknowledging the role the Legislature must play."
In mid-March, lawmakers quickly approved $1.1 billion in emergency funds and gave the Democratic governor wide latitude to spend them on coronavirus response. After passing the bill, lawmakers called a recess and left Sacramento as part of statewide efforts to slow the virus' spread by shutting down workplaces.
Lawmakers have since raised concerns that the governor has not kept them informed about spending decisions, including a $1 billion mask deal with Chinese company BYD. The Newsom administration initially refused Mitchell's requests to view the BYD contract, eventually releasing it publicly after the masks began to arrive in California.
The updated budget proposal Newsom unveiled last week would expand that COVID-19 emergency fund by $2.9 billion dollars.
In its analysis, the nonpartisan Legislative Analyst's Office writes that Newsom's proposal prompts "serious concerns about the Legislature's role in future decisions."
"In many cases, we are very troubled by the degree of authority that the administration is requesting that the Legislature delegate," the analyst's office wrote.
The administration anticipates that most of that spending would be reimbursed by the federal government.
Distributed by Tribune Content Agency, LLC.
Concerned about COVID-19?
Sign up now to get the most recent coronavirus headlines and other important local and national news sent to your email inbox daily.