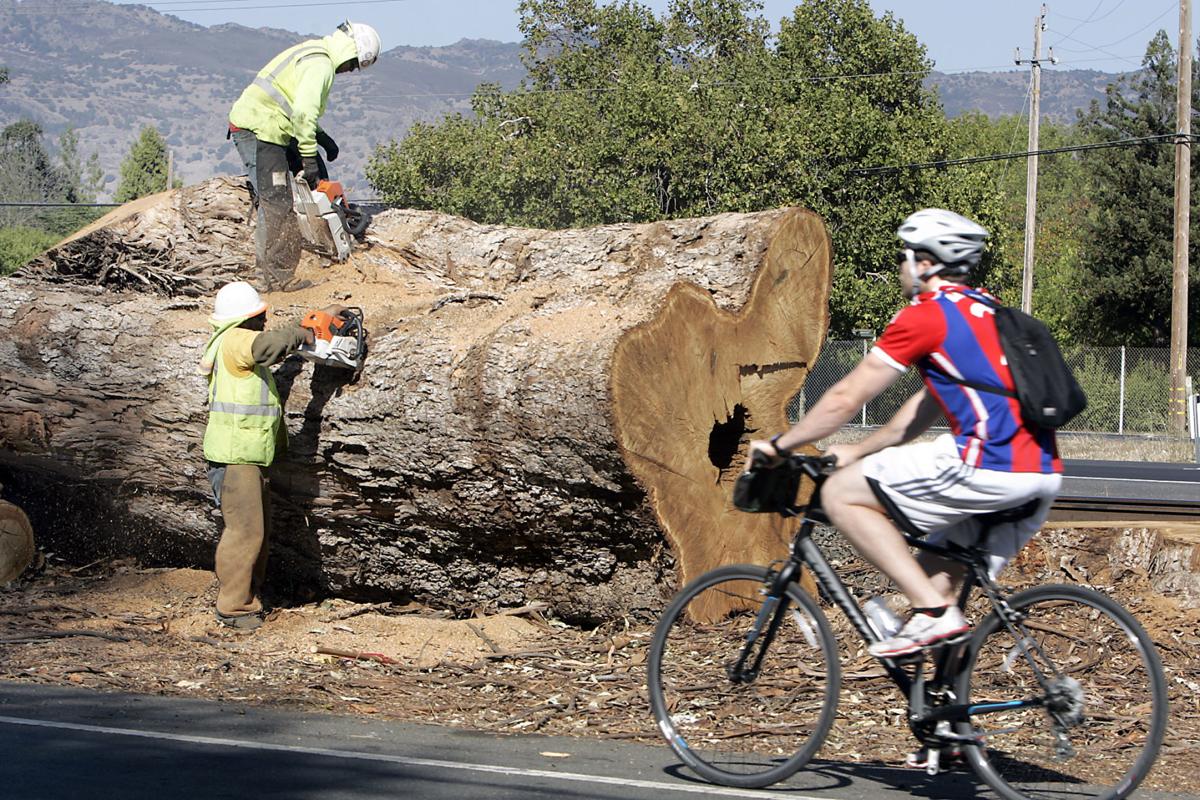 Massive eucalyptus trees, R.I.P.
Workers using a crane removed 14 of the giants along rural Solano Avenue near Carrell Lane over the past few weeks. That provided a show for passersby on Highway 29 traveling between Napa and Yountville.
The trees sat in the narrow right of way for the Vine Trail. A 6-mile segment of Vine Trail is being built along Solano Avenue to provide a safer route for bicyclists and walkers.
When trees several stories tall come down, it dramatically alters the landscape. Ruth Woodcock, who drives by the site regularly, mourned the loss.
"The trees are just so ancient," she said. "It's just so sad to see them go."
A woman on Thursday walked her dog by fallen tree sections as wide as a person is tall. She said she's lived in this rural area of Solano Avenue for 40 years and remembers the eucalyptus always being there.
Though her walks will be less shady from now on, she was still smiling.
"I'm adaptable," she said, declining to give her name.
Not all the eucalyptus in the area are going down. The landmark manna gum in the Highway 29 center divide between Napa and Yountville will remain. It is listed on the Official Registry of California Big Trees as the biggest of its kind at 145 feet tall and 364 inches in girth.
Eucalyptus trees are invaders to Napa County. Early California settlers started planting these Australian natives as wind breaks, according to the book "Trees to Know in Napa Valley."
The book praised the "shaggy, pungent-smelling old giants that have been with us for a century or more." But it also found faults with eucalyptus. It mentioned the mess created by shedding bark that creates a fire hazard and the seedlings that can crowd out slower growing native plants.
The western Napa Valley between Napa and Yountville was historically oak savannah, according to "Napa Valley Historical Ecology Atlas." Explorer John Russell Bartlett in 1852 described this area as being "studded with gigantic oaks."
About 35 valley oaks and two live oaks will be removed along rural Solano Avenue for the Vine Trail. Several of the valley oaks are very large and likely are remnants of the historic oak savannah, the revised project environmental report said.
As called for the by Napa County General Plan, two oaks will be planted for each oak removed, the report said.
The groundbreaking for this Vine Trail segment took place on Aug. 6. Speakers talked about the safety benefits that the trail will bring for those cyclists traveling between Napa and Yountville on Solano Avenue.
"Whether you like bikes or don't like bikes, you want bikes separated from cars," said Chuck McMinn said of the Napa Valley Vine Trail Coalition. "It just makes sense."