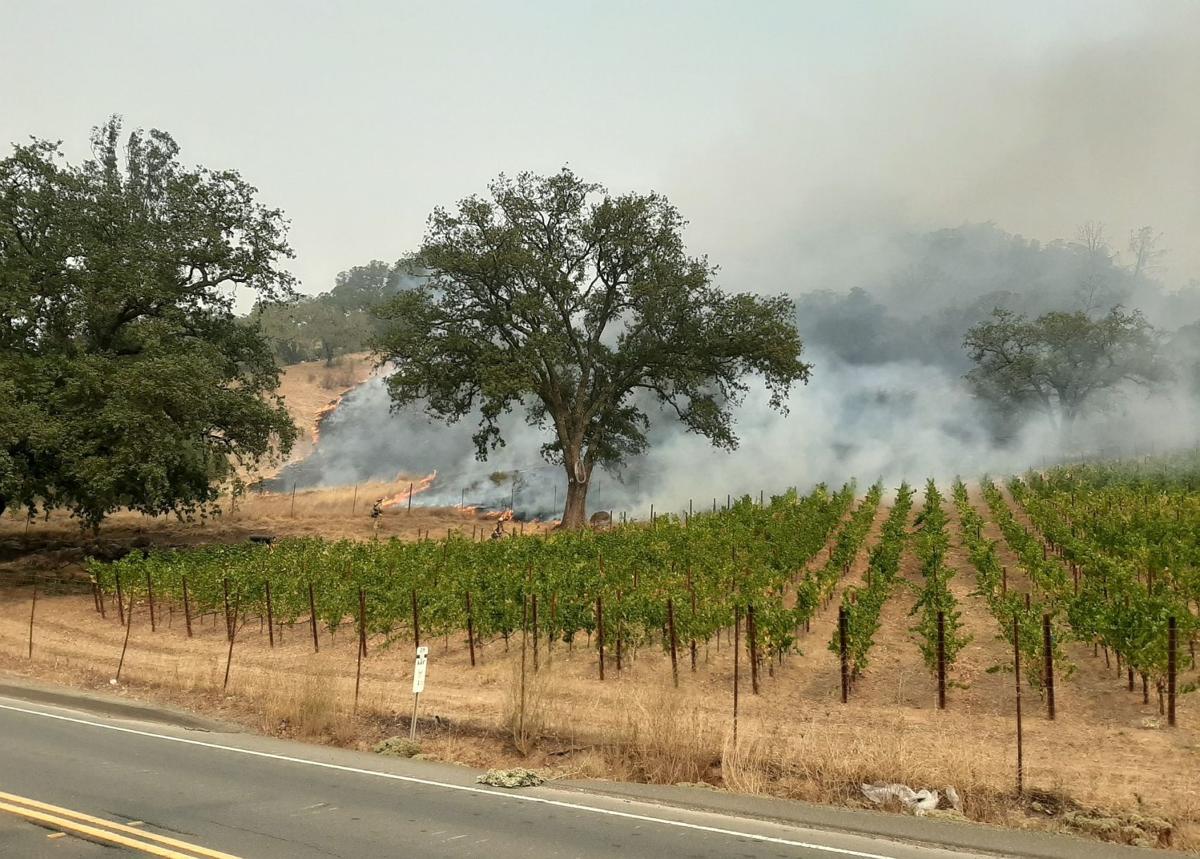 The Glass Fire was no longer expanding at a fast rate Wednesday, but dangerous weather conditions lie ahead, prompting new evacuation warnings Upvalley.
The National Weather Service issued a Red Flag warning for 1 p.m. Thursday through 6 p.m. Friday, with likely wind gusts of 25 to 30 mph threatening to propel Glass Fire expansion.
Last weekend's Red Flag conditions fueled the growth of Sunday's Glass Fire, which has burned 48,440 acres in Napa and Sonoma counties as of Wednesday morning. The fire grew by only a couple of hundred acres Tuesday night, Cal Fire said.
The new Red Flag warning calls for less severe winds of 10 to 20 mph at ground level, but they could propel fire growth into new areas on the valley floor, including the city of St. Helena which was put under an evacuation warning Wednesday.
The new warnings are a matter of "due diligence," said Janet Upton, the county's public information officer. "We're hoping for the best, but preparing for the worst."
Given the bone dry conditions, Napa County will remain vulnerable to "significant fire weather," Upton said. Winds on Thursday will be coming from the northwest for the first time, the National Weather Service said.
The new evacuation warning includes the valley floor between Highway 29 and Silverado Trail from Zinfandel Lane to Larkmead Lane, including St. Helena.
Cal Fire reported that 52 homes have been destroyed in Napa County, and 28 more in Sonoma County. A handful of Napa County wineries have been destroyed, but there has not been a full accounting.
Earlier evacuation orders remain in effect over a broad swath of the Upvalley, including all of Calistoga and the communities of Deer Park and Angwin.
Evacuation orders or warnings have been issued for 7,456 households, affecting 18,641 people in Napa County, Napa County reported at mid-day Wednesday.
Mandatory orders have been applied to 4,823 households with an estimated 12,058 occupants, the county said.
The city of Calistoga reported in an afternoon Nixle message that Cal Fire had brought in "significant additional fire resources" to protect the city, with the Calistoga Fire Department patrolling for potential fire spots.
Nearly 1,000 people have sought shelter services at CrossWalk Community Church, 2590 First St. in Napa, and 188 animals large and small have been sheltered, Upton said.
With less smoke over the Upvalley Wednesday, Cal Fire had hoped to make better use of its helicopters and air tankers to fight the Glass Fire, the agency reported.
Thick smoke limited the use of air resources on Tuesday, when flames were active on the hillsides east of Calistoga and also burning near Bothe Napa Valley State Park and Angwin. The fire was 2% contained as of Wednesday morning.
The Glass Fire broke out near Deer Park before dawn Sunday during a Red Flag warning when high winds, low humidity and hot conditions raised the fire threat.
The temperature is expected to soar over 100 degrees in Napa County on Thursday, and remain nearly that hot on Friday, the Weather Service said.
The force fighting the Glass Fire has grown Wednesday to 2,099 people, with 261 engines, 16 helicopters, 71 bulldozers and 31 water tenders, Cal Fire said.
There are 22,553 structures threatened in the two counties. No deaths or serious injuries have been reported.
Pacific Gas & Electric said 5,200 customers in Napa County were without power on Wednesday, a reduction of several thousand customers since Tuesday. Many of these are in the fire zone or in evacuation areas, said Deanna Contreras, a PG&E spokesperson.
Calistoga lost power at noon Wednesday when Cal Fire asked PG&E to deenergize the transmission main from Middletown, but backup generators were to be activated, the city reported.
The utility has also shut off gas to 1,400 customers in Napa fire areas, Contreras said.
The cause of the Glass Fire remains under investigation.
Watch Now: A journey upvalley during the Glass Fire