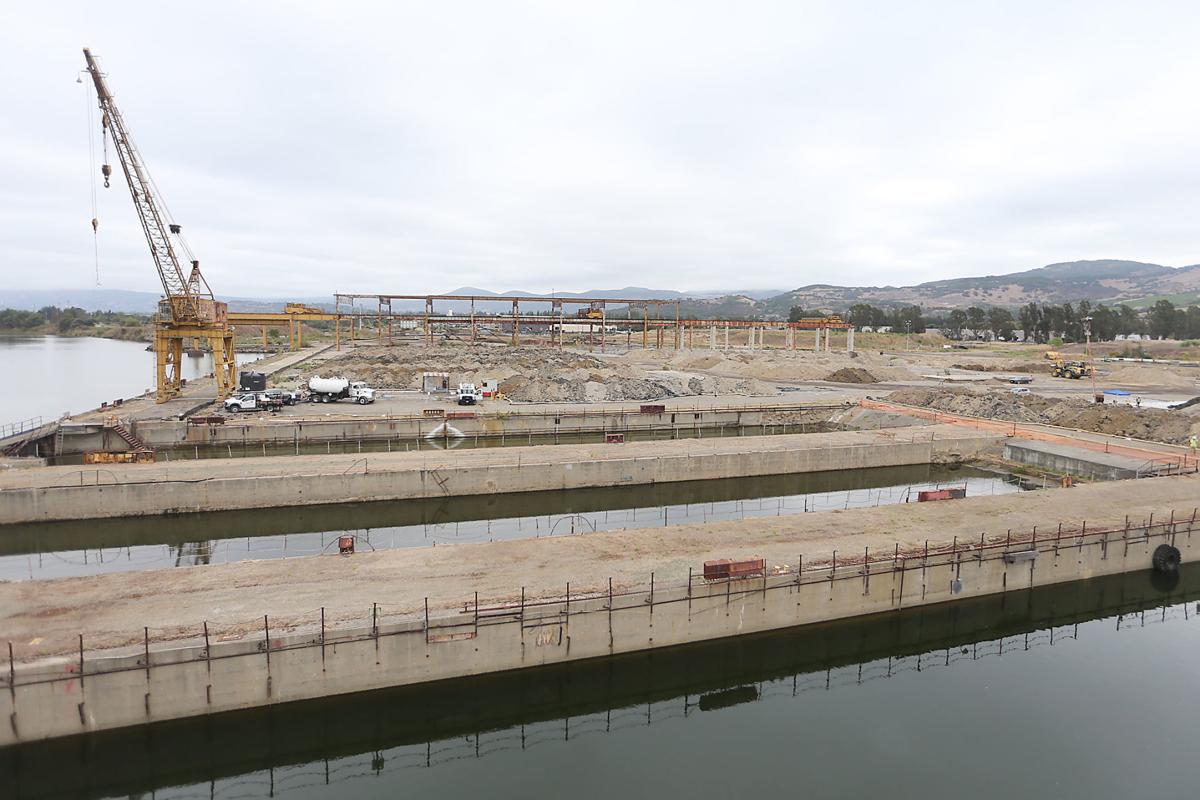 Gov. Gavin Newsom signed a bill to remove a housing development barrier at Napa Pipe, a move that could also shake loose the Costco project.
Napa Pipe is a 154-acre former industrial site along the Napa River targeted for 945 homes, a Costco, senior housing, a hotel, other businesses and parks. Newsom noted that Napa County and the city of Napa said the bill by state Sen. Bill Dodd, D-Napa, will speed up housing.
"Thus, I expect permits will be issued expeditiously by the local jurisdictions, allowing this project to proceed immediately," Newsom wrote in his Saturday signing statement.
"I feel like his shout-out to us about getting moving, getting it done quickly, is exactly the right direction," Napa Mayor Jill Techel said on Monday.
Project partner Catellus Development Corp. couldn't be reached for a comment on Monday. Company officials previously said that ground could be broken for Napa Pipe in 2020 – if a technical housing tie-up involving the county and city could be resolved.
While Newsom was concerned about housing, the development of Costco is also in play. Developers in 2018 said the Costco can't be built first without housing because of the $25 million or more in infrastructure costs.
Difficulties arose over the county receiving credits toward its state-mandated affordable housing quotas. That's because a project that began being planned for the unincorporated county is coming to fruition within city borders.
The city in 2016 annexed 109 acres of Napa Pipe that included the Costco site, but which originally was to have no housing. Since then, this phase I land has been slated to include 350 of the homes under a project reconfiguration.
Napa County faced the prospect of receiving no credit for housing built on city land. That raised the prospect of the county spending its affordable housing development funds elsewhere, a state Senate analysis of Senate Bill 235 said.
Dodd's Senate Bill 235 allows Napa County to still receive housing credits from the state for phase I Napa Pipe housing. It also allows the county to receive credits if the remaining 46 acres is annexed before housing is built there, paving the way for a quick annexation that would allow the developer to deal with only one jurisdiction.
Dodd said Monday that Newsom didn't particularly like Senate Bill 235. He was able to convince Newsom that the bill didn't allow Napa County to subvert state housing laws, but was a technical fix.
"I think the governor made it clear in his signing message he expects the housing to be built," Dodd said.
Newsom also made it clear that he didn't intend to set a precedent.
"While I am signing this bill based on its unique circumstances, I will continue to oppose any attempt to lessen local responsibility for planning and zoning more housing," Newsom wrote.
The Dodd bill passed the Legislature on Sept. 13. Local officials have been waiting ever since to see if Newsom would make it law. He did so one day before he took his final actions of the legislative season.
"We were pretty celebratory when he signed it," Techel said. "He waited to the last minute and obviously he thought about it, because he sent this message to us about it."
The Local Agency Formation Commission of Napa County is to on Nov. 18 consider allowing the city to annex the remaining 46 acres of Napa Pipe. LAFCO must approve annexations.
Napa Pipe is to have 190 affordable houses, condominiums and apartments. Deputy County Executive Officer Molly Rattigan said Napa Pipe's first phase could have 60 to 80 affordable units.
"The infrastructure has to be put in first," Rattigan said on Monday. "That's all the roads, water, sewer, etc.."
MidPen Housing is to build the affordable housing at Napa Pipe, she said. The county will work with MidPen and the city on financing.
Costco is to have a 150,000 square-foot building and have 200 to 225 employees. It takes about 150 days to construct and open a store, Michael Okuma told the City Council last year.