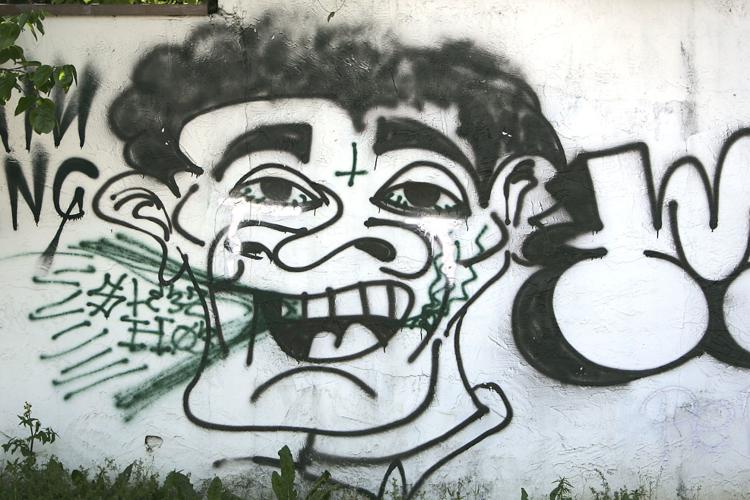 Riders board the Napa Valley Wine Train expecting fine wine, a gourmet meal and million-dollar views.
Graffiti is probably not on their "must-see" list.
Unfortunately, that's what they get – especially between Lincoln Avenue and California Boulevard in Napa.
Block after block, a gauntlet of graffiti decorates fences and walls facing the railroad tracks and the Vine Trail that runs beside them.
"Pain Gang" read one scrawled post. "Pueblo Block" and "Buster x3" read others. On another wall scribbles wrapped around a goofy cartoon face.
Scott Goldie, co-CEO of the Wine Train, is not amused.
"It's a blight," said Goldie. "It's ugly."
Going through areas blighted by such vandalism "makes people not feel as safe," he said.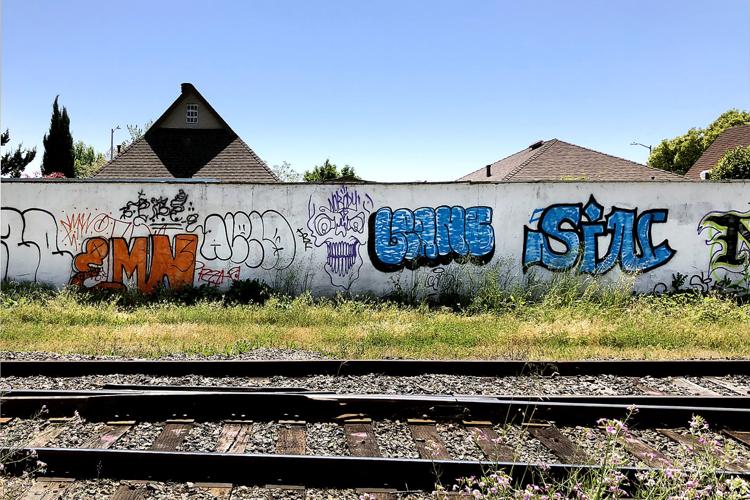 "Graffiti ruins the beauty of the Vine Trail and advertises gangs in our community," wrote one Napan who regularly travels on the Vine Trail to and from work.
"It's not what I expect in the city of Napa," said this resident, whom the Register agreed not to identify by name because the person works in law enforcement.
According to Goldie, the amount of graffiti along that stretch of central Napa "definitely got worse last year."
However, because the surfaces containing the graffiti are private property, access to the blighted urban stretch is restricted, Goldie said.
"We don't like it at all but it's private property," he said. "It's not our responsibility."
Goldie said he encourages residents to clean up graffiti on their back fences or buildings, but the Wine Train doesn't have the resources to do it themselves.
"If it's on our property, we do remove" graffiti, he said. If it's not on Wine Train property, "we encourage people to comply with the (city) ordinance that says you are required to remove that from your building" or home. But ultimately, "that's between them and the city," he said.
Jaina French, community relations spokeswoman for the city of Napa, said the city has a limited role to play. "Our parks department addresses graffiti on the public trail, not on private properties along the trail," she said.
City removal is limited to signs, poles, concrete curbs/walls, trail fences and the asphalt itself. For those areas, the graffiti will be removed when found by either parks staff or through an agreement with The Father's House church, said French.
The Father's House removes larger graffiti on trails and parks and recreation areas citywide once a week. They do this as a public service to the community at no cost to the city, said French.
"When graffiti appears on private property, Public Works will notify the property owner and request that the owner to remove the graffiti or offer to remove the graffiti at a cost," she said.
You have free articles remaining.
Pastor Raymond Beaty of The Father's House said that his volunteers clean up graffiti in Napa as often as two and three times a week.
After making contact with the property owner, Father's House workers will remove graffiti from private buildings that face the Vine Trail, said Beaty. Most are happy to let the team paint it over, he said. Others say they will take care of it themselves.
"Nobody wants to see graffiti," said Beaty. While the taggers do return, "we're just not going to give up," he said. "People get tired of tagging if they know you're going to paint over it.
RAD Napa
The graffiti contrasts sharply with another program that was created to beautify the Vine Trail.
The Wine Train and a nonprofit group called RAD (Rail Arts District) Napa have teamed up to create public art on the backs of buildings facing the tracks and the Vine Trail.
To date, five murals and a decorated chain link fence have been created between Lincoln Avenue and Vallejo Street, including one on the back of the Napa Valley Register building. Another 12 Wine Train signal boxes will be decorated by Northern California artists in the coming weeks.
This beautification at the southern end of the Rail Arts District hasn't stopped vandals from tagging and painting the rest of the central Napa route.
Chuck McMinn, founder and board president of the non-profit Napa Valley Vine Trail Coalition, noted that the area has always been plagued by graffiti.
The Vine Trail Coalition relies on the city's GONE program, which paints over the graffiti from time to time, he said.
The RAD Napa program is another way to combat the vandalism. By creating new murals on surfaces that might be tagged, "We're taking walls away from the graffiti guys," McMinn said.
"Anything we can do to beautify that area is a win for the community," he said.
"If we could raise money more quickly we could get more murals," said McMinn.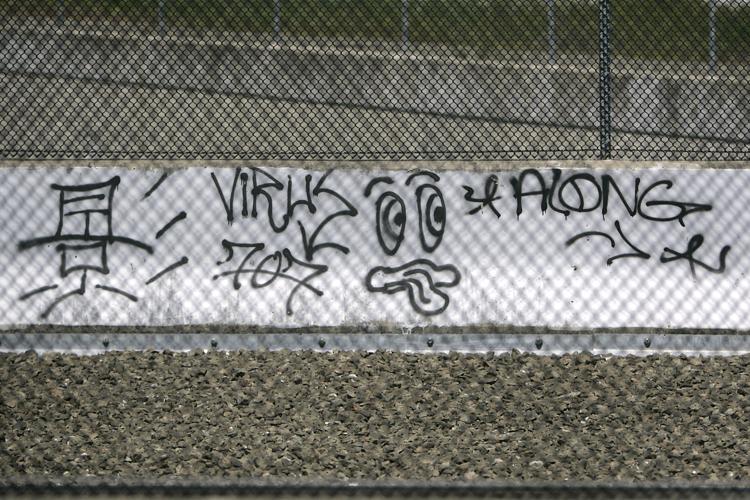 Goldie said each train trip includes a short presentation about the RAD and what it hopes to accomplish. Each check includes the option of donating $1 to the program.
McMinn said the success of the Rail Arts District may in time encourage private property owners to take a more aggressive approach to graffiti removal.
"I'm not sure that a building owner couldn't do something about it if he was so inclined" – such as go and paint over the graffiti themselves, said McMinn. "I'm hoping that as we go along everyone takes more pride in that corridor."
"Graffiti is not as much of an issue here in Napa as it is in many other cities," said French. "However, it is still a public nuisance that needs to be abated," she said.
The city is pursuing additional avenues to tackle graffiti, which includes partnering with local organizations and considering updating ordinances "to reflect how we should respond to graffiti on private property," said French.
"Our economy is so heavily based on tourism," said the Napan who travels on the Vine Trail regularly. "I know tourists like to come to a beautiful, clean and safe place and graffiti doesn't represent any of those characteristics."