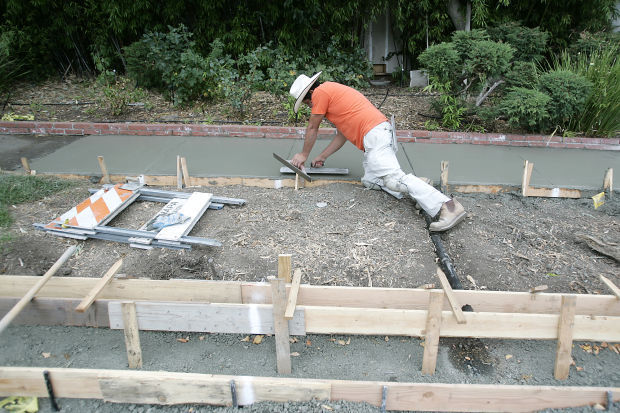 The Napa County Grand Jury released a damning report on the city of Napa's sidewalks last week, describing the repair process as disorganized, subjective, inconsistent and inadequately communicated to residents.
Sidewalks have long been the source of ire for many Napans. A city-wide survey conducted at the end of last year demonstrated significant discontent and the persistent public perception that the Public Works Department wasn't addressing repairs quickly enough.
"We have a number of damaged sidewalks, and that's an understatement. We're focusing more resources and efforts there but they do take quite a bit of time to repair," Public Works Director Julie Lucido told the Register in January.
The report describes many of Napa's residential sidewalks as "uneven, cracked, broken or missing, sometimes for years," attributing much of the damage to the roots from neighborhood street trees. It also says that despite a hefty pot of General Fund money dedicated to sidewalk repairs — $9.2 million from 2016 to 2021 – many locations reported by citizens as needing repair remain unaddressed.
But the Grand Jury asserted the cost of the sidewalk repair program goes well beyond only the money budgeted specifically for it. Between January 2014 and November 2019, the city of Napa resolved 59 claims alleging injury from a trip-and-fall accident on one of its sidewalks, the report says. The city paid out $822,040 to claimants over the nearly six-year period, which excludes any costs associated with paying outside legal counsel or staff time.
Spurred by mounting costs, ongoing community discourse and the observations of members themselves, the Grand Jury investigated the city of Napa's sidewalk repair and maintenance programs with a specific focus on residential neighborhoods, a media release stated.
The investigation included seven interviews with city officials at the Public Works Department, the City Attorney's office and the City's Manager's office; an exhaustive review of government documents related to sidewalk repair and personal observation, according to the report.
Tracking
According to the Grand Jury's findings, the Public Works Department had been using an outdated system to aggregate, manage and record sidewalks in need of repair. The result was a scattered attempt at keeping track of what needed fixing and how fast.
Reasons for repair include sidewalks that are cracked, broken, displaced or include "trip-and-falls," which means the vertical displacement is so high that it could create a "tripping risk." Such information was stored in multiple databases, many of which had "incompatible formats" that "could not be combined" or, in some cases, "couldn't be accessed" by staff, and many of the existing lists were often in complete, the report concludes.
The Public Works Department (PWD) started phasing out this process last October to convert to a new database system. At that time, there were 2,377 entries, 165 of which had been given the most severe ranking. Of the latter, 76 had been added to the list prior to March 2015 and were still awaiting repair.
Staff from public works told Grand Jury investigators the new system will make it easier for staff to "sort and analyze data in more useful ways than in the past."
"We are just now really getting up and running with this system, but it will be used to consolidate all the data ... to make sure we can group locations that are close to schools or receive a lot of pedestrian traffic," Lucido said in a phone interview Monday.
Selection
Which sidewalks receive maintenance depends on which streets the plans to repave, the report concludes. Sidewalks must be repaired before new asphalt can be laid because the two share a border, it says.
"PWD staff repeatedly stressed during interviews that repairing large areas of sidewalks prior to street repaving allows the city to repair more sidewalks. Spot repairs of severely displaced sidewalks come second, when there is room in the budget toward the end of the fiscal year," according to the report.
These year-end undertakings are called "priority" projects, and the budget includes a target of 50 to be completed annually. However, staff was unable to provide a definition of a "priority" project or a list of those completed in recent years.
Additional "one-off" projects can also take place outside of the street re-paving, but there are no written parameters and how much they overlap with "priority" projects is "unclear," according to the report. City staff said 28 "one-off" repairs had been completed between August 1, 2017 and September 21, 2019.
Ultimately, the Grand Jury determined the "informal" selection process stems partly from the lack of written policies and procedures dictating how sidewalk repairs unrelated to street re-pavement should be selected, prioritized and executed, and that the department has little accountability in whether or not it actually carries out such fixes.
Not included in the report was a relatively new stop-gap procedure that the department started about six months ago. According to Lucido, someone who reports a damaged location can receive a temporary repair using an asphalt product to soften the otherwise "abrupt" edge of a displaced sidewalk.
"It's not perfect, but it certainly helps to reduce the risk at any site," Lucido said. "We are able to accomplish some benefit, though not the full repair, in a way that's cost-effective and pretty quick at the neighborhood level."
Communication
The first point-of-contact for most residents who want to check up on their local sidewalks is the Public Works Department's website, readily accessible from the city's homepage. However, the Grand Jury determined it did not provide customers a way to place a service request or check on their status, adequate access to a list of scheduled projects or clear language on the department's target numbers or selection process.
"I do think there's an opportunity to detail the specific work we've done," Lucido said. "We're doing fantastic work in the Public Works Department and being able to better showcase it and tell the community is positive."
The Grand Jury ended its report with eight recommendations, including suggesting the department clearly define how it categorizes projects, standardize and publicize its selection process with strict timing guidelines; develop a five-year-plan for repairing all sidewalks with "vertical displacement of four-inches or more" and update its website so it provides an accurate and user-friendly database of current priority repair locations for the public.
All recommendations should be enacted by Dec. 31, the report states.
Napa City Council is required to respond to the report within 90 days.
Get local news delivered to your inbox!
Subscribe to our Daily Headlines newsletter.