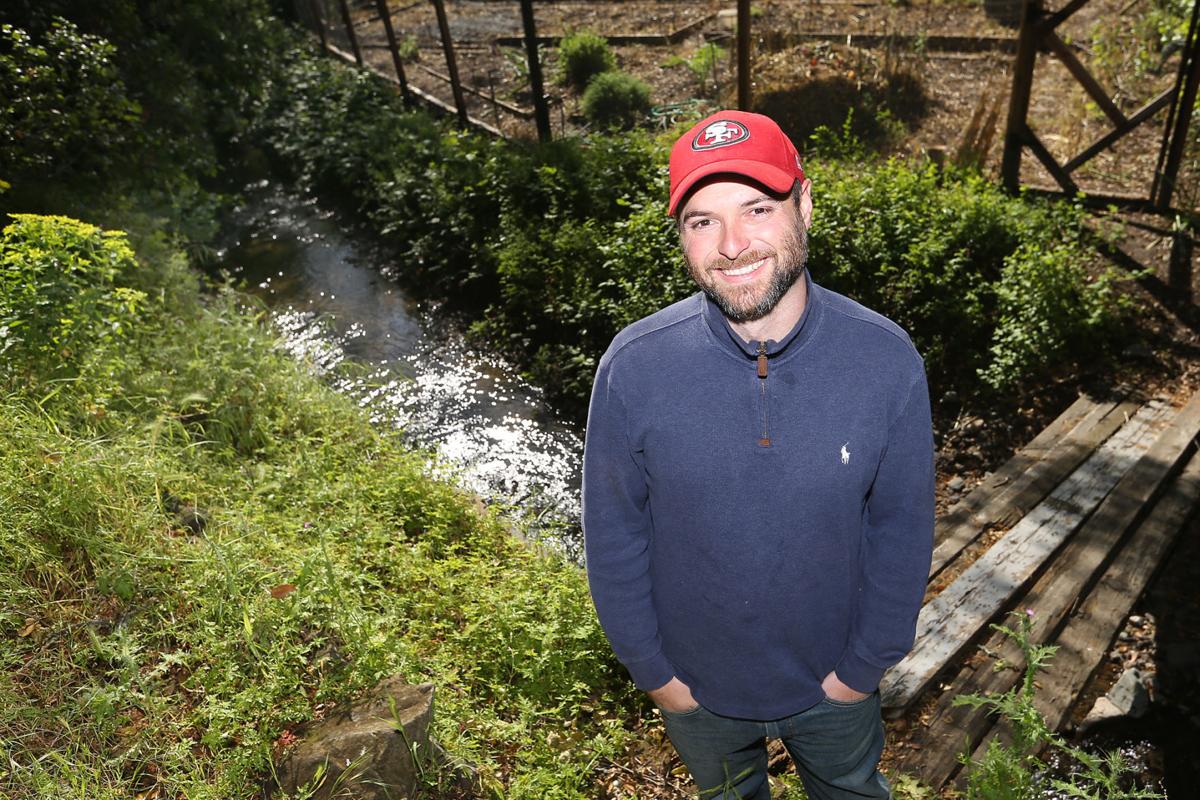 Graeme MacDonald wants to name a small creek running through prime Napa Valley vineyards after an exalted, elusive Greek concept bound up with the area's viticultural history: "To Kalon."
The unnamed creek he played in as a child flows by his house and his family's 15-acre vineyard in the Oakville area, so his quest has a personal dimension. But he has no desire to pitch a self-serving name such as "MacDonald Creek" to the federal name guardians.
"You have to honor the place, not yourself," MacDonald said.
To Kalon is a name to be reckoned with, a name with deep reverberations in human history. It can be translated as "the highest good" or "the highest beauty," though its precise meaning is difficult to grasp.
The Greek philosopher Aristotle linked the word "kalon" to virtuous actions undertaken for the sake of the noble or the beautiful. Yet he offered no precise analysis of the word in his "Nicomachean Ethics," sparking academic debates that continue to this day.
Jesus in the Greek text of the Gospel of John turns water into the very best of wines, into kalon wine, as MacDonald learned from a Carmelite at the monastery in the hills near his house.
Pioneer vintner H. W. Crabb in 1886 bestowed the name "To Kalon" on his winery and vineyards in the Oakville area. He wrote that To Kalon means "the highest good," but added that "I try to make it mean the boss vineyard."
Famed vintner Robert Mondavi, who bought grapes from MacDonald's relatives on a handshake deal, gave the word modern wine-world cachet when he promoted his winery's To Kalon vineyards.
Today, various parts of Crabb's historic To Kalon property are owned by Robert Mondavi, Opus One, Andy Beckstoffer, UC Davis and two small families, including MacDonald's, according to a federal report.
MacDonald's ancestors came to the Oakville area in 1954, when his great-grandparents decided to buy a house there after leaving Lake County. The woman selling the house said they also had to buy surrounding land, which included a cherry orchard. They were reluctant.
"To be honest, in those days, it wasn't a good investment," MacDonald said.
Today, MacDonald and his brother Alex farm 15 acres planted in grapes. They grew up in Marin County, but were drawn by the farming life and family land in Napa Valley.
MacDonald believes the small creek, only four miles long and carrying water only during the rainy season, can bear such a weighty name as To Kalon. In fact, he sees the creek as being part of the To Kalon viticulture legend.
He learned about the area's geological history from David Howell, a geologist who co-wrote the book "The Winemaker's Dance: Exploring Terroir in the Napa Valley."
The unnamed creek runs into Napa Valley from the Mayacamas Mountains. During huge historic storms, it and other creeks carried sediment—or alluvium—out of the mountains and spilled it onto the valley floor in sprawling deposits called alluvial fans.
Howell said an alluvial fan is quite advantageous for grape growing because it provides very good drainage. And indeed, the alluvial fans along the western Napa Valley are home to some of the world's most famous vineyards of cabernet sauvignon and other varieties.
Howell supports MacDonald's efforts to name To Kalon Creek and said having names on creeks helps scientists.
"Yes, because we need to communicate one to another," Howell said. "lt's so hard to say, 'You know, that creek if you go so-and-so far.'"
For MacDonald, naming the creek To Kalon brings together the area's human history and the geological history. Plus, there's that benefit to scientists such as Howell studying the Napa Valley of being able to identify the creek more easily.
"It's the perfect marriage between telling a story and being useful," MacDonald said.
MacDonald lives in a snug home with his wife and young daughter and does such chores as drive the tractor in the vineyard – "this is by no means your dot-com family," he said. Naming the creek meant figuring out how to do so himself, given he doesn't have a vast staff to do the leg work.
"The first thing I did was Google, 'How do you name a creek?'" he said.
He learned the naming gateway is the United States Board on Geographic Names. The Board sorts through proposals for unnamed natural features, making certain they aren't derogatory and meet other standards.
MacDonald, a graduate of the University of California, Davis in viticulture and enology, approached the naming assignment like he was writing a thesis. He gathered historic information, secured letters of support from local property owners, Howell and such civic leaders as state Sen. Bill Dodd, D-Napa and Rep. Mike Thompson, D-St. Helena.
"The To Kalon vineyard has played a pivotal role in the development of Napa Valley as a world renowned grape-growing region," Dodd wrote to the federal naming board.
The Napa County Board of Supervisors on April 18 endorsed naming the creek To Kalon. Supervisor Diane Dillon later said that such a move is entirely appropriate, given the amount of research MacDonald has done.
"His historical research is absolutely phenomenal," said Dillon, a history fan herself.
Robert Mondavi Winery supports MacDonald's efforts in a letter to the U.S. Board on Geographic Names.
"Naming the creek for its home, To Kalon Vineyard, would allow wine growers, winemakers, geologists, hydrologists, historians, educators and others in the community to better describe the creek," winery General Manager Glenn Workman wrote.
MacDonald has done what he can locally. Now the fate of his hoped-for To Kalon Creek lies in a Washington, D.C. meeting room.
President Benjamin Harrison in 1890 signed legislation creating the United States Board on Geographic Names, the agency website said. The idea was to avoid having name chaos and have map makers, surveyors and scientists all using the same names.
The Board's Domestic Names Committee meets monthly and includes representatives from such agencies as the Department of Homeland Security, Library of Congress, Department of Commerce and Department of Agriculture.
A sense of how the naming committee works can be gleaned from its 790th meeting that took place on Feb. 9. Members considered 16 proposed names and voted to approve nine of them.
The committee approved the name Stillwater Run for a 1.9-mile stream in Cumru Township, Pennsylvania. The township submitted the name that had triumphed in a local naming contest.
But the committee turned down the name Katzler Peak for an 8,736-foot-tall summit in Rio Grande National Forest, Colorado. The proponent said she wanted to commemorate her ancestors. The committee found no evidence any Katzler other than the proponent ever lived in Colorado.
Now all MacDonald can do is wait for the day To Kalon Creek goes before the naming committee, perhaps this summer.
Napa County has some relatively well-known names – at least locally—that appear on the United States Geological Survey's National Map. Among them are Atlas Peak, Mount Veeder, Napa Creek, Mount St. Helena, Yountville Hills and Richey Creek in Bothe-Napa Valley State Park.
Other names are obscure. Jenkins Rock, Ephlin Hill, Rattlesnake Ridge, Bismark Knob, The Beehive, Mysterious Creek, Zim Zim Creek, Candlestick Ridge and Wind Flat are all part of the county.
The map also shows many a small stream, ridge and other geographical features that are nameless. Howell said that, south of the creek that MacDonald hopes to name, there are six other creeks without official names.
"There are a lot of creeks coming out of the Mayacamas that aren't named," Howell said.
But mounting a naming effort takes time, with MacDonald estimating he has put in more than 40 hours. Being successful takes the right name that has local support. And it doesn't hurt if the proponent has come up with a proposal that stirs the imagination and invokes an area's past and present.
MacDonald hopes that he has just that type of name in To Kalon Creek.
Get local news delivered to your inbox!
Subscribe to our Daily Headlines newsletter.