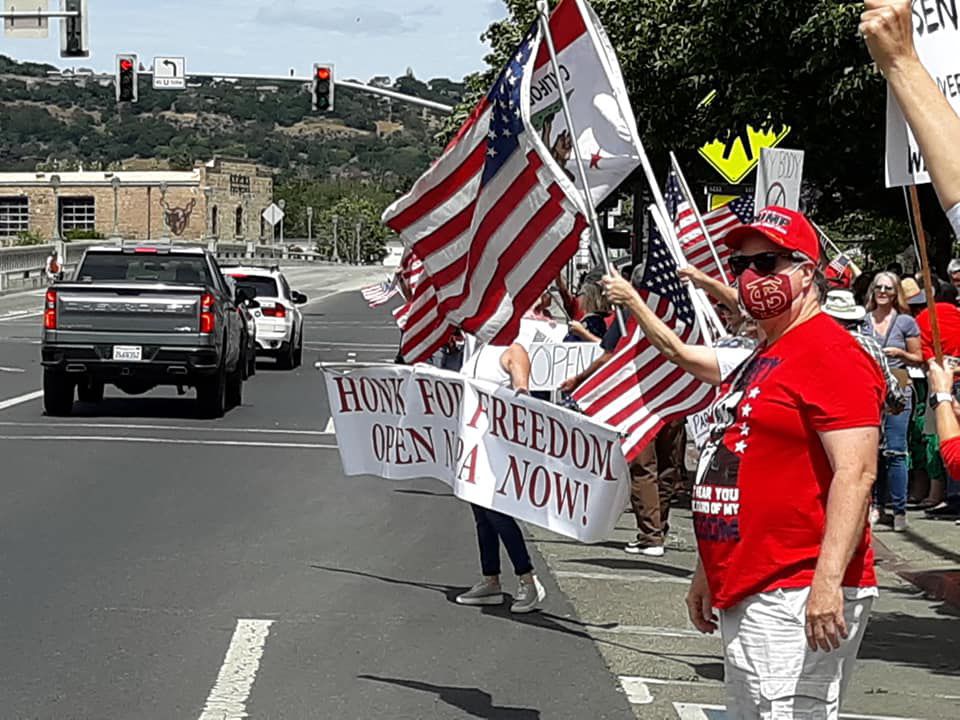 Organizers of the Reopen Napa County rally opposing the continued restrictions on local businesses during the coronavirus emergency canceled a follow-up rally that was to have taken place Saturday afternoon.
The demonstration had been scheduled for 2 p.m. on Third Street in downtown Napa, as the sequel to a rally at the same site May 16. But Francine Knittel, an organizer of Reopen Napa County, announced Saturday morning the event would be suspended.
Protesters have used the rally and a companion Facebook page to urge the county to fully lift the shelter-at-home order it imposed more than two months ago, arguing that the resulting job losses have become a greater threat than COVID-19.
"Due to unforeseen circumstances over the past week and especially the past 2 nights, Napa Freedom Rally believes it is in the best interest of the community to postpone the event this afternoon until further notice," the group said in a statement shared by Knittel.
The statement did not directly mention the wave of often violent protests that have broken out in major U.S. cities since Memorial Day, when George Floyd died during an arrest by Minneapolis Police in which a widely shared video showed him struggling to breathe as an officer placed his knee on Floyd's neck. The demonstrations have escalated since Thursday, with widespread burning and looting in Minneapolis and St. Paul leading Minnesota to activate the National Guard to attempt to curb rioting.
In a brief interview, Knittel said members of Reopen Napa County will await further decisions by the Napa County Board of Supervisors about modifying the local stay-home order before planning further demonstrations.
When first put in place March 20, the shelter-at-home directive – like a statewide order declared by Gov. Gavin Newsom – required all businesses deemed non-essential to close, leaving open only businesses devoted to food, medicine and other necessities.
Napa County has entered the second of four reopening stages designated by California, allowing some previously shuttered businesses to reopen with safety measures such as fewer tables, reduced seating and increased distancing between visitors. However, a number of businesses remain unable to legally open – including wine tasting rooms and bars.
On Thursday, Caymus Vineyards of St. Helena filed a federal lawsuit in San Francisco against the California governor and public health officer, alleging the delay in allowing wineries to hold tastings violates its constitutional rights.
Concerned about COVID-19?
Sign up now to get the most recent coronavirus headlines and other important local and national news sent to your email inbox daily.