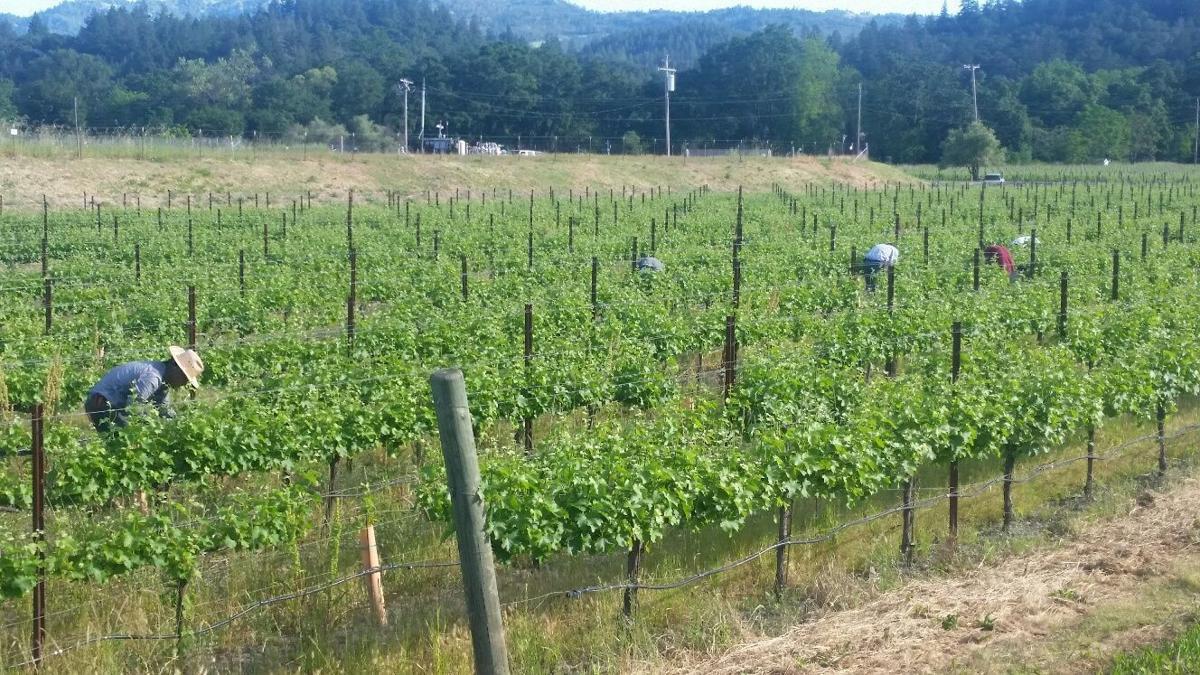 California's farmers have raised wages, adjusted their practices, turned to machine harvesting or attempted to work with outside labor contractors – all in the pursuit of finding reliable labor. They've also turned to the H-2A program, which in Napa County is supplying vineyard workers from Mexico.
H-2A, named for the visas provided to eligible applicants, caters to American agriculture's need for seasonal workers. The program was established as it exists today in 1986, though the United States has hosted guest worker programs since the 1940s (beginning with the controversial, exploitative bracero program).
The program's parameters have only grown stricter through the years, in part to protect workers from exploitation, according to Kathy Mahoney. Mahoney, who along with her husband owns Mahoney Vineyards in Napa Valley's Carneros region, began employing H-2A workers in 2002 – making her something like the third person in California to utilize the program, she said.
"Some years I couldn't get my paperwork through, because the process got harder and harder," Mohoney said. "For the last four years, I've decided it's getting beyond me, so I've hired a lawyer to help." The program's requirements take the physical form of an inch-thick packet of paperwork, which Mahoney keeps handy. She's responsible for paying for workers' travel, housing, transportation and "bunk house" insurance, which essentially covers workers 24 hours a day for their entire working tenure.
To participate, farms and related businesses, like crop management companies, must prove an inability to hire adequate labor domestically. Acceptance into the program is only the beginning of a long, highly regulated process to import sufficient numbers of workers.
That hasn't deterred farmers in California, the state with the fifth largest H-2A utilization rate. The seasonal H2-A worker population in California grew more than 15 percent between 2016 and 2018 alone, according to the Department of Labor. It's perhaps unsurprising, given the state-wide housing crisis and historically low unemployment rates, which have only stoked acute labor shortages.
Critics of the program say it's still potentially exploitative of workers, who often come from vulnerable populations and are themselves vulnerable to abuse.
Workers are paid a state-dictated wage – in 2019 that was $13.92 an hour. In 2020, it'll rise to $14.80. No taxes are deducted from the hourly rate, making it the equivalent of between $17-18 an hour for an American worker in California, Mahoney said — significantly higher than the average for a farmworker in California.
It's a substantial expense for business owners – potentially prohibitive, if not for the necessity of the labor.
Michael Wolf, owner of Michael Wolf Vineyard Services, works with wine grape growers and wineries in Napa Valley. In the time leading up to harvest, a four-month stretch through the spring and summer Wolf calls "crunch time", his company hires anywhere from 40 to 50 seasonal employees.
In 2017, trying to fill those positions, the company went through 150 workers. It was a "revolving door" for labor, Wolf said.
"It was people just leaving, or people not being willing to work: a combination of people quitting and getting fired. We were very, very frustrated," Wolf said. 2018, too, proved itself a challenging year.
A friend, an employee at a larger vineyard management company, recommended H-2A, telling Wolf how impressed he'd been by the workers. Labor, "the gorilla in the room," is a constant topic of conversation within Napa's wine industry, according to Wolf.
"It's – 'what are you going to do? How are you dealing with this?'" he said.
In 2019, balking at the idea of another turbulent season, Wolf filled his seasonal slots with 28 H-2A workers. He worked with Coastal Farm Labor Services, an Oxnard-based contractor who arranged the details: visas, transportation, housing.
He went into this trial year of the program, Wolf said, "with a lot of questions, and a lot of hope."
"(H2-A workers) remind me of the farm workers I worked with 30 or 40 years ago. They had no desire to live here, but saw it as a way to make 10 times more the money they could make in Mexico," Wolf said. He saw how motivated the men were. "All of those things made me feel like it was worth a try."
One office administrator for a vineyard management company in Napa, who requested anonymity because of what they described as the "politicization" of the program, said it took years for the company to seriously consider applying for H-2A workers. But a few "tough years with the labor pool" sent them over the edge.
"Here in the valley more than five years ago, we only knew of a couple people participating," she said. "That's changing a lot. And with recent events, like the fires, it's becoming such a critical thing here." The company brings "less than 30" workers to Napa to work with their 50 or so clients, the office administrator said. They plan to use H-2A again in 2020.
Wolf's harvest season passed with no turnover. He worked with the same 28 men – all from Mexico, mostly married with families. Many, if not all, expressed a desire to return, which Wolf says was "kind of a big deal" for his company, considering the investment it had made in the men by training them. Were they to return this following year, Wolf said, that would put him "way ahead".
"Hopefully we're building something here that will last for a while, because I truly am not very hopeful about the domestic worker situation getting any better," he added.
It would also a establish a path to legal citizenship through continued agricultural work and eliminates "touch back" provisions, which currently mandate that workers return to their home countries for portions of the year before returning.
In November, the Napa County Farm Bureau voted unanimously to endorse the act, H.R. 5038. CEO Ryan Klobas said the bureau had long sought meaningful immigration reform, calling H-2A workers "an important part of the labor force in Napa County".
"It's an agricultural county – we rely on an agricultural labor force," he said. "This has been on our radar for a long time."
Mahoney believes the reform won't pass the Senate, citing a long history of attempted reform for as long as she's been a user of H-2A. She, too, believes it's become political, and thinks it's misunderstood.
Wolf, for his part, said he doesn't see the program as political – it's been a straightforward positive for his company, and he plans to use it again in 2020. He knows how difficult it would be to reliably fill the seasonal positions without H-2A.
"It just wouldn't have happened," he said. "Those workers just don't exist domestically."