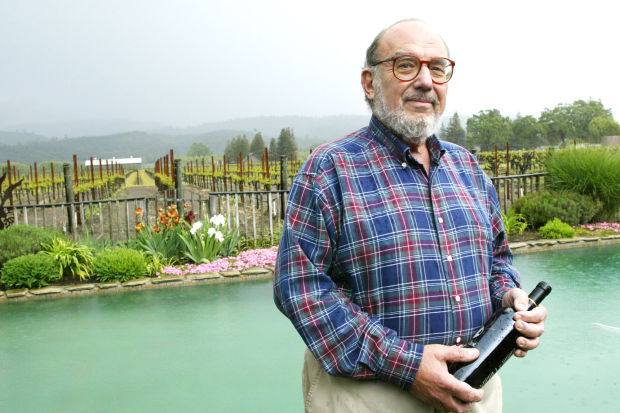 Harvey Posert Jr., the influential dean of wine public relations, succumbed to cancer early Friday at the age of 84.
The St. Helena resident spent nearly five decades in wine PR, working with several of the most successful programs in the industry.
From 1965 to 1980, Posert supervised the Wine Insitute's award-winning program to educate Americans about California wine. In 1980, he took over the public relations program for Robert Mondavi Winery. The world-renowned vintner often credited Posert's efforts — after wine quality — as one of the major reasons for his company's success.
In 1997, Posert left Mondavi to start a public relations consultancy, keeping the Mondavi operation as a client and doing retainer and project programs for a number of wineries, including Fred Franzia's Bronco Wine Company.
Prior to his move to California, Posert had been a newspaperman and a PR agency executive in New York and Chicago, working on such programs as Sara Lee, 3M, the Chocolate Manufacturers Association and other consumer products.
In the introduction to a book on wine PR he co-write with Paul Franson of Napa, Posert wrote:
"It appears that I was born to do this work, although I never drank wine until college — English majors drank Taylor Dry Sherry — and I never heard of PR until I worked for the PR Director of the American Bar Association while at the University of Chicago Law School.
"Thanks to a sports editor uncle, I began writing sports for the Memphis Commercial Appeal at age 14, and thanks to him and another newspapering uncle, I worked on the paper for 10 summers during school, and after Army counter-intelligence. I filled in for beat reporters during their summer vacations, so I worked on the food, business, agriculture, travel and feature desks at some time."
He went on to study at Yale University, graduating with his B.A. in English in 1951 and then continued his postgraduate work at both Southern Law University and University of Chicago Law School. He served in the U.S. Army Counter-Intelligence Corps in Germany from 1951 to 1954.
Posert worked for the Daniel Edeman PR agency in both Chicago and New York before coming to California and the Wine Institute.
Writing about his days at the Mondavi winery, Posert noted that "in l986 Bob launched his Mission program with the avowed purpose of defending wine against its anti-alcohol opponents. Among other aspects, we hosted a series of conferences featuring health researchers, sociologists, anthropologists and other scientists and artists who examined the basic soundness of wine in positive lifestyles for most people.
"One of our early speakers was Dr. Curtis Ellison of Boston University, who was thus brought into the wine community, enjoyed it, and through a chain of circumstances became the protagonist for the famous '60 Minutes' pro-wine program that changed the role of wine in America."
"He was more than a co-worker, he was our partner, a wonderful friend whom we admired greatly," noted Margrit Mondavi, widow of Robert Mondavi. "He took my shingle when I married Bob. Bob didn't want me to continue (as PR director) ... Harvey knew the trade, he knew the press — he was much more qualified. And he was a ladies' man ... he guided a number of PR ladies. He was intelligent and funny ... he loved to tell jokes. But first, he was my friend."
"Harvey was the smartest man I ever knew," said Ed Schwartz, a close industry colleague. "He was always helpful in my career, and I know he was helpful to many others as well. It is also safe to say that he had the best ideas not only for Mondavi but for the wine industry. I will miss his wit, our collaborations and his fine judgment and our great and long friendship."
"He was a great guy ... he made everything better," Tim Mondavi recalled. "Dad got to know him at Wine Institute ... they became the dynamic duo. He did an amazing job (at the Mondavi wine company). He worked for us early on at Continuum. I respected him greatly."
"At Bronco Wine Company we were fortunate to work with Harvey for more than 30 years," declared company CEO Fred Franzia. "As a former journalist he was skilled at discovering and telling stories that truly changed the world of wine. He will be missed by the wine industry and especially here at Bronco. We will all remember what a rewarding experience it was working with Harvey."
"He was as quick to find the humor in something as to deconstruct it," stated Napa Valley publicist and long-time friend Julie Ann Kodmur. "What I always admired was the enormous depth and breadth of his life experience — from old-time Memphis to Yale to New York to military service to Chicago to Northern California — and how his nimble brain loved a challenge, no matter how big or small. Whether it was making his way through an enormous stack of newspapers and magazines every day or writing satirical limericks, Harvey was also a master of the written word."
Posert is survived by his first wife, Myra (Gainsboro) Posert of Laguna Woods, California, with whom he had three sons: Harvey Peres Posert III of Berkeley, Robert Lee Posert of Newport Coast, and Peter David Posert of Petaluma. Posert is also survived by three grandsons and two granddaughters. His second marriage to former wife Carolyn (Bloom) Posert lasted 10 years.
Donations in his memory can be made to the American Civil Liberties Union. A memorial celebration of his life will be held later.