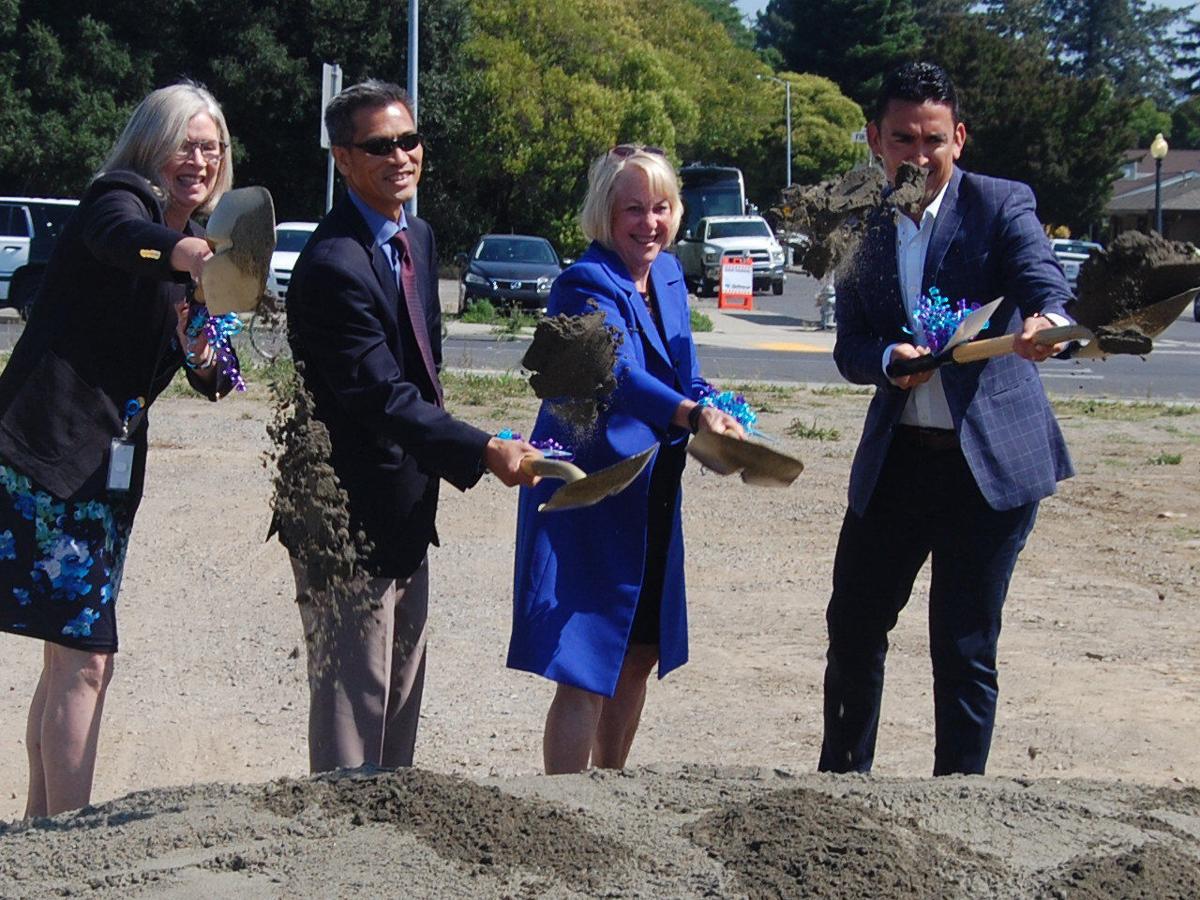 Construction of three planned roundabouts along a heavily traveled couple of blocks west of downtown Napa should begin in earnest next week, launching months of roadwork-related traffic shifts.
Transportation officials during a Monday ceremony broke ground on what will be roundabouts at First Street/Highway 29, First Street/California Boulevard and California Boulevard/Second Street.
Will the project when finished in 2020 be viewed by the public as a grace that solves traffic congestion or gauntlet to be feared? Officials argued for the former.
"I think for many people it started out as a crazy idea," Napa Mayor Jill Techel told the audience. "I think now we're looking at it as a cool project."
Napa Valley Transportation Authority Executive Director Kate Miller also noted that three consecutive roundabouts on major roads will be a different look for Napa. The United States is not a roundabout nation, she said.
"I am here to tell you today they do work," Miller said.
But before the roundabouts come the workarounds. Since these are major roads, the plan is to keep traffic moving through the construction zone as intersections are transformed.
Construction will initially focus on the roundabout targeted for the northbound Highway 29 entrance and exit at First Street. Drivers next week might see flagging and traffic shifts while workers do such things as remove a median, transportation officials said.
Then drivers for a year or so will see traffic lane configuration shifts, concrete K-rails and the occasional delay as big equipment moves around. They'll be driving emerging roundabouts before the entire project is finished.
Drivers need to be patient, alert and aware of traffic conditions, temporary closures, dust and equipment, said Doanh Nguyen, Caltrans acting chief deputy district director.
The roundabout project also calls for First Street and Second Street between California Boulevard and Jefferson Street to switch their one-way directions. This should take place about halfway to two-thirds into the project, transportation officials said.
Construction crews are to complete the $11.4 million project between late spring and fall of 2020, depending on weather. O.C. Jones & Sons is the contractor.
These won't be Napa County's first roundabouts. But the scale of this project is greater than the roundabout at Napa Valley College or those in the new community being built west of Soscol Avenue near auto row.
A computer simulation on the city's website at https://bit.ly/2EkMlOV  shows how the three roundabouts are supposed to function when finished. Cars and trucks in the simulation flow through them in movements as harmonious as a symphony.
The question is whether the harmony of the computer simulation is an accurate portrayal of what local drivers a year from now will experience in real life.
"Yes it is," city of Napa Deputy Public Works Director Eric Whan said with a smile.
With the project's completion, Napa will have a new gateway to its downtown. Nguyen said the three roundabouts will come with lots of landscaping.
The three roundabouts are being built as a partnership among Caltrans, the city of Napa and Napa Valley Transportation Authority.
"Good things come in three," Nguyen said.
This is not the only roundabout that Caltrans is beginning work on in the region. A roundabout is being constructed this year at the intersection of highways 12 and 113 in Solano County, between Fairfield-Suisun and Rio Vista.
Then there are roundabouts in the planning stages, though not ready for construction. Possible projects in and near the city of Napa are at Silverado Trail/Third Street and at Highway 221/Soscol Ferry Road to regulate traffic entering and leaving Highway 29.
Get local news delivered to your inbox!
Subscribe to our Daily Headlines newsletter.