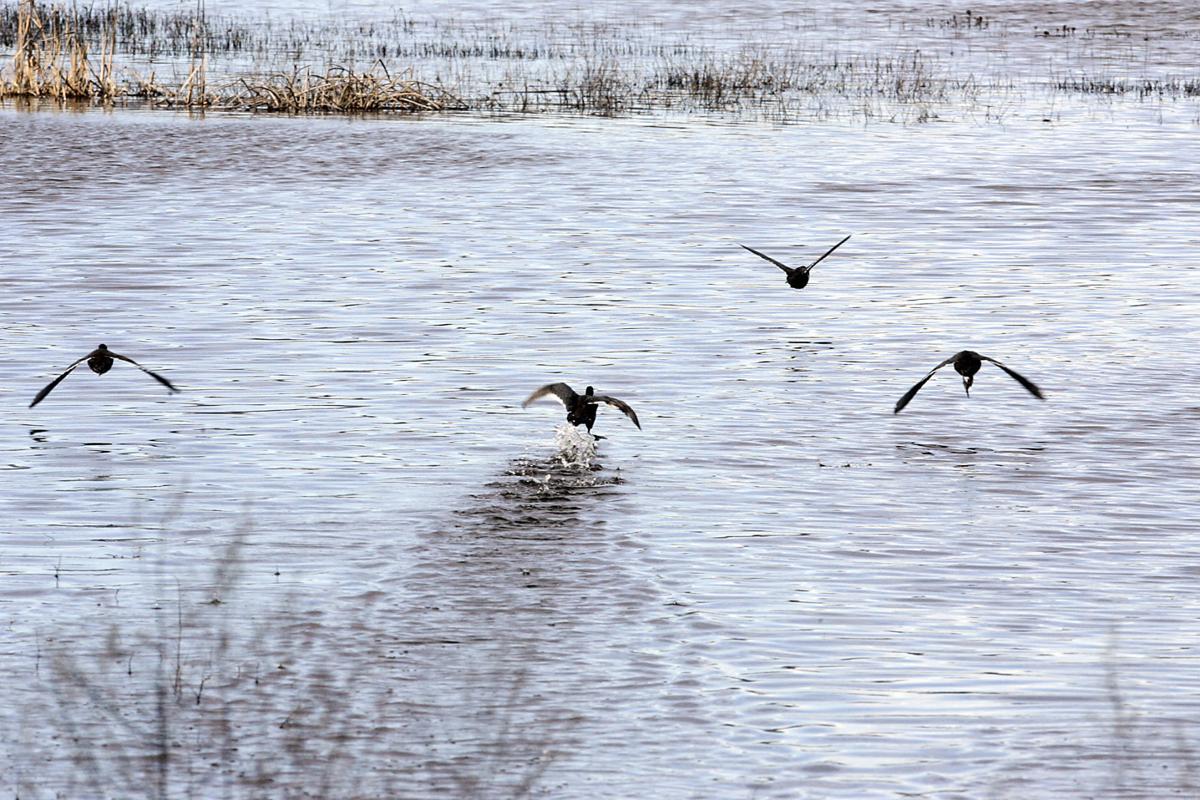 Napa County's latest watershed symposium came at a time when tensions are high over how to protect trees and reservoirs in the area's mountains.
Close to 200 people from various backgrounds came to Copia on Thursday for an A-to-Z look at what's happening in the watersheds. Scientists, elected officials, wine industry members and citizen activists all attended.
"We're here to learn how to do better and do the best that we can," county Board of Supervisors Chair Ryan Gregory told the group.
Last year's Measure C oak woodland and watershed protection citizens initiative narrowly lost in the June 2018 election amid wine industry criticism. More recently, the Board of Supervisors passed new watershed rules that some say don't go far enough and others say are unneeded.
Rather than wage divisive election campaigns against each other, it's better to have a room of level-headed, intelligent people looking each other in the eyes and learning together, Gregory said.
Documentary filmmaker John de Graaf took to the stage to say America is polarized and even the best wines in the world can't fully heal the conflicts. Only a sense of shared values can do that.
"I know you'll agree that this is a beautiful place, with its lovely river, its rolling hills of oaks, its vineyards, a place that unlike the urban centers so close to it draws its sustenance from the land and not from the crunching of digits and computers," he said.
He suggested an appreciation of beauty has the power to bring together people in America and the Napa watershed. The beauty of Napa County should provide enough inspiration for the most careful of stewardship, de Graaf said.
People attending the symposium didn't leave their viewpoints at the door. Different ideas were on display when 30 people came to the stage in rapid succession to deliver one-minute messages on what's happening in the watershed.
Measure C co-author Jim Wilson waded into the dispute over clearing trees for vineyards. He asked what can be done locally about terrorizing warnings from nature and a climate at the edge of no return.
"Measure C for starters," Wilson said. "In our own backyard, we have an unsustainable industry with the cooperation of government cutting down forests and driving biodiversity loss and global warming."
Given the symposium wasn't a debate, no one disputed him. But some used their minute to talk about what the wine industry and farmers are doing to help the environment.
Bob Coleman of Treasury Wine Estates talked about fluidized bed cold stabilization, which is a new method of removing potassium bitartrate from wine. The technology requires less water and energy use.
Chloe Hood of the California Land Stewardship Institute said Napa County has 920 farms, 92,000 acres overall and 35,000 acres of vineyards enrolled in the Fish Friendly Farming program. They focus on such things as soil and water conservation.
Sessions at the symposium touched on a number of topics – forest management to help forests survive wildfires, creating wildlife corridors from the Mayacamas mountains to Lake Berryessa, groundwater-dependent ecosystems and the importance of Napa River flows for steelhead.
Rick Thomasser of the Napa County Flood Control and Water Conservation District talked about Napa River and watershed restoration.
About $100 million has been spent on restoration work over 20 years, Thomasser said. Dam removal, bridge replacements and flood plain creation along long stretches of the river have taken place.
Much of the money came from Measure A, the county's half-cent flood control and water conservation sales tax that expired last year.
"Without that source of funding, how do we continue our restoration efforts?" Thomasser asked rhetorically.
The scale of restoration projects has been large. It's taken a lot of time, money and horsepower to get them going. Future, smaller projects could fill in the gaps and build off what's been accomplished, he said.
Grant timing is important when a large source of local match money is unavailable, Thomasser said. Napa County could try to secure state grants and federal grants to match each other, he said.
"It's a little bit trickier, but it's possible and it doesn't mean we can't continue our restoration efforts," Thomasser said.
The Napa County Watershed Symposium was hosted by the Watershed Information & Conservation Council and Napa County Resource Conservation District and sponsored by Luhdorff & Scalmanini consulting engineers, along with various lunch and break sponsors.
Get local news delivered to your inbox!
Subscribe to our Daily Headlines newsletter.