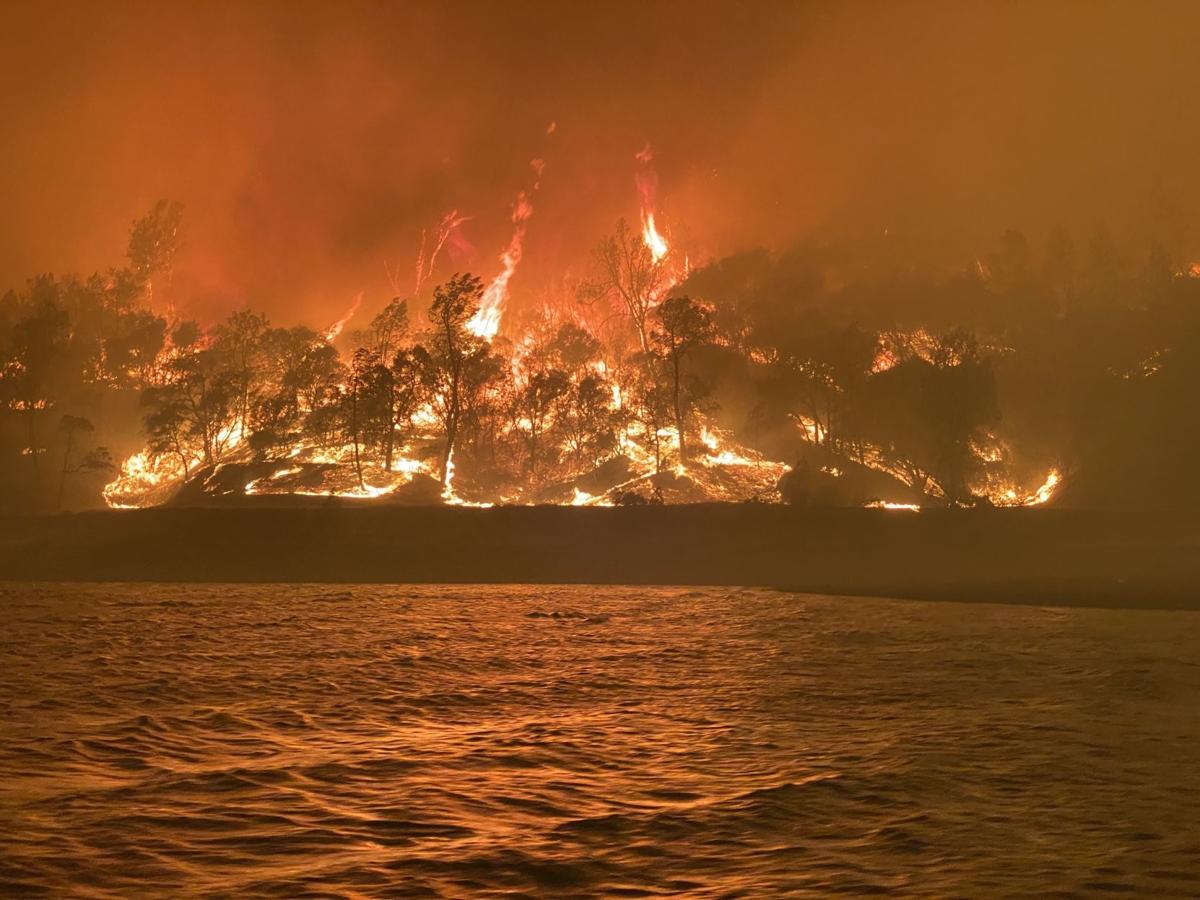 Much of the wildfire-plagued Lake Berryessa area has gone up in smoke over the past few weeks, but not Napa County's resolve to try to renovate three shoreline resorts there.
The main question seems to be how fast the county will move in the wake of the Hennessey Fire.
Napa County earlier this year signed an agreement with the U.S. Bureau of Reclamation to find concessionaires to renovate Spanish Flat, Monticello Shores and Steele Canyon resorts. It seeks to jumpstart the long-stalled revitalization effort.
County Board of Supervisors Chair Diane Dillon in a recent interview said that she doesn't think the Hennessey Fire will keep the county from reaching this goal.
"I think there are still more positives than otherwise in terms of why people would come to Lake Berryessa," she said.
On Aug. 18, the Board of Supervisors agreed to create a Lake Berryessa concessions manager position to oversee the resort sites. The next steps are filling that position and inviting proposals from potential private sector concessionaires to both redevelop and operate the resorts.
How quickly the county seeks bids is up to the Board of Supervisors. Supervisor Alfredo Pedroza wants the county's short-term focus to be on Hennessey Fire recovery efforts, given the fire destroyed more than 300 homes in that part of the county.
"I think we have to pause and make sure our number-one priority is supporting the families and residents of Lake Berryessa," Pedroza said.
Dillon said that, optimally, renovation work at the resorts could still begin next spring. There wouldn't have been any construction this year even without the fire, she said.
The 500-square-mile Hennessey Fire in recent weeks surrounded 31-square-mile Lake Berryessa federal reservoir, turning the area into an inferno. Dillon doesn't see this as a case of a recreation paradise lost.
"That landscape does look different," Dillon said. "But when you look at other places where fire has occurred, in 2017, 2018 or even 2019, it springs back pretty readily."
Several Lake Berryessa residents who have taken an interest in the resort revitalization effort are still expressing optimism in the wake of the fire.
Craig Morton co-operates Spanish Flat resort for camping and boat launches under an interim contract with the Bureau of Reclamation. That's a stop-gap measure until the county finds a long-term concessionaire to build a marina, restaurant, store, cabins and other amenities there.
He remains confident the fires that blackened the landscape won't give Lake Berryessa a black eye. Like Dillon, he still sees the lake as still having a future as a tourist draw.
"The people will be there," Morton said recently. "I already have people calling me and saying they are willing to come up for the (Labor Day) holiday and not only camp, but work. Work to help clean up."
But he can't reopen that quickly, given the Bureau of Reclamation has said Lake Berryessa resorts will remain closed until further notice because of the Hennessey Fire mop-up effort.
Morton is a big Berryessa backer. When Bureau of Reclamation effort to redevelop Spanish Flat failed, he and other Lake Berryessa residents stepped forward in 2016 to run a stripped-down version of the resort. They didn't want to see a shuttered resort.
"The viability of that side of the lake would have gone south. And that's not right," said Morton, who owns a pest control business.
During the Hennessey Fire, Morton and others took off from a dock in a boat and watched from Lake Berryessa as flames ravaged the shoreline. The Spanish Flat community lost dozens of homes, including most of those in a mobile home park.
The Spanish Flat resort itself wasn't burned to a crisp by the fire, though parts of the landscape burned. The fire left the campsites largely unscathed.
"We didn't lose a Porta Potty," Morton said. "We didn't lose a table. My day-use area is still in good shape. The trees are a little bit heated, but other than that, they will all come back."
Peter Kilkus once had a trailer at a Lake Berryessa resort, back before the Bureau of Reclamation evicted more than 1,000 such mobile homes from the federally-owned lands. Today, he lives near Berryessa Highlands. He and his Berryessa News have backed the resort redevelopment effort.
Kilkus doesn't see why the Hennessey Fire should stall the county's resort redevelopment effort. He said that county economic studies show the resort opportunities there are lucrative.
"I think they should go ahead full speed," Kilkus said.
His own home survived the fire in part because of a massive sprinkler system his son installed. Kilkus said a redeveloped resort could take steps to make itself "bulletproof" to any future fires.
He agreed with Morton that visitors will return to the lake as the fires recede.
"People are already wanting to come out here and launch their boats," he said. "If they open the launch ramps, there will be people out there tomorrow."
Lake Berryessa has seven resort sites along the federally owned shoreline that date back to the late 1950s, after the reservoir was created by the building of Monticello Dam. They are Spanish Flat, Steele Canyon, Putah Canyon, Berryessa Point, Monticello Shores, Markley Cove and Pleasure Cove.
The Bureau of Reclamation in 2009 razed Spanish Flat, Steele Canyon, Putah Canyon, Berryessa Point and Monticello Shores for redevelopment. That involved removing marinas, stores and other amenities so new concessionaires could begin from scratch.
But the Bureau of Reclamation failed to find suitable, new concessionaires to redevelop the sites, prompting the agency to ask Napa County to oversee the effort.
Napa County will first seek to redevelop Spanish Flat, Steele Canyon and Monticello Shores. It has the option to take on Berryessa Point and Putah Canyon at another time.
Markley Cove and Pleasure Cove were never razed by the Bureau of Reclamation and remained open with marinas and stores.
Pleasure Cove, on its Facebook site, reported no damage from the Hennessey Fire. Markley Cove, on Facebook, reported damage to buildings and equipment, but said that "Markley Cove will be back."



Watch now: Smoke and fire under darkness at Lake Berryessa
Get local news delivered to your inbox!
Subscribe to our Daily Headlines newsletter.