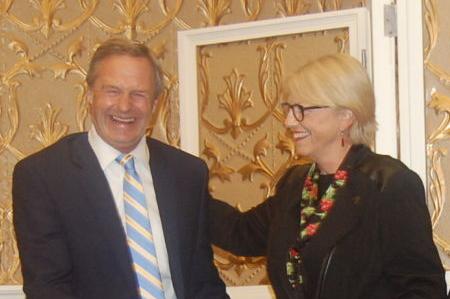 Napa County's two longest-tenured supervisors say they won't run for reelection and potential candidates are emerging for races that will help decide the future of world-famous wine country.
Supervisors Brad Wageknecht and Diane Dillon will leave office in January 2023. The June 7, 2022 primary election will have no incumbents for the 1st District and 3rd District seats, the only ones on the ballot.
"It is a huge-stakes election," said David McCuan, a political science professor at Sonoma State University.
Support local news coverage and the people who report it by subscribing to the Napa Valley Register.
The Board of Supervisors will lose more than 40 years of collective experience. New people will cast votes — possibly deciding votes — in the county's continuous, contentious debates on winery growth, watershed vineyard development, tourism, quality of life and other issues.
'You know when it's time'
Wagenknecht joined the Board of Supervisors in 1999. The former school teacher who often wears a "Be Kind" button at meetings and can be seen biking around town previously served from 1984 to 1998 on the Napa City Council.
"I guess I've done a generation-and-a-half or almost two generations of making decisions," he said recently. "I think it could be time to hear another voice."
Wagenknecht is on track for a 24-year run as a supervisor, but that won't be the record. Two supervisors racked up 32 years – Thomas Maxwell from 1917 to 1948 and Charles Tamagni from 1923 to 1954.
Dillon was elected supervisor in 2003. Before that, she was a local attorney and took part in such community growth battles as opposing a 1996 proposal to build 1,300 homes in hills near the city of Napa.
She listed a number of reasons for not running for a sixth term. They range from family interests to a reexamination of priorities with the COVID-19 outbreak. She hasn't seen her grandchildren in person in a year because of the pandemic.
"I know it sounds trite, but you just sort of know when it's time," she said.
And she decided now was the time to make her intentions known.
"Because I've held this seat for so long, there is kind of a pent-up interest in people who have aspired to the seat," Dillon said.
Potential candidates already stepping up
A June 7, 2022 election might sound like a long way off, but potential candidates are already preparing.
Four candidates as of Feb. 17 had filed candidate's intention statements for Dillon's 3rd District seat, which represents much of Napa Valley and the northeast county. They are St. Helena City Councilmember Anna Chouteau, Napa County Planning Commissioner Anne Cottrell, farmer Lucio Perez and Napa Valley College Trustee Ines De Luna.
Joelle Gallagher announced she will run for Wagenknecht's 1st District seat, which represents Browns Valley, much of downtown Napa and the Carneros area. She is a county planning commissioner and executive director for First 5 Napa County.
The intention statements are necessary to start fundraising.
Getting an early start to fundraising has become increasingly important. Recent Board of Supervisors races have seen candidates raise anywhere from $70,000 to more than $200,000.
McCuan said that in California politics today, the speed, expense and sophistication has spilled to lower-level races. That can mean getting in a race early, trying to lock up endorsements, organizing and building up money.
Elected officials who are stepping down sometimes try to influence who their successor will be. When 5th District Supervisor Keith Caldwell announced in 2015 he wouldn't seek reelection, he immediately endorsed American City Councilwoman Belia Ramos, who won the 2016 election unopposed.
Wagenknecht, who has said for months he wouldn't seek reelection, as of early last week hadn't made any endorsements. Neither had Dillon.
"Not that I'm ready to announce yet," Wagenknecht said.
Ag, other groups watching
More than potential candidates are thinking about the 2022 Board of Supervisors races. So are groups that have a stake in how Napa County wine country is governed.
Among them is the Napa County Farm Bureau.
"We're making this very much a high priority," said Ryan Klobas, CEO of the Napa County Farm Bureau. "You have two incumbents who are leaving."
The Farm Bureau is looking for candidates who are clearly pro-agriculture and understand land use and issues affecting farmworkers, he said.
Because it has a political action committee, the Farm Bureau can bring money to bear on the races. Klobas said fundraising for the PAC for the 2022 races is a priority.
Napa Vision 2050, a coalition of environmental and neighborhood groups, has sometimes found itself on the other side of issues from the Farm Bureau. For example, it advocated for tighter watershed conservation rules that would further restrict vineyard development in the mountains.
But the Board of Supervisors has often declined to take as strong as actions as the group has favored.
Since its founding in 2015, Napa Vision 2050 has supported several candidates for the Board of Supervisors who challenged incumbents and lost. Now comes the chance to back candidates in races without incumbents.
Napa Vision 2050 President Charlotte Williams said it is too early for the group to endorse candidates for 2022. But she described what qualities people seeking its seal of approval must have.
"Napa Vision 2050 is always in support of any candidate who has a strong record of protecting the environment and social welfare, that is, actively working for justice and well-being for our greater community," she said.
And those are just two of the wine industry and environmental groups that could play roles in the election.
Redistricting twist
There's a possible, strange twist to the June 7, 2022 Board of Supervisors primary elections. Potential candidates living on the edges of the 1st and 3rd districts might suddenly see the district lines shift on them.
That's because the Board of Supervisors must consider redrawing all five districts in light of the 2020 Census to balance the population. The necessary data originally scheduled to be released by the U.S. Census Bureau on March 31 will be delayed.
County Registrar of Voters John Tuteur can image scenarios under which the new districts aren't drawn up until early next year.
"It's so strange," Tuteur said. "We've never seen anything like this."
For potential candidates on the edge of the district lines — and all five districts include at least part of the city of Napa — that situation might pose a quandary. They might have to wait longer than they would prefer to know for certain if they can run.
One thing appears certain — come January 2023, the veteran Napa County supervisor will be Alfredo Pedroza at seven years. He was appointed to the post by Gov. Jerry Brown in December 2014 after Bill Dodd moved on to the state Assembly and then won two elections.
That would suggest the Board of Supervisors as a whole will have less experience to draw upon.
"I think it's going to be a significant change, if indeed that's what happens," Dillon said. "There may be people running for office who have lots of experience on issues, but just haven't sat as supervisors."
Wagenknecht said he wants to leave behind an understanding of the agricultural preserve and how the county has worked to keep it over the years.
"And how to work and play well together as a Board," he said. "I've always talked about, there is a Napa way of doing politics. And it hasn't been the negative political battleground a lot of counties have had."
WATCH NOW: NAPA'S NEW CARD ROOM, ACE & VINE, IS NOW OPEN FOR BUSINESS
Catch up on Napa County's top news stories
SEE NAPA SCHOOL PICTURE DAYS AMID PANDEMIC