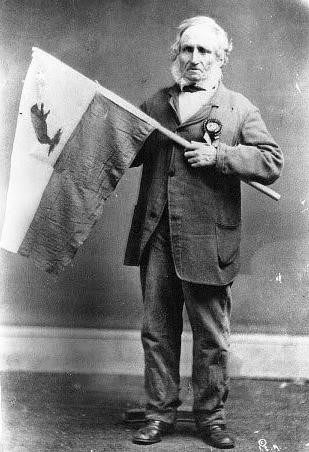 Today being Flag Day, it seems only appropriate to tell the story of Peter Storm and the original Bear Flag of California.
It all began in June 1846 when a group of 33 men not only changed the destiny of California but their own legacy, guaranteeing their immortality. Today, these rebels who captured General Vallejo in Sonoma — they were American pioneer settlers revolting against the Mexican rule of California — are known simply as the "Bears." 
Support local news coverage and the people who report it by subscribing to the Napa Valley Register. Special offer: $3 for your first 3 months!
The independent republic they declared lasted only a brief time before the U.S. decided to declare California its territory, exacerbating tensions and the eventual war between the U.S. and Mexico. 
Many of these rebel Bears eventually became illustrious, powerful, and wealthy men. There was one exception, however; he was Peter Storm.
In his Dec. 1877 obituary printed in The Napa Register, Storm was described as "of a quiet and retiring disposition. He seemed to care little for property but was always industrious and ready to work." These traits created an elusive or even mysterious quality about the man.
A bit of controversy also permeated Storm's life history. Some historians are still debating who truly was the "Maker of the Bear Flag." Both Storm and William C. Todd claimed to have painted the star and bear figures as well as the words, "California Republic" on the first flag.
However, as time passed, Storm was generally referred to as the "Maker of the Bear Flag." A Napa Register article reporting on Admission Day festivities, dated Sept. 13, 1873, verified this point.
It said, "Mr. Sam Brannan spoke of the famous Sonoma Revolt, the Bear Flag, and the fact the man who painted it was present. At this, Mr. Peter Storm stood up, his head white with the lapse of years, and held out a little flag, the counterpart, in size and painting, of the original Bear Flag, which is now preserved in the Hall of the Pioneer in San Francisco. The old man and his flag were greeted with cheers and the band struck up a few notes in his honor."
By the time of the 1873 Admission Day celebration, Storm was 74 years old and had lived in Napa County for about 40 years. That residency began when the 33-year-old Storm arrived in California in 1833.
Peter George Storm, a native of Christiansand, Norway, was born into an affluent family in 1799. He enjoyed the advantages of wealth, including private schooling. He also relished the companionship of his siblings. The memories of those days often brought tears to his eyes. But at the tender age of 14, Storm embarked on a 20-year odyssey sailing away from his childhood home, family, and financial security in 1813, never to return.
During his seafaring years, at some port, Storm married and fathered two children. Storm spoke of them often and with a heavy heart. As to their fate, it continues to be a mystery.
Upon arriving in California, Storm decided to remain here and give up his 20-year love affair with the sea. Within a short time following his arrival, Storm settled in Napa County. He adapted well to life on terra firma. He became well known for his excellent hunting and trapping skills throughout Napa, Sonoma, and Lake counties. 
Following the Revolt, the wild game population steadily declined. Storm gradually turned to working odd jobs for room and board at the homes of friends throughout Napa County. Although he apparently had two favorite families, the Henry Fowlers of Napa and the John Cyrus family of Calistoga.
One of the Cyrus children, Elizabeth, noted the length of Storm's stay in a journal. "I remember old Peter Storm lived at our house for years."
Her next entry and remarks are both amusing and enlightening. "Storm was an old sailor and my brothers told me, that when he could get a glass or two of liquor to limber up his tongue, he told the most awful pirate yarns." She added, "His arms and chest were tattooed."
Elizabeth Cyrus Wright finished her description of Storm with a notation about his creative abilities. "He was also something of an artist - made crude oils and drawings."
On Dec. 14, 1877, this quiet and retiring "Bear" died very suddenly from either a stroke or seizure. In 1877, they called it paralysis.
Shortly after his death, W.M Boggs of Napa sent a telegram to the San Francisco Pioneer Society. Boggs assumed the Society would want to provide a formal ceremony and funeral for the former "Bear." But, the Society's Assistant Secretary, a Mr. Doolittle, responded, "Mr. Storm is not a member of our society. Can do nothing."
On Dec. 22, the Register gave a pointed response to this affront:
"Old Peter was very poor; and we have reason to believe that if he had died rich, the wealthy and exclusive gentleman composing the Pioneers of the metropolis would have immediately sent a delegation here for the body, taken it to their hall in the city, laid it out in state, and then given it an imposing funeral."
However, about a week earlier, Dec. 16, 1877, at 2 p.m., Storm was given an honorable send-off with a procession of 30 to 40 pioneers marching from Napa to Tulocay Cemetery. Their families followed behind in carriages. Reverend W.J. Maclay conducted the graveside services. In addition to the sermon, Maclay also spoke of Storm and his adventurous life.
Many of his friends and fellow pioneers offered fitting eulogies extolling Storm's virtues. Without regard for his finances, they all bestowed Peter Storm with his rightful title of pioneer, history-maker, and of course, the quiet and retiring Bear Flag maker.
Catch up on Napa County's top news stories
Get unlimited digital access to the Napa Valley Register for just $1 for your first 6 months! Enjoy every article without restrictions and find tons of subscriber-only perks, such as access to our daily eEdition. Click here for details!