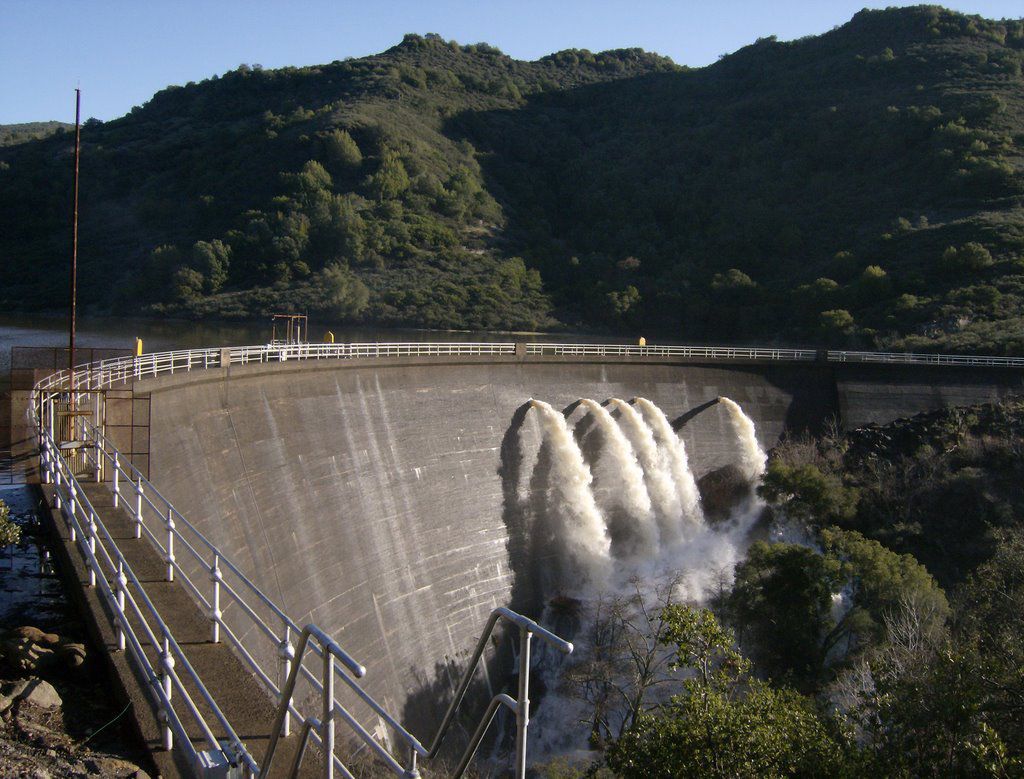 While workers scramble to shore up the imperiled spillway of massive Oroville Dam in Butte County and protect more than 180,000 people from flooding, a set of holes near the top of a Napa County dam are a key to bolstering it against a high-water catastrophe.
Since 1924, a crescent of concrete 112 feet high has restrained the waters of Milliken Reservoir, one of the two local sources for the city of Napa. For the past decade, some of the highest waters have poured through five apertures set 16 feet below the rim, easing pressure from a winter's worth of supplies.
Originally drilled in response to a federal forecast of stronger earthquake potential in the North Bay than previously thought, the openings – equipped with valves but typically left open – are an early key to preventing abnormally strong winter storms from overloading a nearly century-old dam, according to Joy Eldredge, manager of the city Water Division.
"We need water, but you've got to respect it, or it will set you straight in a hurry," she said of the reservoir 10 miles northeast of Napa, where the water level Tuesday measured just below 908 feet – almost exactly 16 feet below the dam's 924-foot altitude at its height.
The controlled release at Milliken Reservoir is a sharp contrast to the drama that has played out at Lake Oroville, where a crumbling emergency spillway at the nation's tallest dam led authorities on Sunday to immediately evacuate more than 180,000 people from Butte, Yuba and Sutter counties. Emergency crews worked to quickly release water from Oroville Dam and plug the breach, and residents were allowed home again starting 1 p.m. Tuesday, although the area remains under a warning due to rain in this week's weather forecast.
In Napa, the changes at Milliken Reservoir began with new seismic forecasts by the U.S. Geological Survey, Eldredge said. The revised models showed that the Green Valley Fault to the east could trigger a quake of up to 7.0 magnitude – 31 times more powerful than the previous forecast of magnitude 6, the strength of the 2014 Napa quake, according to a USGS website.
That report required to Napa to modify the dam to keep water farther from its crest, should a major quake rock the North Bay.
"They said 'Hey, let's look at a worst-case scenario, what might happen if the quake happened and it was full and overflowing,'" Eldredge said, adding the work was not done in response to any structural flaws.
The holes – each 18 inches in diameter except for the center portal, which is two feet wide – supplement Milliken Dam's "over-pour" design, in which excess water naturally flows over the top and into Milliken Creek downstream. Water has escaped through the holes in nine of the 10 winters since the holes were drilled, and reached that level this season starting Dec. 16, according to Eldredge.
Valves on the drain holes are tested twice yearly, and a survey is conducted every five years at six points on the dam crest to check for any unusual settling or movement.
In an overflow emergency similar to Oroville's, Eldredge said the Water Division would let out up to half the water from the reservoir over five days, using the five upper openings and another valve at the dam's base.
The state's most recent inspection in January 2016 declared Milliken Dam's upstream and downstream faces, its crest and the abutments to be in "satisfactory" condition with no signs of instability or surface stress.
Diagnostic equipment built into the dam noted no new, renewed or increasing cracks, joint shifting or other movement, wrote Jim Lowe, an inspector for the Division of Safety of Dams. (In-dam sensors are designed to measure movements as small as 1/10,000 inch, according to the Water Division.)
A void near one toe of the downstream side required filling with concrete, and repair also was required for piers damaged by age and the installation of safety railings atop the crest, inspection documents indicate.
Get local news delivered to your inbox!
Subscribe to our Daily Headlines newsletter.