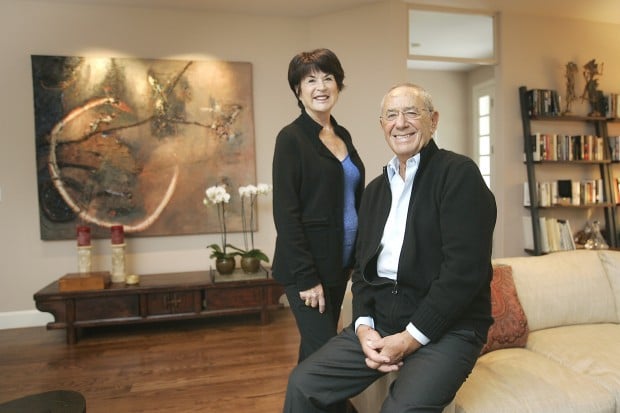 From street hustler to one of the world's top hoteliers, Claude Rouas has been, seen and done it all.
Sure, he's the guy who believed he could create the valley's first luxury resort, Auberge du Soleil, just ranked No. 18 on the list of the world's best hotels by Condé Nast magazine.
And he's the darling-of-the-jet-set restaurateur whose San Francisco dining room, L'Étoile, was the place to be and be seen in the 1960s and '70s.
But Rouas — who at 80 continues to work in the hospitality industry and supports his daughter Bettina's Napa eatery, Angèle — wasn't born with a silver spoon in his mouth. Far from it.
He's lived, at least part time, in the Napa Valley since the '70s, working with partners in the hostelry business that have given us, in addition to Auberge du Soleil, Solage and Calistoga Ranch, San Ysidro Ranch in Santa Barbara and Esperanza in Cabo San Lucas, among other developments.
Area residents often see him at Angèle in downtown Napa, which is where we sat down over lunch, asking him to reflect on a remarkable career.
Rouas was born and raised in Algiers, the capital of Algeria, as one of six children. "My parents died when we were young," he said. "We raised ourselves ... I was third oldest. When I was 10 years old, I was doing what I could to earn money — like (chatting up and) taking American soldiers to the brothels.
"When I was 14, I entered hotel and restaurant school, but by then I'd already been working as a tailor for a couple of years. That skill has come in handy. Now when my girls need some sewing done, they bring it to papa."
Rouas did well in hotel and restaurant school, but you wouldn't have known it if you'd talked to the instructor in charge of the young men who chose a dining room career.
Perhaps the man didn't appreciate Rouas' background or religion. But he made it clear that he didn't like the teenager in his charge. "On several occasions, he told me I should leave school," Rouas recalled. Nevertheless, Rouas graduated second in his class and went to work in a hotel in Algiers for a few years.
He served in the French Army for nearly two years, working as a butler to a four-star general assigned to an important Paris post. Rouas ended up staying in Paris when he was discharged from the service.
Ambitious and never one to shy from work, the young veteran hired on at the five-star Hotel Le Meurice on Rue De Rivoli, in the 1st Arrondissement opposite the Louvre. It was here that he made the acquaintance of the owner of the fashionable London restaurant, La Mirabelle. His Paris employer eventually decided to send him to work at La Mirabelle so Rouas could master the English language.
"But I didn't really," he confessed. Besides working in the upscale dining room, "all I did was go out with French gals and guys and eat French food. I learned the language at my next job ... at Maxim's."
Maxim's old-fashioned Belle Époque decor, refined service and sophisticated menu have made the Paris landmark famous the world over. Opened in 1893 by cafe waiter Maxime Gaillard, it has long been a favorite with movers and shakers in the fields of finance, arts and politics.
A dining room captain who'd worked with Rouas at La Mirabelle called him from Paris one day, asking if he'd be interested in a waiter's position at Maxim's. "You usually had to wait a long time to get one of those jobs," Rouas declared. "There were guys there bussing tables who were twice as old as I was.
"Maxim's was the place to be, especially on New Year's Eve. There was a corner table, table 16, that was reserved for VIPs ... I can recall the Duchess of Windsor, Aristotle Onassis, Darryl Zanuck, and other movers and shakers seated there. It was a great education for me ... a great five years."
While waiting tables at Maxim's, Rouas would meet brothers Victor and Roland Gotti, owners of San Francisco's renowned restaurant, Ernie's. "They told me that if I came to America, they'd give me a job," Rouas recalls.
While he acknowledges he had an affinity for the hospitality business, Rouas says his career also involved considerable luck. "It seems that I've always been in the right place at the right time."
At that moment, Rouas was dating a French film star, Bella Darvi, who was discovered by Zanuck, a film producer. When she was offered a role in one of Zanuck's films, "The Egyptian," the couple flew to California.
Rouas worked at Ernie's during the week and flew down to Hollywood to be with Darvi on the weekends. They were married in Las Vegas not long after arriving here. But Darvi's Tinseltown career was short-lived and she returned to France. Rouas stayed in San Francisco, working for the Gotti brothers for three years.
In 1963, he was contacted by Jean Lapuyade, owner of another celebrated San Francisco restaurant, La Bourgogne, eager to open a second restaurant up on Nob Hill to be called L'Étoile. So, at age 30, Rouas opened his first restaurant.
"It didn't do well ... I left and went back to Ernie's where I was made general manager of the city's most famous restaurant ... and I was only 30 years old."
L'Étoile went bankrupt several times before millionaire Dolly Fritz — "Nob Hill was hers ; she owned among other things the Huntington Hotel" — chatted him up, suggesting he take L'Étoile back.
"Why would I leave Ernie's again where I was making good money to take over a restaurant that had gone bankrupt four times? That was a question I asked myself more than once.
"At the time, I was spending more than I made, but I decided to go ahead ... borrowing money to reopen the restaurant." Rouas said his decision to take on L'Étoile once more was influenced by the fact that he would have help from celebrated interior designer Michael Taylor (who would also design his brother Maurice's restaurant, Fleur de Lys, and eventually Auberge du Soleil), as well as his wife, Ardath (mother of his daughters, Bettina and Claudia).
"My wife knew everybody in the city ... they all came because of her and my terrific partner, Henri Barberis," he added. From the opening day in June 1966, the reincarnated L'Étoile was a success. For the next 24 years, Rouas presided over this classic French restaurant where the city's beautiful people sipped imported Champagnes, nibbled on Beluga caviar and listened to Nob Hill's favorite pianist, Peter Mintun, dazzle visiting Hollywood celebrities with the themes from various films in which they'd starred.
"We had good food, but it was not a three-star meal restaurant," he admits. "It was a place to go, to be seen ... it was always on the social pages, at least once or twice a week. Herb Caen was a regular and L'Étoile was regularly in his column." The restaurant's New Year's Eve party was as renowned as Maxim's.
One of the toniest events at L'Étoile was the marriage of Denise and Prentis Cobb Hale, attended by the likes of Truman Capote, John Wayne and Frank Sinatra, he remembers.
"One night, Herb Caen approached me and said he thought I should do away with a small table that was near the entrance," Rouas recounted. "He said it was a terrible table. He promised to write a column about the restaurant if I would just take that table for two away. Later, I went to my office and calculated the revenue that table generated in a year. I returned and told him he didn't have to write the column."
Love affair with the valley
Rouas fell in love with the Napa Valley not long after he'd purchased a condo at Silverado Resort.
Within a few years, he began thinking about "opening a little inn with a few rooms and a dining room, as that was my forte ... to pay for my expenses of weekending in the Napa Valley." The swells in San Francisco didn't share Rouas' vision. "Most people thought I was crazy ... they didn't even know where Napa was."
Rouas met investor Fred Holmes, who owned 450 acres of land on the east side of Silverado Trail, where Rutherford Hill Winery is located today. It took some convincing but Rouas got Holmes to sell him 16 acres and the architectural plans for an inn for $120,000 in the late '70s.
He liked the property but not the design, so he hired renowned architect Sandy Walker to draw up something new. "He caught the idea of what I wanted to do and within 48 hours captured it in new drawings. Designer Michael Taylor also signed on."
But Rouas had a difficult time finding anyone who wanted to invest in this new luxury restaurant and inn east of Rutherford. That's when Tiburon developer Bob Harmon came along and agreed to first building the restaurant, based on Rouas' prior success.
Now he needed a chef, and sought the help of friends in New York, including James Beard, to secure the services of the celebrated chef of Le Plaisir, Masa Kobayashi.
"He was more an artist than he was an executive chef," Rouas confides. "The plates he sent out were beautiful, the food tasty ... (but) his food costs were out of sight. I was the most successful restaurateur in Northern California going bankrupt." After about a year, Masa left to open a restaurant in San Francisco.
The opening of the restaurant at Auberge du Soleil in September 1981 was a benefit for the Napa Valley Symphony Orchestra, and it included a fashion show staged by noted San Francisco clothier Wilkes Bashford. Most of the L'Étoile crowd showed up. At one point during the opening bash, Caen put down a drink in order to sit in as drummer with the dance band.
It wasn't easy to get building permits for the restaurant and inn, Rouas notes. But he did have local support, most notably from vintner Robert Mondavi. "The final hearing before the planning commission was during harvest, but Bob was there supporting my efforts. He was so generous with his remarks that it brought tears to my eyes."
The 36-room inn opened in 1985, with 14 additional accommodations added subsequently. "Now, to be ranked in the Top 20 hotels of the world by Condé Nast, that's quite an accomplishment," Rouas said.
Rouas credits his hiring 22 years ago of Auberge du Soleil managing partner George Goeggel with bringing continuing success not only to the Rutherford inn and restaurant but also the other resorts owned by the company he and Harmon founded. "I created the Auberge, and George took it and ran with it."
He and Harmon also launched the Piatti Ristorante operation, eventually opening 14 restaurants on the West Coast and Hawaii.
"Bob and I have moved on," Rouas said. "We're still on the board of directors of Auberge resorts ... Bob's son, Mark Harmon, runs the operation."
Rouas has come a long way from the post-war streets of Algiers. "My life has been the places I worked, the places I created — that's 95 percent of my life story," he readily admits. "And I'm having a tremendous time doing it.
"My reward in life is my daughters — one, Bettina, gave me Angèle; the other, Claudia and her (winemaker) husband, Corey Beck, gave me two incredible grandsons ... they're all I talk about."
While he was bringing elegance and good food to those who crossed his path during the past half century, Rouas did take time to smell the roses. After all, he's been married five times.