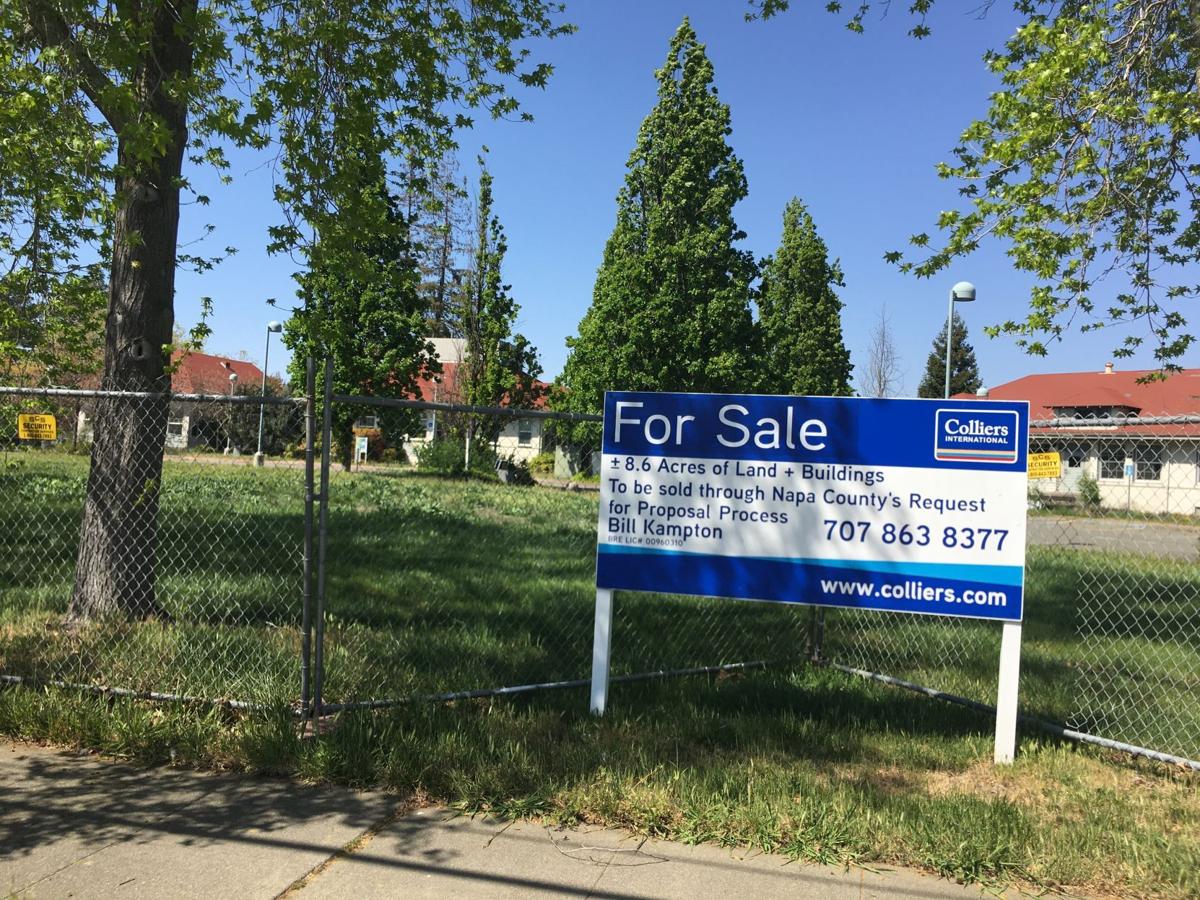 Heritage Housing Partners wants to bring a mixed-income project with single-family homes, townhouses, and stacked flat units to Napa County's Old Sonoma Road site.
That's the latest turn in the county's quest to sell the 8.6-acre property. Prospective buyers have brought the Pasadena-based nonprofit group into the picture.
The result: a vision for both rental and for-sale homes, with at least 15% meeting state affordable housing standards. But it's only a bare-bones vision as described in an email submitted by the prospective buyers to the county, without details such as how many units and how they might look.
Support local news coverage and the people who report it by subscribing to the Napa Valley Register. Special offer: $3 for your first 3 months!
Three historic buildings from the old county hospital would remain and be renovated. The possibility that the buildings might be torn down caused controversy in the past.
"We look forward to working with Napa Landmarks to ensure that the project is sympathetic to and compatible with the historic elements of the site,"  Michael Williamson, an attorney involved with the proposed development, wrote to the county.
Heritage Housing Partners couldn't be reached for comment. But Napa County at the Napa Valley Register's request released the Williamson email.
All of this hinges on a Napa County deal to sell its former Health and Human Services Agency land at 2344 Old Sonoma Road within the city of Napa coming to fruition. The sale for $7.5 million won't be official until escrow closes on Sept. 16.
The deal approved in May by the Board of Supervisors was with SN Management Corp. But the corporation assigned the agreement to the new Napa Community Real Estate Fund LP, which made Heritage Housing Partners the development manager.
Napa County is requiring the buyer of the Old Sonoma Road site to build at least 15% affordable housing. Williamson wrote that the plan is to do just that and increase the affordable housing numbers if county or other subsidy sources are available.
County Supervisor Brad Wagenknecht on Friday said he likes the approach taken by Heritage Housing Partners.
"I think it will make the neighbors much happier if they are able to incorporate some of the historic buildings and historic resources there," he said. "They've been able to do that while providing affordable housing and for-sale affordable housing. I think they've got a real good model I'm hoping will work here." 
Details of how this all plays out won't be up to Napa County government, though. Once the sale is complete, the buyer must obtain approvals for future housing developments from the city of Napa.
Heritage Housing Partners on its website describes its mission as promoting long-term, affordable homeownership by preserving historic homes and building new homes.
"We believe that providing low-, moderate- and workforce-income first-time homebuyers with affordable ownership opportunities results in overall neighborhood revitalization," the website says.
The typical home value in Napa County is $806,000, which is up 14.1% over the past year, according to Zillow. The typical value was $354,000 in 2012.
Several projects by Heritage Housing Partners in Southern California have involved historic aspects, such as renovating the 1892 Queen Anne-style Decker house in Pasadena and century-old Craftsman bungalows in Whittier.
At Old Sonoma Road, three county infirmary buildings are on the National Register of Historic Places. Two were built in 1912 and designed by W. H. Corlett, a prominent Napa architect. The third was built in 1934 and incorporates part of an 1897 building.
Williamson in his email wrote that the vision is to rehabilitate the buildings in a manner respecting their integrity and history while bringing them up to 21st century standards for livability and function.
The Old Sonoma Road site also has several non-historic buildings left over from the Health and Human Services Agency campus. It will be up to the buyer to remove them.
The Napa County Board of Supervisors on May 4 voted to sell the Old Sonoma Road land to SN Management Corp. Gregory Brun of the Napa Valley Wine Train partnership is part of the corporation.
On Tuesday — with that deal still in escrow — supervisors without comment voted to acknowledge the purchase agreement between SN Management Corp. and the new Napa Community Real Estate Fund LP. That latter entity is partnering with Heritage Housing Partners.
Napa Community Real Estate Fund LP has three principals – Williamson, Charles Loveman of Heritage Housing Partners, and Richard Lara of RAAM Construction. It will work with SN Management Corp and Brun to close the acquisition, Williamson wrote.
Williamson co-founded Heritage Housing Partners in 1998 and is chair of the real estate department for the law firm Buchalter.
Napa Community Real Estate Fund has already invested substantial time and resources into the initial due diligence. Provided the remaining due diligence is satisfactory, the entity sees no issues with a timely and successful closing, Williamson wrote.
Catch up on Napa County's top news stories
Get unlimited digital access to the Napa Valley Register for just $1 for your first 6 months! Enjoy every article without restrictions and find tons of subscriber-only perks, such as access to our daily eEdition. Click here for details!