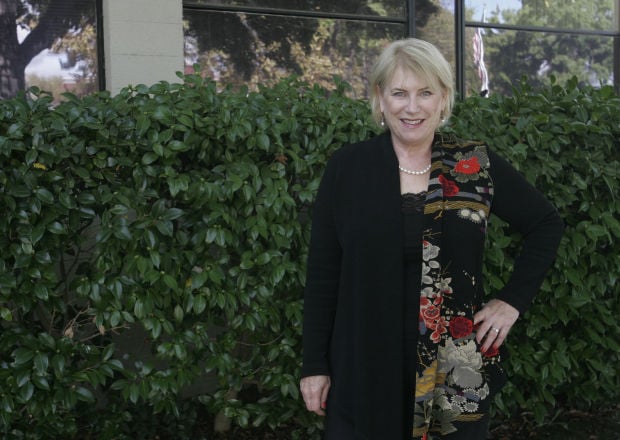 Juliana Inman, who seeks a third term on the Napa City Council, pledges to keep the city's attention on improving its infrastructure and the supply of affordable housing – as well as getting help for residents dealing with home and business damage from the earthquake.
Inman, a Napa-based architect elected to the council in 2006, and fellow councilmember Peter Mott are defending their seats in the Nov. 4 election against challengers Jose Hurtado and Derek Anderson.
Inman, 63, said during a recent interview that not only her council experience but her background in planning and building – including 24 years as a local architect and past stints on the city and county planning commissions, as well as the city Cultural Heritage Commission – are her best asset to help improve Napa's livability in the future.
"For some, it's less exciting, but for me, it's the long-range planning I care about, things like General Plan update," she said. "The jobs-to-housing balance, how to build affordable housing here: I see all of that being under the same umbrella."
This fall's council election race is playing out during a period of rapidly rising rents and a housing supply squeezed to its tightest in recent memory. To help relieve the shortage, Inman argued the city should consolidate or co-locate some of its services, in hopes of opening up surplus land for low- and moderate-incoming housing close to Napa's core.
"By consolidating services, we can open up some large sites for housing, near public transportation, businesses and schools," she said. "We will have some good opportunities in the next few years."
Even as Napa grows and businesses continue to flock to its downtown, Inman said she would keep her focus on upkeep for the city's sinew and bones – its roads, water lines and other infrastructure. The city has taken steps such as a 10-mile-a-year street resurfacing plan to improve its condition, but Inman cautioned the age of Napa's infrastructure will remain a constant challenge.
"In 2018, we'll start getting the half-cent sales tax for roads and streets," she said, referring to the current flood-control tax that will be redirected under a 2012 ballot measure." But in the next four years, how do we continue to keep paving, to finance that? How do we repair our water mains?"
Along with her aspirations for Napa's future, Inman turned her attention to the Napa earthquake's aftereffects, saying she would press for aid to the homeowners and merchants not yet eligible for disaster relief aid. (The federal disaster declaration signed last month by President Barack Obama authorizes aid only to local governments.)
"Eighty mobile homes, 150 red-tagged buildings, thousands of yellow tags – this is a major disaster and it's very important we get the individual aid for closed and displaced businesses, for homeowners who have to camp out in other people's homes," she said.
Campaigning to win post-quake repair funding is a matter of the city's bottom line as well, she added, with major hotels – important tax revenue sources in a tourist-driven economy – among the businesses still closed or not fully functional six weeks after the 6.0 temblor. "We have three legs on our stool – property tax, sales tax and (transient occupancy) tax," she said.
Inman, Mott, Anderson and Hurtado were scheduled to bring their cases to the public Wednesday night, during a City Council candidates' forum at Napa Valley College organized by the League of Women Voters' Napa branch.