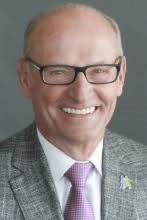 The Napa County Board of Supervisors on Tuesday appointed James B. Hudak to be the next Treasurer-Tax Collector of Napa County, filling the vacancy created by the retirement of Tamie Frasier in November.
Hudak offered his decades of experience in public and private sector finance to the county for no more than two years. The elective position will be permanently filled by the primary election on March 3, 2020.
Hudak was one of five candidates for the appointment. After interviewing the candidates in December, supervisors said liked the fact that he wanted to serve only until the next election when the public could make its choice.
"James offers the right balance of public and private experience to not only effectively run the department, but to bring in new and innovative ideas. We look forward to working closely with the Treasurer-Tax Collector's Office during the transition," said Ryan Gregory, chairman of the Board of Supervisors.
You have free articles remaining.
Hudak was most recently the chairman and chief executive officer of Paradigm Management Services and has served as a chief executive and consultant for various healthcare agencies.
His local government experience includes serving as the assistant city manager for the City of Ann Arbor, the chief financial officer for the chief administrative officer for the City and County of San Francisco, and the treasurer/utilities business manager for the City of Palo Alto.
He holds a Bachelors' Degree in Economics from Yale University and a Masters' in Public Policy from the University of Michigan, Ann Arbor.
"I am honored to be selected to serve as Napa County's Treasurer-Tax Collector," Hudak said in a news release. "I look forward to collaborating with the County, the cities and town, the school districts, and other public agencies to effectively and prudently manage the treasury while completing the existing term of the position."
His office oversees a more than $600 million pooled portfolio for the county, schools and other Napa County agencies.