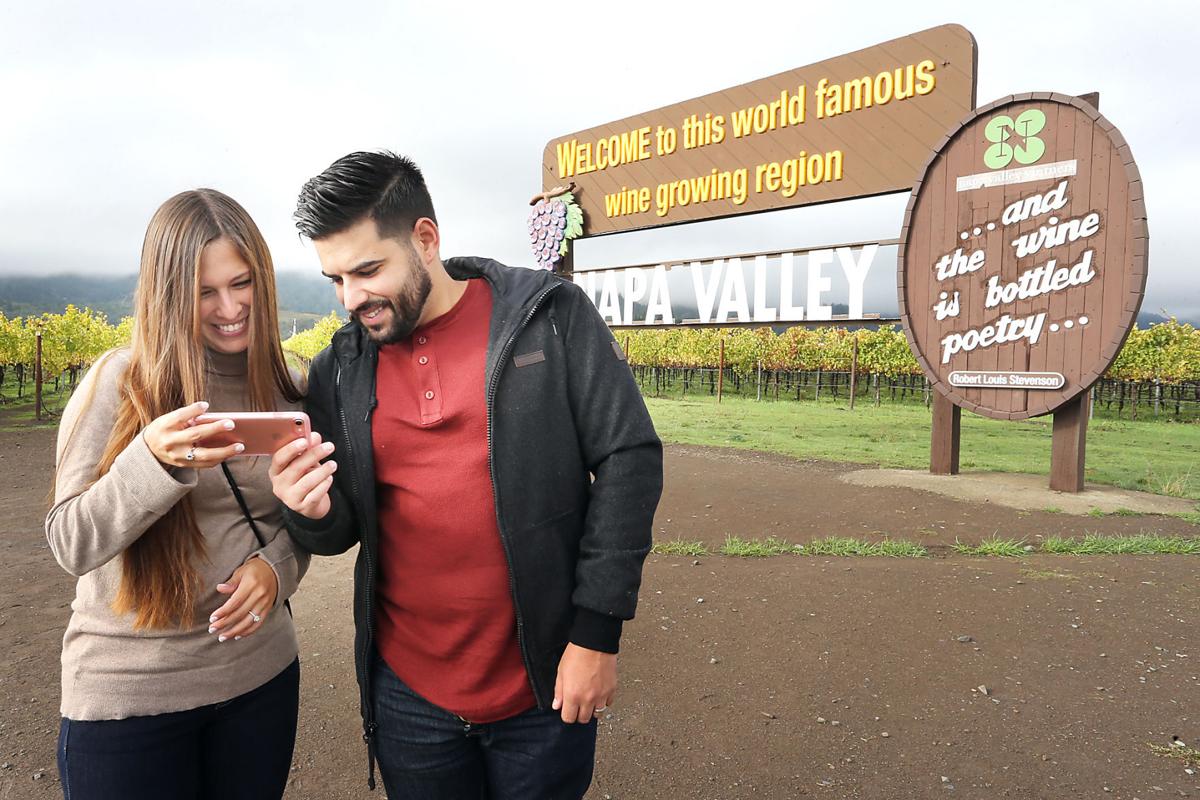 Citing the "devastating, unprecedented blow" of the coronavirus pandemic and the recent wildfires on the region's wine industry, nine vintners are asking Napa County to waive regulations around tasting room visitation until 2023.
Identifying themselves as the steering committee of Coalition Napa Valley — a group which previously lobbied Napa County to streamline the use permit modification process for wineries — the nine submitted their request to the Board of Supervisors Tuesday.
Napa Valley's wine industry needs "emergency relief measures," the group wrote, invoking the impact of twin economic crises.
"Our neighbors are losing their jobs. Our businesses are losing money or closing. And both Napa County and the state are losing needed tax revenues," the letter read. "The Napa County Supervisors has the ability to turn this tide, and we ask you to take specific actions to help revitalize our community."
The Board previously took action to support sectors of the local economy — including the wine industry — in May, when it passed a temporary resolution expanding operating hours for the valley's tasting rooms and easing restrictions on outdoor tastings, among other things.
The flexibility granted by those provisions has been "fantastic," according to V. Sattui President Tom Davies, one of the letter's signatories — but additional action is needed to support wineries and the adjacent hospitality industry, he said.
The expansion of tasting room operation hours is set to expire at the end of the month, according to Supervisor Ryan Gregory, though the rest of the provisions, including flexibility around outdoor wine tastings, will last through the end of the pandemic.
Coalition Napa Valley is asking that the county extend and even broaden the expansion of operating hours for tasting rooms; it also asks that visitation caps for wineries be augmented, that wineries be granted additional flexibility to host outdoor tastings and that the "by appointment requirement" for wine tastings be waived. Those provisions should last until 2023, the group argues, given the forecasted long-term impact of the pandemic on the economy.
The letter's signatories included Dario Sattui, founder and owner of V. Sattui Winery and Castello Di Amorosa; Caymus Vineyards' Chuck Wagner; Smith-Madrone Winery Vineyard Manager Stu Smith; Anthem Winery owner and founder Julie Arbuckle; and Ryan Waugh, of Waugh Family Vineyards.
Winery visitation numbers, which are capped by county use permits, have long been a point of contention in the Napa Valley. Heightened tourism, critics argue, worsens traffic, threatens environmental impact and deteriorates overall quality of life for residents. Proponents point to a local economy highly dependent on winery visitation.
Acknowledging concerns, Davies said the group would work with the environment in mind, and suggested staggered tasting room closures over elongated hours of operation could lessen traffic at day's end. He emphasized the unprecedented economic depression brought on by compounding emergencies.
"In my 41 years at V. Sattui Winery, I have never seen the industry as damaged and in jeopardy as it is now," he said. Previous disasters — floods, fires, and an earthquake — have given him a keen sense of just how long it may take for visitation to recover this time around, Davies said.
"Even though our call to action is specifically targeted to getting wineries flexibility going forward, it's to help all of us," Davies said. "It's to help restaurants and hotels invite guests back, too. This is what's needed."
Visitation at his own winery has been "cut in half," he added.
County Supervisor Brad Wagenknecht said the board was aware of the letter and planned to address how best to help local businesses through the winter as an item of discussion during its next meeting on Nov. 10.
The Board has heard repetitively over the last few weeks from local businesses across industries concerned about the upcoming winter, Supervisor Gregory said, adding he'd encouraged his fellow supervisors to officially agendize the item.
"We've started to hear all these different ideas (from businesses)," Gregory said, noting that many have centered on operational logistics like permitting additional setup of temporary structures like tents for dining and wine tasting. Though his initial impression of the group's list had been that it was "far reaching," he had not yet had time to process the specifics of CNV's letter, Gregory said.
"We're sympathetic to the fact that the business community is hurting right now, and I think government has a role to play in helping them through tough times," Gregory added.
He said he would encourage the board to put a call out for ideas from businesses, and hoped to discuss "an inventory of things" to help businesses through the winter "and beyond" with his fellow supervisors at the Nov. 10 meeting.
The provisions requested by Coalition Napa Valley would be most beneficial for the valley's small wineries, the group has said. Wineries making less than 5,000 cases a year — about 70% of the region's wineries, according to a Napa Valley Vintners estimate — were forecast to lose almost half of their annual revenue even before the wildfires struck, according to an industry report.
Many of those boutique wineries also grapple with "arbitrary" limits on their visitation as dictated by their use permits, Davies asserted. One of the group's members, Castello di Amorosa's Sattui added, has a use permit that allows just eight visitors per day.
"A lot of businesses are hanging on by a thread," Sattui said, noting most of the valley's small wineries rely heavily on direct to consumer sales — primarily out of their tasting rooms or e-commerce platforms for revenue streams. Castello di Amorosa, too, sells 100% of its wine through the direct to consumer model, Sattui added — so depressed visitation has been especially painful.
"I can't tell you how many small wineries are just frustrated … over all the various regulations that tie us into knots," Smith-Madrone's Smith said. "We're trying to be logical and work within the county's system to effect (positive) change for small wineries, and even larger, mid-size wineries."
Davies said the group was willing to work collaboratively with lawmakers and the larger community.
"My hope is that (the board is) open to new ideas and will give us the flexibility we need, even if only as a temporary measure right now," he added.



Watch Now: the Glass Fire's aftermath on Spring Mountain Road