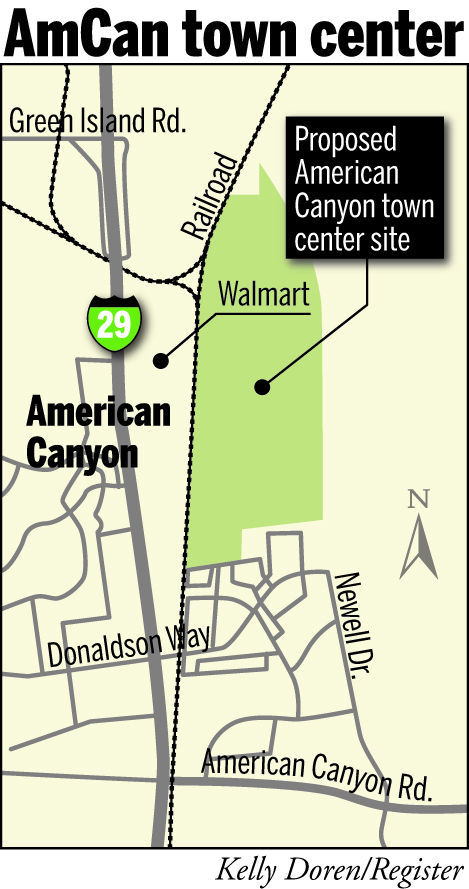 AMERICAN CANYON -- A proposal to develop 300 acres of vacant land east of Highway 29 in American Canyon gained traction Tuesday, with city officials agreeing to hire a consultant to prepare an in-depth study of the massive residential and commercial project. The developers will pay for the analysis.
The American Canyon City Council voted 4-0 to allow the City Manager Dana Shigley to negotiate a contract for more than $402,500 with an Oakland firm to prepare a comprehensive study of the impacts of a proposed development at Watson Ranch.
The proposed project, which would dwarf nearby Vintage Ranch in size, includes the ruins of the former Standard Portland Cement plant, the silos of which are visible from Highway 29.
The selected firm, Environmental Sciences Associates of Oakland, will bill the city, which in turn will be reimbursed by the developer.
Vice Mayor Belia Ramos Bennett recused herself from the vote because she owns a house within 500 feet of the proposed project.
The plans call for more than 1,540 homes, townhomes and apartments, a 200-room hotel, and 220,000 square feet of commercial/retail development near the ruins of the cement plant. The plans also call for 36 acres of parks and open space and 10 acres for a school.
Under the agreement, Environmental Science Associates' environmental impact report will analyze the effects of the project on traffic, air quality, the city's waste water and water systems, noise and other potential impacts.
McGrath Properties of Oakland and the Jaeger family, partnering as American Canyon 1 LLC, submitted the plans in January after years of discussion. In June, developer Terry McGrath presented the project to members of the city's Parks and Recreation Commission and Open Space Advisory Committee.
According to the presentation, the development will include 38 acres of parks, wetlands and trails and a 4.5-acre civic plaza that will be privately owned. The commission and committee members discussed whether 12.5 acres of detention basins and nearly 3 acres of quarry pond there should count as parks. 
Under the proposed schedule, ESA will take a year to complete the study.