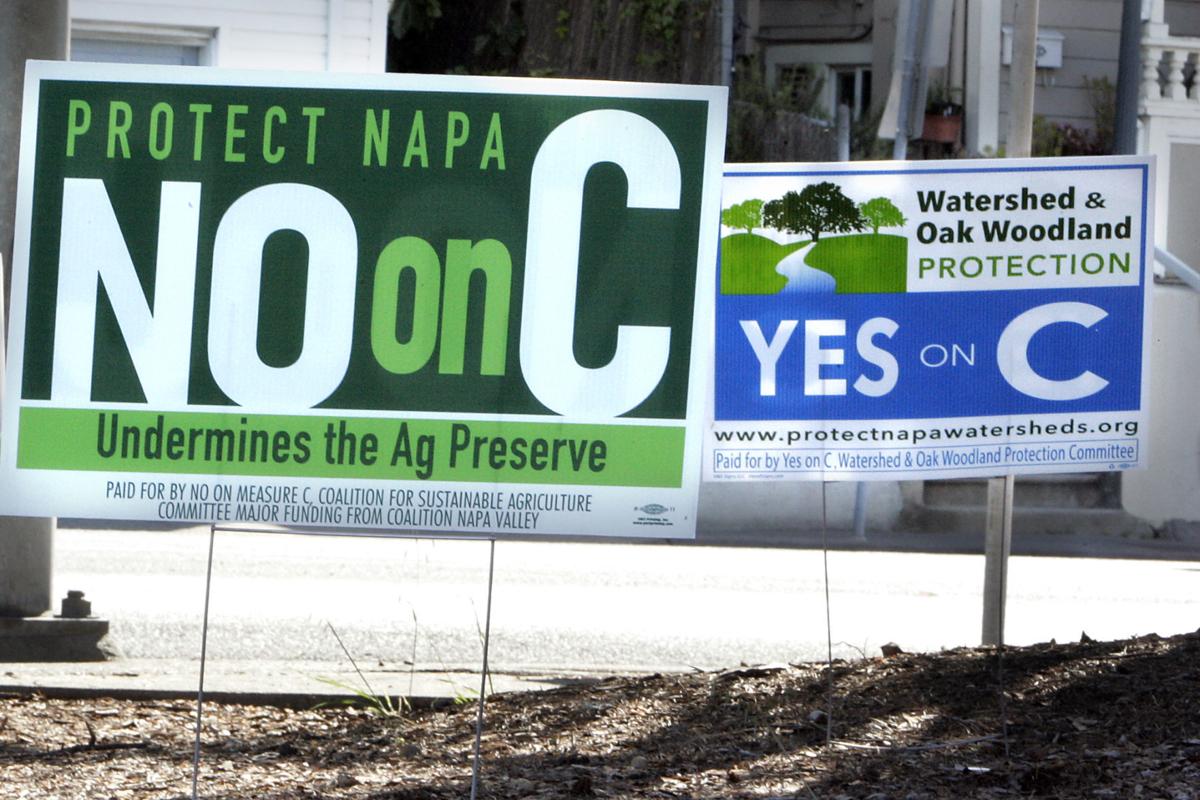 Napa County supervisors have different ideas on what's next in the wake of the apparent narrow defeat of a controversial watershed and oak woodland protection ballot measure.
Measure C on the June 5 ballot resulted in a bruising campaign that lay bare divisions in the community. Final election results scheduled to be released next week will show, barring an improbable comeback, that the "no" votes have a slight majority.
But Measure C is only part of a larger, ongoing debate over whether Napa Valley's wine country hospitality-and-tourism success is overwhelming its agricultural roots and environmental well-being.
Supervisors Diane Dillon and Brad Wagenknecht want to bring the community together to discuss whatever concerns exist. They want a third-party consultant to lead what Dillon called a transparent, inclusive, interactive, science-and-fact-based exploration of how the county moves forward.
"There are some real divisions on how Napa is going," Wagenknecht said on Thursday. "I think it would be very apropos to do this process on the 50th anniversary of the ag preserve. We've got to protect this."
Dillon explained the idea at Tuesday's Board of Supervisors meeting. She wants to look at existing county conservation laws so everyone starts from the same base. She wants to bring in expertise from such places as the University of California at Davis.
"I personally think what it boils down to is, what is the carrying capacity of Napa County?" Dillon said.
She pointed to a Napa River flood control coalition formed a couple of decades ago. Some people wanted an all-natural flood control project in downtown Napa and others wanted a decorative concrete project such as was done in San Antonio.
The result was a mix of the two approaches, with flood control terraces that mimicked nature in one section and a river walk with flood walls in another.
"That's what we had with flood control and we got success," Dillon said. "And we can get success (today)."
Not so fast, other supervisors opined. They see other steps that they want to take first.
Supervisor Alfredo Pedroza wants the Board of Supervisors to look at whether existing county laws are protecting the watersheds and water quality. He has seen no data suggesting otherwise, but some in the community are skeptical, he said.
"I think it starts with us having that conversation before we embark down a different path," Pedroza said at Tuesday's meeting.
Supervisor Belia Ramos mentioned a previous effort to tackle growth issues—the Board-appointed Agricultural Protection Advisory Committee (APAC) in 2015—that didn't settle the matter. She doesn't want the county to embark on "APAC on steroids."
"To turn this over to a larger community let's-all-hang-out-on-a-Saturday and to try to determine our future by that – I don't think that's the right process," Ramos said. "I think we need to keep it here at the Board, we need to air it out, we need to let that podium be the one that tells us if we're headed in the right direction."
By "that podium," she meant the place where the residents go during Board of Supervisors public comment periods to address the supervisors.
Ramos and Supervisor Ryan Gregory also want to continue a series of Board of Supervisors goal-setting workshops. Those 2017 workshops – which allowed supervisors to talk about housing, traffic and other issues in an informal setting – were interrupted when a former county executive officer left and they never resumed.
Gregory also wants the Board of Supervisors and Napa City Council to hear progress reports on a watershed study that the county and city teamed up to launch last year. This study is to show whether nutrients, sediments, pesticides and other materials are washing from watershed vineyards into city reservoirs.
Measure C co-author Mike Hackett didn't attend the Board discussion, but later watched a video recording of it. He favored the community discussion approach proposed by Dillon and Wagenknecht and said the other three supervisors want to do more studies as a delay tactic.
"The science is in," Hackett said on Thursday. "We don't need more studies. We don't need to go over the (conservation) regs. We've made our point. Half of the voting population agrees with us."
The need to address the watershed issues is apparent in this climate-change world, he said.
"Overall, there's a huge divide in Napa County," Hackett said. "There's a divide on the Board of Supervisors that's quite apparent as well. And that worries me."
Supervisors heard other opinions at Tuesday's meeting, including from the Napa Valley Grapegrowers and Winegrowers of Napa County, two groups that opposed Measure C.
The county should slow down and look at the science regarding its watersheds before bringing people together to decide on policy, said Napa Valley Grapegrowers Executive Director Jennifer Putnam. Hydrologists, foresters and other experts are needed, she said.
"Whatever you do next has to be rooted in science and not in emotion," Putnam said.
Michelle Benvenuto, executive director of Winegrowers of Napa County, agreed.
"The county does have a solid history of crafting policy based on science and data versus fear and panic," she said.
Supervisors didn't settle on a post-Measure C election plan of action. Wagenknecht said such ideas as a community growth discussion and a resumption of the Board of Supervisors goal-setting workshops are not mutually exclusive.
County Executive Officer Minh Tran said he will make suggestions based on Tuesday's discussion during his regular county report at the July 10 Board of Supervisors meeting.