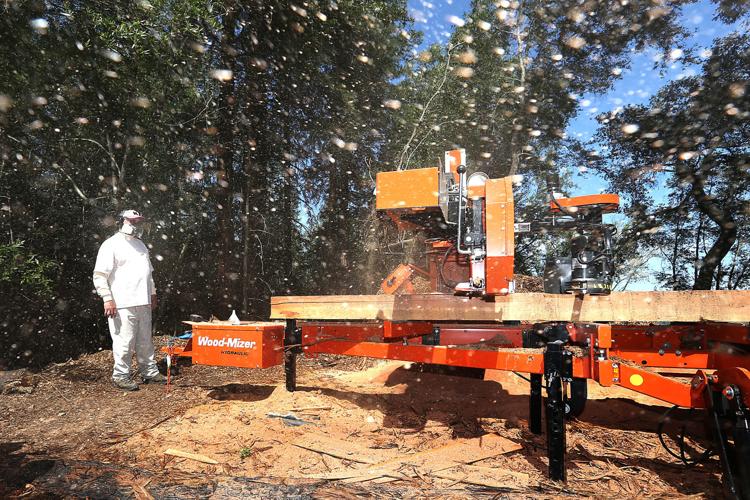 Tony McClimans is feeding redwood into his portable sawmill, a noisy, dusty occupation amid a Mount Veeder fire zone that has become logging country for the first time in decades.
Fire-damaged trees are being felled by the hundreds in the wake of last October's Nuns fire that burned down along the slope of Mount Veeder. McClimans, a Mount Veeder resident himself, is turning logs into lumber not to make money, but just to help out.
Mount Veeder a few miles west of the city of Napa still has plenty of redwoods, Douglas firs, madrones, oaks and other trees standing. But trees damaged beyond hope by the fire in many cases have become a burden for property owners.
"As a child, as an adult, I've always loved the forest," McClimans said during a break from his milling. "I cherish trees ... If it has to come down, do something productive with it. Don't just destroy it."
After all, the Mount Veeder area needs wood for reconstruction. About 125 structures were badly damaged or destroyed in that area by the Nuns fire.
McClimans and his mill were at Enchanted Hills Camp and Retreat on this recent day. The camp for the blind on the slopes of Mount Veeder was hard-hit by the fire, losing cabins, the camp staff home, a storage building, fences and bridges.
He's doing a kind of redwood reincarnation project – trees felled because of the fire are becoming rebuilding material for the camp. He uses a small mill that he said even a retiree like himself can operate.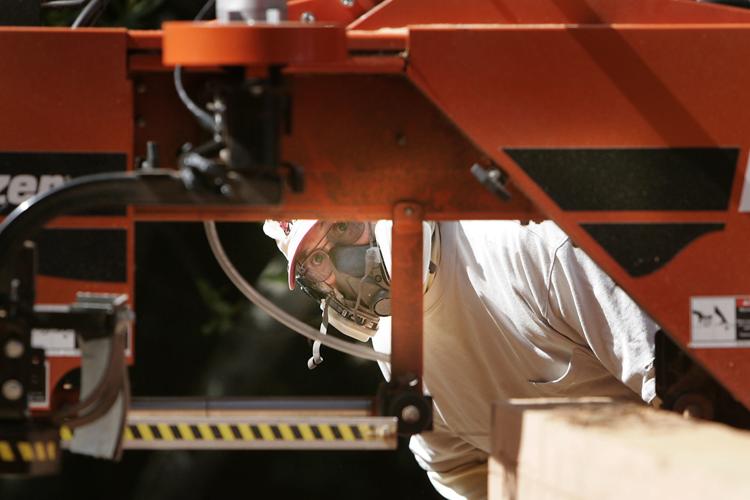 "It is a hobby," McClimans said. "It is an opportunity to do something good with an otherwise dead tree."
It's also a chance to do something good for Enchanted Hills.
"He's been an incredible volunteer for us," said Anthony Fletcher of the camp.
But what an unusual hobby, one that has McClimans wearing ear and respiratory protectors. The flying sawdust is a golden contrast with the white clothes covering virtually all of his skin on this warm day.
"It is a lot of work and it's dusty and it's noisy," McClimans said.
McClimans' Mount Veeder home just up the road was destroyed by the fire. So was a portable sawmill he bought when he removed some trees to make space for a garden and wanted to reuse the wood.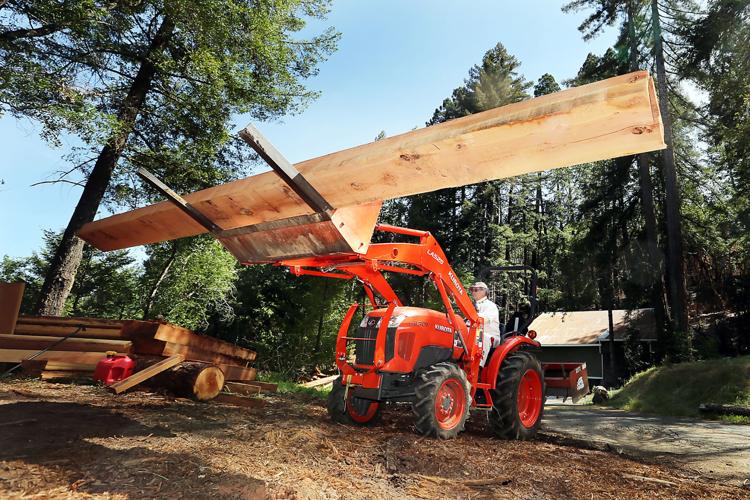 McClimans now has a new, $24,000 sawmill for the post-fire days ahead. This model, which resembles an orange, low-deck hauling trailer with a large power saw attached, includes such features as hydraulic arms to maneuver logs.
Fletcher said the Enchanted Hills Camp could lose a few hundred trees. Some fire-damaged trees could be allowed to stay as habitat. Others will go through the McClimans mill.
Enchanted Hills is among the parts of Mount Veeder that seem like a patchwork of destruction in the wake of a capricious fire. Turn one direction and blackened trees and stumps abound. Turn another and the green forest is untouched by flames.
One thing is certain – Enchanted Hills has a different look, a little less forested than before the fire.
"Think of it more of a park setting," Fletcher said.
But at The Cove across Mount Veeder Road from Enchanted Hills, the views are mainly of destruction. The fire poured out its wrath here at a former Girl Scouts camp purchased last December – after the fires – by the Napa County Regional Park and Open Space District.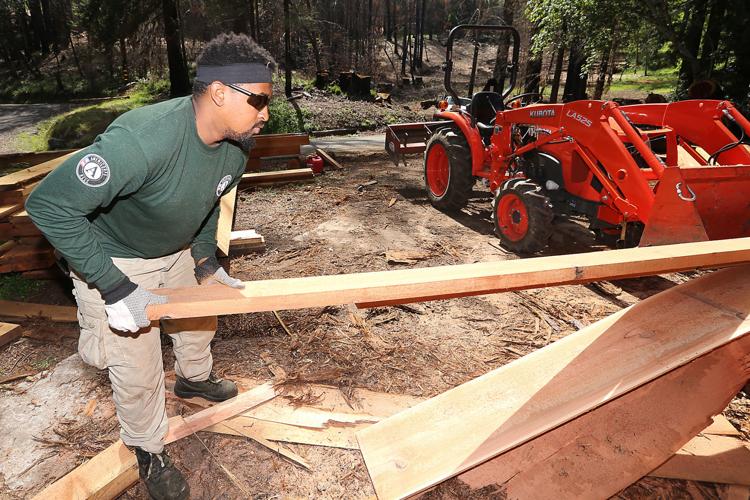 District officials see The Cove as a treasure for the future, with 160 acres that includes the 2,677-foot-high top of Mount Veeder. In the short-term, they have hundreds of Douglas firs and other burned trees that need to be cut down for safety reasons.
"It's going to look dramatically different," said Chris Cahill of the district. "Basically, all the trees are going to be cut on the lower, flat part of the property."
The Open Space Dstrict has been working with a forester. District officials hope the trees will be logged commercially and the income will cover not only the tree removal—they didn't yet know the cost—but also pay for repairs at the camp.
Then the Open Space District will try to grow a new forest with a bigger emphasis on redwoods, given redwoods might have been more plentiful there before pioneer-day logging operations. Cahill talked of planting trees that will take most of his career to grow to a reasonable size.
"When I went to work in parks and open space, I never thought I'd be doing logging," he said.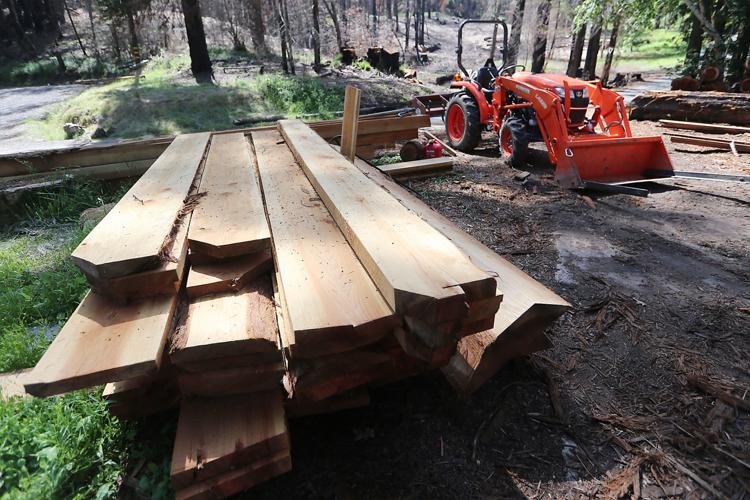 Paul Kearn has lived on Mount Veeder for 41 years. The Nuns fire spared his house, but he estimated dozens of trees nearby might have to come down. He's working with the same forester that the Open Space District is using to look at commercial logging.
"At this point, we're just hoping it's going to be a break-even," Kearn said.
But making a little money would be even better. Kearn said the money could go toward planting oaks and redwoods to replace the lost trees.
Local property owners aren't the only ones looking at removing fire-damaged trees. PG&E has been taking trees down in its easements to keep them away from lines. Some Mount Veeder residents think the utility has been too zealous and needlessly taken out burnt trees that would have survived.
Mount Veeder resident Gary Margadant has called the PG&E cutting "the rape of the redwoods."
McClimans while doing his milling at Enchanted Hills pointed to stumps near a power line. He said PG&E had "murdered" redwoods that he thinks could have lived.
"It was a glorious forest before," he said.
PG&E pruned or removed 14,300 trees in the wake of the fires, not only on Mount Veeder, but also in other parts of the Napa County hit by the Tubbs and Atlas fires that burned at the same time. The utility's stated goal is to reduce public safety risk.
Professional arborists, foresters and other inspectors looked at the trees to determine if they could possibly fall on the lines, PG&E spokeswoman Deanna Contreras said.
"They look at a number of things, but it's based on the damage to the tree," she said in an email. "They profile it to determine whether it was damaged to the point that the tree was dead, declining or had the potential to fall."
McClimans is skeptical. He and neighbors opposed PG&E when the utility looked at taking down 24 of 36 redwoods in a grove on their properties. As of two weeks ago, the trees remained ringed with caution tape to keep the loggers out.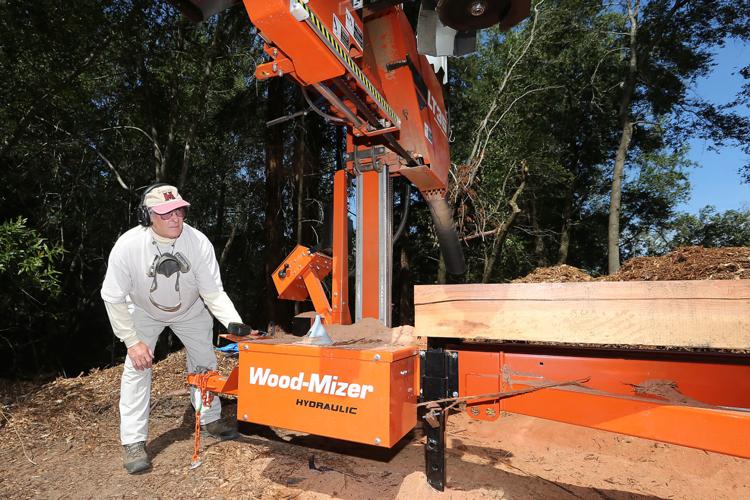 Contreras said PG&E removed 1,300 felled trees in easements in Napa County at no cost to customers who didn't want the wood on their properties. Mount Veeder trees smaller than 4 inches in diameter were chipped and hauled away or spread locally according to forest industry practices. Larger trees went to a biomass fuel generation plant in Woodland.
Mount Veeder has a history of logging in pioneer days, though how extensive is unclear.
Judge Stoney, who served as a Confederate soldier in the Civil War, owned a Mount Veeder sawmill in the 1870s. The Elkington family during this era owned a water-powered sawmill along a creek on their 640-acre property that included the Mount Veeder peak.
"This Elkington mill was chiefly used to cut rough lumber for local use in fencing, bridge work and for firewood," Virginia Hanrahan wrote in "Historical Napa Valley."
These days, the Mount Veeder sawmills are gone. About all that remains is McClimans and his portable mill, trying to wring a little bit of good out of a disaster.
"In my opinion, the community has been dealt a bad hand," McClimans said as he prepared to create more lumber for the rebuild. "The question now is, how do you play that hand?"
Get local news delivered to your inbox!
Subscribe to our Daily Headlines newsletter.