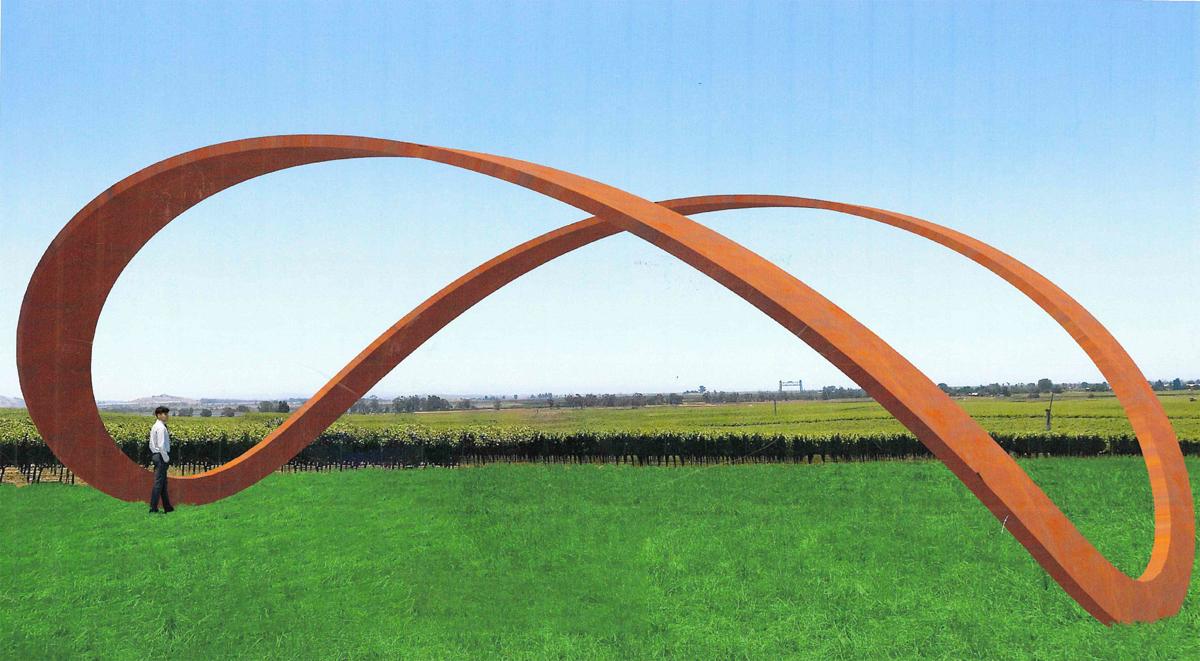 At a luxury resort being created in Napa's quiet southern reaches, a symbol of limitlessness will stand on its highest point.
The sculpture by the Napa artist Gordon Huether last week gained the city Planning Commission's endorsement for placement at the 96-acre luxury resort and residential community, which Napa approved in 2010 off Highways 29 and 12/121.
The choice of the mathematical symbol will symbolize "infinite possibilities, eternity, empowerment and everlasting love," according to the plans filed with the city. The use of Cor-Ten steel, an alloy whose exterior gradually rusts to a brown patina, is meant to produce an earthy appearance in keeping with its orchards, gardens and other outdoor trappings, the application states.
All lighting will be mounted to the infinity loop's underside, pointing downward, to avoid beaming excessive glare within its vineyard surroundings.
"Infinity" will be the latest large-scale outdoor artwork from the studio of Huether, himself a planning commissioner, to find a prominent perch in Napa. (Huether recused himself from the Thursday decision, in which all four of his colleagues voted their support.)
Denver-based developer Nichols Partnership in September began work at the Stanly Ranch resort, which is scheduled to open in the spring of 2021 at a reported cost of more than $250 million.
Nichols has announced plans for 135 nightly rental cottages with picture windows and patios facing vineyards, eucalyptus stands and the Mayacamas Mountains, along with 40 fractional-ownership villas and 70 private homes, for the property at 200 Stanly Cross Road. The resort also will feature a great lawn, two swimming pools, a spa and fitness studio.
Designs for the Stanly Ranch resort's accommodations – largely in a modern, clean-lined yet agrarian vein – are currently under city review. The developers' agreement with Napa also includes a requirement to upgrade a section of the San Francisco Bay Trail leading to the resort that passes between rows of eucalyptus trees.