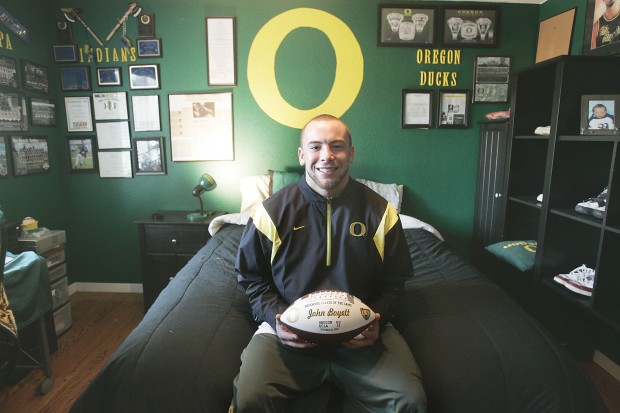 Preseason All-American John Boyett returned to Napa Sunday and will have surgery this week to repair partial tears of both patellar tendons. The procedure will end his 2012 season as the starting free safety for the nationally-ranked University of Oregon football team.
Boyett, a Napa High School graduate and former Indians star, did not play in Saturday's 42-25 victory over Fresno State. He started the season opener and intercepted a pass in the second quarter during a 57-34 win over visiting Arkansas State.
He traveled home from Eugene, Ore., Sunday with his father, Dan Boyett, a St. Helena High School assistant football coach. Dr. Neal ElAttrache, an orthopedic surgeon at the Kerlan-Jobe Orthopaedic Clinic in Los Angeles, will perform surgery on Wednesday. It's a six-month rehab process. ElAttrache is the head physician to the Los Angeles Dodgers.
The patellar tendon works with the muscles in the front of the thigh — the quadriceps — to strengthen your leg, according to OrthoInfo.
Boyett read from a prepared statement Sunday, saying: "I've had a lingering injury that I played through all last year. The hope was, through different treatments and certain types of rehab during this past offseason, they would heal up and I'd be ready to go for my senior year. But unfortunately, it didn't work out as planned. I've been dealing with a tremendous amount of pain for a long time. At this time, I'm not able to play up to this level that I want to. Five different specialists from around the country have reviewed my MRIs and at this time surgery is needed. The operation is scheduled for Wednesday and the rehab process to get back to 100 percent is approximately six months. It's a very difficult decision. I have tremendous teammates and made many friends at the university. I've grown tremendously as a player and as a person, working under my great defensive back coach, Coach John Neal and the defensive coordinator, Nick Aliotti, who recruited me to the University of Oregon."
Boyett did not say how the injuries happened.
He is on the watch list for the Bednarik Award (defense), Bronko Nagurski Trophy (defense), and the Jim Thorpe Award (defensive back). The Oregon star has been named to the 2012 Lott IMPACT Trophy Watch List and has been named second-team on SI.com's 2012 Preseason All-America team.
He has drawn All-America acclaim the past two seasons. The four-year starter ranked fourth in the Pac-12 Conference in tackles a year ago with 108 stops (8.31 average), highlighted by a career-high 17 tackles in a 2012 Rose Bowl win over Wisconsin. He made the final stop of the game, helping the Ducks, the Pac-12 champions, to a wild 45-38 win over Wisconsin. It was Oregon's first Rose Bowl win since 1917.
He was named second-team defense on Phil Steele's 2012 Preseason All-America team and was also named first-team defense on Phil Steele's 2012 Preseason All-Pac-12 team.
"It was very frustrating for John last season to be playing through the pain and to not be at 100 percent," said Dan Boyett, who was at Oregon's game Saturday. "And then the hopes and frustration in the offseason of just dealing with this and the decision that it's come to. The good news is that it's surgically correctable.
"It is unfortunate. But in athletics, athletes do go through this and they bounce back. I'm sure he'll put as much energy into his rehab and get ready to play again as he did in preparing himself for each game. Going into his senior year, there was a lot on the table that he's not able to finish or accomplish some of the things that he set as goals for himself. He has to get healthy. The critical thing at this time is to get it done and get it done now."
John Boyett has been a success story at Oregon, the three-time defending Pac-12 Conference champion, which was picked to win the North Division in a preseason poll of media members who cover the league.
He did not dress for Saturday's game, and while watching from the sidelines at Autzen Stadium, offered support and encouragement to his teammates.
The loss of Boyett is a major setback for Oregon's defense, as he combines leadership, experience and playmaking skills.
"It's a tough situation that I've been put in, but I just want to continue to strive to be the best," he said. "I had very high expectations for myself and this team for this upcoming season. I was ready mentally. It's just my patellar tendons weren't allowing me to perform. I felt I was more ready mentally than I ever had been before. I've been a leader the past couple of years. I just want to continue to do everything I can to help the team win.
"I'm trying to stay strong. It can all be fixed and I can be back to 100 percent."
It has not yet been determined where Boyett will do his rehab. He would like to stay as close as possible to the Oregon team, which went into Saturday's game ranked No. 4 by the Associated Press. He graduated from Oregon last month with a degree in sociology.
"I would love to be able to be a part of the team and do everything I can to help the team win," he said. "Oregon does a tremendous job with recruiting — they've got the best athletes in the country. I'm just very fortunate to be a part of a great team over the past few years. I've got great teammates and I have tremendous confidence that they're going to step up and seize their opportunity. I love playing for Coach John Neal. I loved playing with my teammates."
Boyett was named to the 2012 Blue Ribbon Football Yearbook preseason All-America team.
He went into his senior year for the Ducks having made 276 total tackles in 39 games. He was Oregon's leading tackler for the second time in three seasons with 108 total stops last year and had a game-high 12 tackles in a win over UCLA in the Pac-12 Championship Game.
He also has nine career interceptions. Boyett was All-Pac-12 second team by the league's coaches and first team by Phil Steele last year. He was honorable mention All-America from Pro Football Weekly.
As a sophomore, he was an All-America second-team choice by SI.com and All-Pac-10 second-team by Phil Steele Publications.
In 2009, he became the school's first freshman to lead the Ducks in tackles since defensive records were first consistently accumulated in 1969.
He made the decision to have the surgeries after consulting with five doctors.
"I came to that conclusion because of the recommendations," he said. " It's what I have to do to get healthy."
He would not speculate on his future, as far as applying to the NCAA for a medical redshirt or opting for the 2013 NFL draft. He could miss the NFL's annual combine, but could have his own pro day sometime in the spring, prior to the draft.
"I haven't thought about the future. All I'm worried about is getting healthy. I'm just worried about trying to get back to 100 percent, trying to get healthy. I'm 100 percent confident that I will be back on the football field. It's just going to take a little bit of time. I'm going to do everything I can to get back to 100 percent."
Boyett starred for Napa during its 13-1 season and 4-0 run through the 2007 CIF Sac-Joaquin Section Division I playoffs that culminated with a 38-36 win over St. Mary's-Stockton in the championship game at University of the Pacific.
At Napa High, he earned first-team All-State accolades (CalHiSports.com), four-star acclaim by Scout.com, Northern California Player of the Year by GoldenStatePreps.com, and EA Sports second-team All-American.
"I love John Boyett," Aliotti said in a story in The Oregonian in August. "He's one of my favorite all-time — one of those special kind of kids that don't come around very often. He's one in a million."