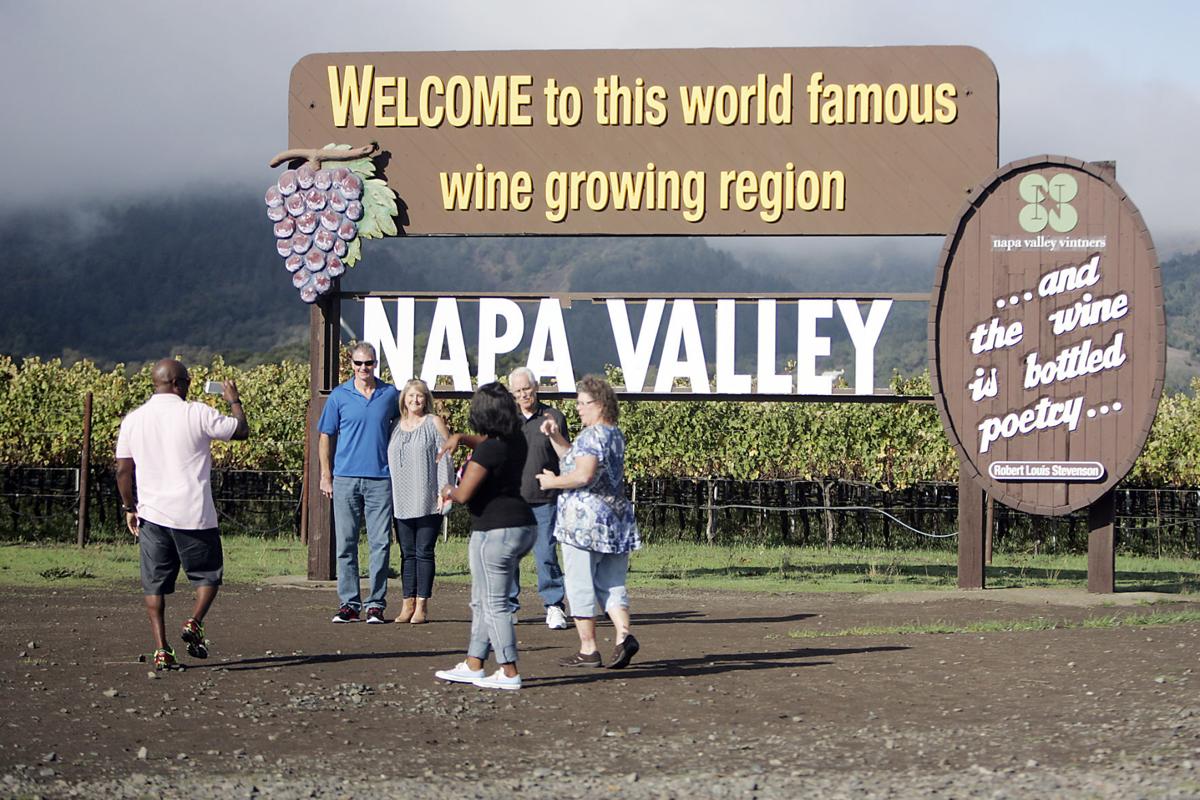 Some locals wonder if Napa County's wine-heavy economy is a case of too many grapes in one basket.
That one basket is stupendous. Napa Valley is synonymous with fine wines and the result is visitors – during non-pandemic and non-wildfire times – flocking here to spend money. Hotel taxes in 2018 brought more than $50 million to the coffers of the county and its cities.
Economic reports done for Napa Valley Vintners over the past decade have estimated that agriculture, wine and related activities account directly and indirectly for two-thirds of the county's full-time jobs.
That's something to celebrate or worry about—or both. Changes in societal tastes, attacks by a vine-killing invasive species and wildfires are among the possible threats mentioned by economic diversity devotees.
The economic diversity topic has come up at several Napa County government meetings over the past year.
"We've heard this for years, we need to diversify our economy," Supervisor Ryan Gregory said. "It's just that it's so much easier said than done."
County Planning Commissioner Andrew Mazotti sees the idea as worth pursuing. He mentioned Detroit, the Motown that saw its economic engine of auto production sputter.
"The core offering in Napa Valley is wine, no question about it," Mazotti said. "I would caution us not to put all our eggs in one basket. We have to diversify what the Napa Valley offers."
Mazotti is director of Zapolski Real Estate, which is helping to redevelop downtown Napa.
Whatever happens, the Napa County general plan says agriculture and the wine industry should remain number one. This North Star planning document doesn't want to jeopardize the unique, world-famous basket the county already possesses.
Diversify — "so long as these new jobs do not adversely affect the agricultural sector," the general plan says.
Napa grows less diverse
Up to the 1970s, Napa County's agricultural economy was more diverse. An 1887 county-released overview of county resources has a chapter on grapes, but also chapters on olives, the dairy industry and citrus fruits.
The 1966 Napa County crop report shows beef leading the way at $6 million, compared to $4.3 million for grapes. Even prunes brought in $1.8 million.
Then Napa County's wines in the 1970s took off for the stratosphere. Today, grapes account for 99% of the county's almost $1 billion agricultural production value.
Don't look for that grape monopoly to change. The county last year had a mere 24 acres of vegetable crops. Wine grapes, not carrots or corn, are the high-value crop capable of preserving farmland from suburban growth.
The shrinking of economic diversification hasn't only been in agriculture. The county has seen its business mix shift in recent decades.
In the early 1990s, local businesses included the Dey Labs pharmaceutical company and Napa Pipe. Mare Island Naval Shipyard in nearby Solano County still employed more than 1,000 Napa County residents, even as it prepared to close. All of these jobs are gone.
Meanwhile, over the past decade, a once-struggling Napa downtown has seen rebirth with new wine country tourist-serving hotels and restaurants. The downtown has tapped into the county's wine industry success.
Napa County has 21% of its direct employment connected with the hospitality sector. Among other destination economies, Charleston, South Carolina has 19%, Santa Barbara 17%, Santa Cruz 17% and Boulder, Colorado 14%, according to University of California, Berkeley student research done for the city of Napa.
In the city of Napa, manufacturing jobs fell from 4,830 in 2008 to 4,063 in 2017. Meanwhile, accommodation and food services jobs rose from 4,412 to 6,258, the research found.
"The need to attract new sectors at Napa is quite high as it isn't sustainable to rely on selected few businesses, especially with the threat of wildfires in Napa Valley," the researchers advised the city.
Napa Mayor Jill Techel recently agreed that a more diverse economy would be good.
"Definitely," she said. "It would benefit us all."
Airport industrial area a potential site
If any place is ripe for economic diversification in Napa County, it would seem to be 400 acres near the Napa County Airport near south county wetlands.
Developers had a diverse economic vision at the center's birth. Then-Gateway Business Park marketing director Vincent "Buzz" Butler in 1991 talked of attracting high tech companies.
"We're talking to one large, high-tech company from South San Francisco and their comment was that 10% of their employees cannot afford a home in that neighborhood," he said. "If they came here, they have access to the Napa home market and Fairfield is just 15 minutes away."
But today's airport industrial area has a strong whiff of wine country.
William Kampton of Colliers International gives periodic updates about the airport industrial area to the county Planning Commission. Of the 15 million square feet of warehouse/industrial space, roughly 90 to 95% is used by wine-related businesses, he estimated.
"It's a changing market from where it was 20 years ago, when we had a variety of uses," Kampton said. "It's just wine, wine and wine. Which is great. A long as things keep chugging upvalley, the industrial park is here to support it, and hopefully grow with it."
The downside is the industrial area has no diversity, he told the county Planning Commission last November.
One constraint is traffic on Highway 29 and Highway 12. Twenty years ago, when the industrial area had more diverse uses, workers could drive more easily to Napa County and trucks could leave more easily with products, Kampton said.
Butler, who is still involved with local development, still sees the possibility for more economic diversity. Napa County has a good quality of life and good schools. Homes are less expensive here than in other parts of the Bay Area.
"I think the story still sells," he said.
American Canyon is the county's southernmost city and is nearest to Interstate 80 and the Bay Area. It, like the city of Napa, has dashes of diversity to its economy.
City Community Development Director Brent Cooper said the city's industrial area has wine businesses, but also other types. He ticked off examples — Barry Callebaut Chocolate, Del Monte Meat, Coca Cola, an IKEA e-commerce warehouse, an upcoming Amazon distribution center.
"American Canyon already has a fair amount of economic diversity, but the city is very interested in expanding and diversifying the economic base," Cooper said.
COVID-19 brings an opportunity?
Economist Robert Eyler, Ph.D., of Sonoma State University has on several occasions suggested the county diversify its economy. Most recently was when he addressed the Napa County Board of Supervisors on June 10.
Eyler, county Supervisor Alfredo Pedroza, Butler and Techel all see a door possibly opening in the wake of the COVID-19 pandemic.
COVID-19 has led to more people telecommuting and companies seeing that telecommuting works. That creates what Eyler called "portable" jobs. Workers in metropolitan areas might prefer living in a place like Napa and now they can make the move.
Of course, Napa County's economic vision isn't simply to attract a bunch of new residents who work out of their homes. But Eyler said there is potential for more.
"For example, if people start moving here and bringing portable businesses, can we start with a co-working space that might be tech-related?" Eyler said. "Because people who are in tech want to move to Napa County, but they don't want to be at home 24-7."
Employers might pick up swathes of office space and tell workers they can drop in there at different times, he said.
Pedroza said portable jobs could lead to companies in health care and tech opening satellite offices. Techel said if Napa can attract the workers, maybe it can attract the businesses.
Mazotti sees challenges to diversification. Napa County is a little disconnected from San Francisco, the Silicon Valley and the hub of the Bay Area, he said. The south county is best situated, though a unique company might locate upvalley.
He also sees opportunities. He said his firm's renovated Gordon building in downtown Napa has space perfect for a firm looking to get out of a metropolitan area.
The city of Napa had a 2019 economic development study done by Bay Area Council Economic Institute. Among other things, it suggested the city focus on growth clusters around Queen of the Valley Medical Center and Napa Valley College.
The report didn't neglect the hospitality, tourism, arts and entertainment industries, calling them "a driving force behind the city's economy." It suggested attracting hospitality-related technology.
What's next
Wanting more economic diversity and achieving it are two different matters.
Napa County in 2015 thought it had a good diversification bet. The county had a few years earlier purchased the former Dey Labs for its Health and Human Services Agency services and didn't need all the space.
In particular, the county didn't need Building Four, a 63,000-square-foot, stand-alone pharmaceutical facility. The building had a chemistry laboratory, a rated bio-safety laboratory and "clean room" with low levels of dust and other environmental pollutants.
Napa County put this unique, ready-to-go building on the market and waited for pharmaceutical firms to bite. The attempt failed, prompting the county to remodel the building for its own uses.
County officials speculated that Napa County is too far away from the industry hubs to attract that kind of business.
Eyler told the Board of Supervisors on June 10 that landing another Dey Labs might be tricky. But he also talked about taking action, instead of simply waiting for something to happen.
"When you think about diversity, you nailed it, it's not easy to do, but you've got to sound like you want it for people to come," he said.
Mazotti agreed that economic diversification won't simply happen.
"You're going to have to go into sales mode," he said.
The nonprofit Napa Valley Economic Development Corp. formed in 1984 to attract new businesses. In 2000, a Napa Valley Register editorial credited the group with helping to create an "economic rebirth."
In 2008, the corporation dissolved. A corporation official at the time cited a desire among board members to work with chambers of commerce and other groups, rather than secure county and city funding and staff an organization.
Beth Painter, the group's last executive director, said recently that some people have asked if that kind of structure is needed again to link business interests, government and residents.
Napa County is the only county in the nine-county Bay Area without a dedicated economic development department or public-private economic development corporation, a 2019 city of Napa economic study said.
The city of Napa has its own economic development division, but that isn't a countywide effort. Techel said local communities are better off coordinating than competing.
Pedroza said Napa County needs business sector promotion matched with public sector incentives. He's been working on a task force to look at economic issues.
Agriculture and wine, barring unforeseen circumstances, will remain Number One in Napa Valley for economic impact. The question is what should be Number Two, Number Three and Number Four.



Watch now: Repeat wildfires ruining grapes in Napa Valley