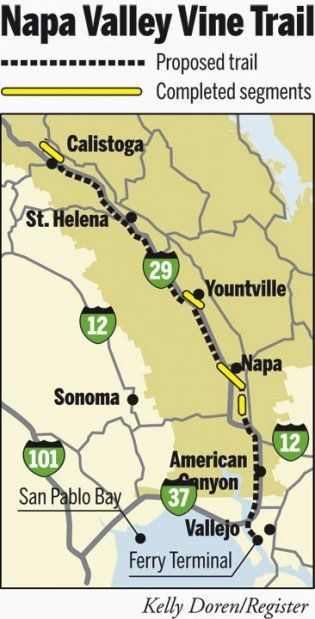 Whether the Napa Valley Vine Trail and farming are a good mix is a new question facing the county Board of Supervisors.
The planned, 47-mile-long trail from Vallejo to Calistoga is to run along major transportation corridors such as Highway 29 and the Napa Valley Wine Train tracks for much of its length. That prospect hasn't proven to be controversial.
But having bikers passing near vineyards where farmers might be operating tractors or spraying is another story. Supervisors began its discussion on Tuesday.
A section of the Highway 29 right of way between Calistoga and St. Helena is narrow and has wetlands. The trail is to veer away from the highway for more than 1.5 miles to make use of Ehlers Lane and an abandoned railroad right of way, crossing farmland.
"If we want a Vine Trail between St. Helena and Calistoga, that's really the only way to do it," Napa Valley Vine Trail Coalition Board President Chuck McMinn told supervisors.
The Napa County Farm Bureau wants the trail to stay alongside existing transportation routes.
"Farming is noisy and dusty and dangerous," Farm Bureau President Norma Tofanelli told supervisors. "Recreational users don't belong in that mix."
Having recreational users in farming areas will ultimately lead to restrictions on farming, as well as put trail users at risk, Tofanelli said. This is a slippery slope that could threaten right-to-farm protections, she said.
Tofanelli also talked as a private citizen about her own experience with a bike trail in the farming area near Calistoga. Her family owns a nine-acre parcel adjacent to this trail.
Fencing is incomplete. Trespassers go from the path onto private properties. People use the area for parties and leave behind beer bottles and trash, she said.
"Picture it — it is remote, dark and not patrolled by law enforcement," Tofanelli said.
American Canyon resident Barry Christian wondered aloud how recreation got such a bad rap. The Vine Trail is to provide a transportation option for citizens as well as recreation opportunities, he told supervisors.
"Bicyclists have no protection from the subset of motorists who hate bicyclists or from incidents of road rage or from distracted drivers traveling 75 mph," he said. "There are portions of Highway 29 that are the only available route."
He wants the Vine Trail to offer an alternative to Highway 29 for cyclists.
The Vine Trail Coalition proposes various mitigations for trail sections adjacent to vineyards. Among them are having farm equipment reduce speeds where the trail intersects with vineyards roads and having farmers turn off spray equipment at the end of each vine row.
"We firmly believe this is a manageable issue," McMinn told supervisors. "Trails next to agriculture, it's the case every place else in the world. It's the case in Sonoma right now. "
Five of the six property owners needed for the planned St. Helena-to-Calistoga segment have agreed to the idea of the Vine Trail being on their land, McMinn told supervisors. The Vine Trail will not be built using eminent domain, he said.
The county could play a major role in creating this section of trail. Only the county is exempt from its own zoning laws that prohibit recreational uses in the agricultural preserve. Any other agency seeking to build the Vine Trail on farmland might have to seek citizen approval under Measure P, a county report said.
"I don't think we can allow the perfect to become the enemy of the good," Supervisor Mark Luce said. "If there's a better route, let's identify it, but we need to identify it soon, and the feedback I've gotten so far is there really isn't."
Vine Trail officials have said a 2017 groundbreaking is possible to build the 9.2-mile St. Helena-to-Calistoga segment.
Supervisors ran out of time to resolve the issue on Tuesday. They took 45 minutes of their meeting to talk about the Vine Trail, then returned to their six-hour session on winery growth that lasted into the evening.
Many of the people who wanted to address the board on the Vine Trail didn't have the chance. The Board of Supervisors postponed the matter until 2 p.m. Jan. 5.
Supervisors will also tackle such Vine Trail issues as maintenance costs, liability and security.
"There's no doubt the Vine Trail is a great thing and we're all happy, happy, happy it's being done," Board of Supervisors Chairwoman Diane Dillon said. "But we're at a place and a time where we need to grapple with the next steps of it."