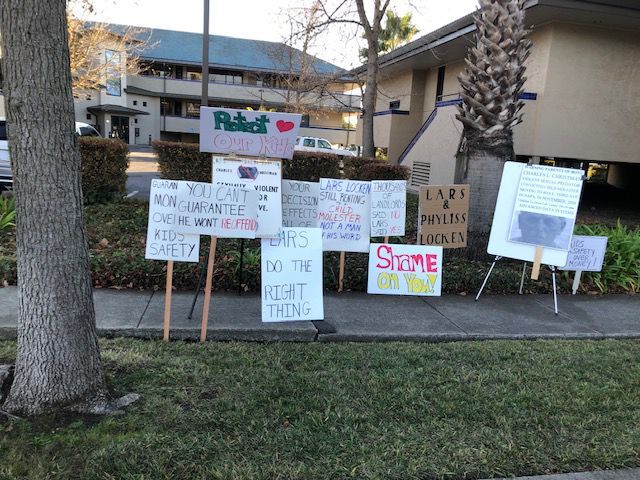 The controversial residential placement of an elderly man classified as a sexually violent predator took a dramatic turn Monday when a judge ordered the man transferred from Napa to San Francisco.
The San Francisco Superior Court reversed last year's placement of 76-year-old Charles Leroy Christman, who had an extensive record of pedophilia, at a rental house on East Third Avenue.
Neighbors had waged a publicity campaign against the placement, picketing both the residence and the business address of the landlord, Lars and Phyllis Locken.
Both the Napa County District Attorney's Office and the Napa County Sheriff's Office had fought the Napa County placement, citing Christman's long history of sex crimes, his lack of ties to Napa and the difficulty of monitoring someone in a rural neighborhood.
Support local news coverage and the people who report it by subscribing to the Napa Valley Register.
In August, the Napa DA presented the court with more than 500 letters of opposition and a petition containing nearly 800 signatures. Sixty-two children were identified as living within a one-mile radius of the home and two schools were nearby.
Deputy District Attorney Agnes Dziadur, who handled the case, said, "This change of heart by the San Francisco Superior Court is a testament to the commitment of our office to notify the Napa community, provide a mechanism for neighborhood voices to be amplified and the patience to move through the proper procedures to ensure that Mr. Christman has an appropriate placement—outside of Napa County."
Lars Locken did not return Register calls on Tuesday. In November, as Christman's transfer to Napa loomed, he said in an interview that neighbors were overreacting.
Locken said he had done extensive research before agreeing to rent his small house to Liberty Healthcare Corp. which is coordinating all aspects of Christman's release from Coalinga State Hospital.
"This guy I feel is not a threat at all," he said. "The guy is pushing 80 ... Also, he's in a wheelchair. He walks with a walker. He won't be everybody's gardener and raping everybody in Napa."
"People don't have all the information and it's killing me," Locken said. "This guy will be monitored 24/7," as well as wear a GPS monitor and initially have in-house supervision, he said.
Napa officials said Christman has a long history of sex crimes and a diagnosis of pedophilia. He was committed to the California Department of Mental Health in 1997 for sexually assaulting young boys and classified as a sexually violent predator. In 2015, he was released to a residence in Walnut Creek, but violated the terms of his release and was recommitted to Coalinga State Hospital where he remained until his release to the east Napa home.
Bonny Johnson and her family live close to the home where Christman has stayed for the past four months. She learned of the plans to relocate Christman on Tuesday morning when a Register reporter called.
"This is awesome. I had no idea," said Johnson, who said opponents of the placement had been planning more picketing this Saturday at the Lockens' business address.
During Christman's stay on East Third Avenue, Johnson said she had seen him leave the house twice in a wheelchair, including once last week when he left in an ambulance, but most commonly he walks to vehicles that take him to his appointments. Armed guards are with him 24 hours a day, she said.
"I'm sure it's to keep him in line and also to make sure the public doesn't do anything to him, I assume," she said.
Neighbors have posted signs near the home occupied by Christman, saying there's a "sexual predator" living there and "don't go there," Johnson said.
When Lars Locken asked that the signs be taken down and the neighbors refused, "he stopped talking to us," Johnson said.
The court ruled Monday that Christman be transferred to a new placement in San Francisco by April 25. San Francisco was where his crimes occurred, the Napa DA's office said.
WATCH NOW: TAKE A TOUR OF 741 SEMINARY ST. IN NAPA: A HISTORIC HOME FOR SALE
SEE NAPA NEWS IN PICTURES
Catch up on Napa County's top news stories