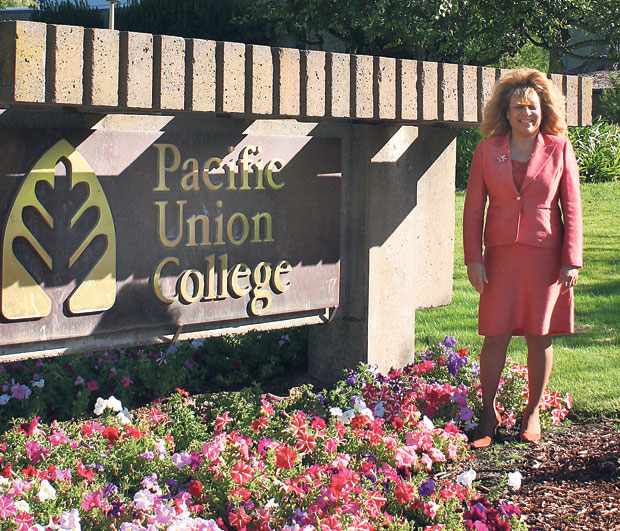 ANGWIN — Perched on Howell Mountain high above the Napa Valley, the village of Angwin is a fusion of Napa County's rustic past and its progressive present.
Angwin is surrounded by forests and vineyards, with trees and grapes vastly outnumbering its approximately 3,000 residents. It lacks modern comforts — restaurants, entertainment venues, and even a stoplight on its main drag, Howell Mountain Road.
Looming over Angwin is its most distinguishing asset, Pacific Union College. The small, Seventh-day Adventist college has built a reputation as one of the best and most diverse liberal arts colleges in the western U.S., said PUC President Heather Knight.
This fall, the future of Angwin is in the hands of Napa County voters who will decide a long-simmering dispute over land-use between residents and the college. A conservation group, Save Rural Angwin, has placed an initiative on ballots for the Nov. 6 election that seeks to change the allowed uses on land the college owns.
The initiative, called Measure U, would change the General Plan designations of three parcels of land, two west of Howell Mountain Road and one north of PUC's campus. The Howell Mountain Road parcels, which include an open field and a wastewater treatment plant, would change from urban residential — which allows for residential development — to agricultural watershed. The third parcel would change from urban to public institutional. If Measure U passes, making any changes to those parcels would require a new initiative.
To the college, which opposes Measure U, this ballot measure is an infringement on its property rights, and an extreme action from the residents who belong to Save Rural Angwin.
"There's a sense of entitlement," Knight said. "They almost think they own the land. It's basically downzoning our land and it's an attempt to devalue it."Proponents say the measure's aim is to prevent future development from occurring in Angwin, essentially capping its population growth.
They fear that more growth in Angwin would cause it to lose its bucolic charm. They claim that costs associated with urban development in the unincorporated area would be borne on taxpayers countywide, said Volker Eisele, a Chiles Valley grapegrower who helped organize the effort to get Measure U on the ballot.
"Think about the cost of building adequate roads and maintaining adequate roads onto Howell Mountain," Eisele said. "To have adequate fire protection and adequate social services. The cost of development in Angwin is coming to every single taxpayer in Napa County."
Relying on an independent analysis of the measure commissioned by Napa County, the college calls Measure U legally flawed, saying that a portion of it would likely violate state law.
If approved by voters, the measure would prohibit subdivision on the parcel north of PUC. According to the county's legal analysis, prohibiting subdivisions would violate the state's Subdivision and Map Act.
If challenged in court, the measure could cost taxpayers $700,000 or more to defend, according to Napa County.
Eisele dismisses that analysis, saying it's not an indication of how a judge may rule on Measure U. If a judge does find a portion violates state law, the measure has a severability clause that would allow the rest of it to survive.
"That is not a ruling," Eisele said of the county's analysis. "If a judge says it's illegal, fine, we'll accept that. We have a severability clause. Going to court is like going to Reno and gambling  — you never know what the outcome is."
The dispute between Save Rural Angwin and the college has ratcheted up to an all-out war. Signs promoting and opposing Measure U now blanket Napa County. PUC is funding a series of television commercials telling voters to reject it.
This election fight can be traced to a failed development proposal called the eco-village.
Collaborating with a Seattle-based developer, Curt Johansen, PUC first pitched the idea six years ago as an environmentally sustainable means of constructing as many as 580 homes in Angwin. PUC's board of trustees voted in 2002 to sell land as a means of boosting its endowment and preserving the college's financial health, Knight said.
The original eco-village plans called for filling the west side of Howell Mountain Road with housing in a neighborhood that would have been called the Village Square, and putting more units on the parcel north of PUC, which would have been called the Highland Oaks neighborhood.
Measure U focuses on part of the parcels involved in the eco-village proposal, and seeks to downzone a portion of the Village Square and all of the Highland Oaks.Almost immediately after pitching the eco-village, the college ran into opposition from Save Rural Angwin, which identifies itself as a grass-roots organization composed entirely of volunteers. Over the years, the eco-village shrank in size to 380 units, before the proposal was scrapped in 2010.
Knight came to PUC in 2009 and entered the fray over the eco-village. She credits Save Rural Angwin with working with her to end it.
"It was too much," Knight said of the proposal. "We've listened. We've talked. The eco-village was dropped. That alone should show our good faith."
The dispute flared up again last fall when PUC listed more than 1,500 acres for sale, with money from the sale going to support its endowment.
PUC's endowment hit a 5-year high at the end of 2010, with $21 million, after plunging to $17.3 million in 2007-2008 during the onslaught of the U.S. economic recession. Still, Knight said that more money is needed to fund student scholarships and capital improvement projects, such as facilities repairs, that have been put off for too long.
PUC Vice President John Collins wouldn't say if any of acreage for sale includes the parcels that would be subjected to Measure U. "They could be, they may not be," Collins said. "It's indefinite."
He also wouldn't discuss the status of the land sale, but said PUC's board of trustees still recognizes the financial need to sell land. Of the acreage listed, Collins said the college intends only to sell no more than one-third.
"There's an important principle behind it," Collins said. "Assets exist for one reason: To support mission."
Knight agreed, saying "We're asset-rich but we're cash-poor."
Collins denies Save Rural Angwin's assertion that a land sale could lead to further development.
"PUC has not asked to rezone," Collins said. "We are asking that our land stay zoned as is. We have not intended to do a development project. We have a pretty good record of land stewardship going over 103 years."
Eisele said the college's decision to press forward with a land sale forced Save Rural Angwin's hand; members started gathering signatures for Measure U this spring, believing the college would broker a sale during a board of trustees meeting in May. Knight said no sale occurred during that meeting. "We have really been moving very carefully," Knight said. "Nothing has been signed."
Without Measure U, land-use decisions affecting Angwin would rest with the Napa County Board of Supervisors, which Eisele believes is not enough protection.
"An initiative is a weapon of last resort," Eisele said.
Eisele said it's tough to place a definite number on the amount of housing that could be built on the Howell Mountain Road parcel and the parcel north of PUC if Measure U fails and the land is sold to a developer. He said that depends on the proposal.
He estimated that the Howell Mountain Road parcel could host 100 to 150 homes, while the parcel north of PUC could support densities of two- to seven-units per acre. In the eco-village proposal, it would have had 100 single family homes built on it.
To fuel its fight against PUC, Save Rural Angwin tapped into Napa County's most formidable political force — the wine industry.
Between the end of March and July 1, Save Rural Angwin's campaign committee raised about $50,000, most it from donations of $1,000 to $10,000 from Napa County wineries, according to campaign finance reports filed with Napa County's elections division. Save Rural Angwin had about $20,000 on hand prior to the fundraising efforts.
Save Rural Angwin spent about $37,000 on a Santa Cruz-based firm hired for the initiative's signature gathering. It spent almost $20,000 on legal bills to counter the legal analysis of Measure U from Napa County and PUC's attorneys, and another $10,000 on campaign literature.
The committee had about $10,000 on hand as of Sept. 30, according to financial records.
PUC, by contrast, has spent more than $100,000 of its own money on a campaign to defeat the measure, according to campaign finance reports.
The college put $100,000 in its campaign committee on Aug. 30, but the committee had spent $109,000 by Sept. 30, which is the cutoff for the reporting period.
More than $47,000 went to a San Francisco-based consulting firm, Terris Barnes & Walters, while more than $32,000 went to a Sacramento-based law firm, Nielsen Merksamer. Other expenditures included a $16,000 payment to another law firm, Manatt, Phelps & Phillips, and an $8,000 payment to Oakdale-based Kirk Briggs Signs.
The latest financial report did not include the costs of the "No on Measure U" television commercials, which will air until Election Day, Knight said. The next report is due to be filed Oct. 25.
As Eisele tells it, Measure U follows in the footsteps of Measure J, the monumental Napa County land-use initiative voters passed in 1990 and renewed in 2008 as Measure P.
Measure J gave Napa County voters the final word on urban changes to agricultural land, requiring approval through a popular vote. The California Supreme Court upheld that right in its 1995 ruling, Devita vs. County of Napa.
For that reason, Eisele dismisses PUC's claims that Measure U violates its property rights.
"The zoning and property rights issues is really a red herring at best," Eisele said. "That is all basically sanctioned by the lawsuit that was decided in the California Supreme Court, Devita vs. County of Napa."
Eisele said Measure U's parcels were targeted because they're all designated urban residential in the county's General Plan. The measure would not affect two Angwin parcels on which the Napa County Board of Supervisors has approved 191 housing units.
Those units are included in the county's housing plan, which is currently being challenged in a lawsuit by the affordable housing advocacy group Latinos Unidos del Valle de Napa y Solano. That case is on appeal.
Eisele said Save Rural Angwin didn't want to undermine the county's efforts to defend its housing plan.
Of the parcels included in Measure U, one is west of Howell Mountain Road and stretches from Angwin's small, college-owned commercial center, south over an open field to PUC's tennis courts. Another encompasses the college's wastewater treatment plant, whose most striking feature is a pond with scum growing on top. Measure U permits the college to expand the plant if it needs to.
PUC's Collins said calling these parcels "ag land" is a stretch. As to why the treatment plant was included in Measure U, Collins said, "We just don't get it."
Beth Painter, a Napa land-use consultant working with the college on its anti-U campaign, said classifying these parcels as ag land is disingenuous.
"That's not what this land is," Painter said. "It's not ag land."
Further, Painter said if Measure U were to pass and the treatment plant were designated as ag land, it would be the only ag land in Napa with a legal exception to expand and intensify its use when its owner saw fit.
"I think that's a misuse of Measure P," Painter said.
Eisele said Save Rural Angwin has photographic evidence that the field on Howell Mountain Road was used as farm land historically.
As for the wastewater treatment plant, Eisele said in the future Angwin residents may shed their reliance on septic tanks and move to a centralized treatment system. If that happens, the college's current wastewater plant would no longer be needed, but would retain its urban designation if Measure U fails, he said.
The third parcel north of PUC may be the most legally troublesome. Eisele said Measure U was written to allow PUC to expand its campus to that parcel if needed, with the ability to construct dormitories, faculty housing, classrooms, and other facilities needed to support it.
Napa County's legal analysis concluded that the measure was written so that it would prohibit subdivisions in public institutional designations countywide, including the Napa County Airport, Napa State Hospital and Skyline Park.
While it's unclear if this portion would survive a legal challenge, Eisele said it's needed because "public institutional" is the only designation in the General Plan without a minimum lot size. A standard needs to be created, he said.
"You don't know what's going to happen," Eisele said. "When you plan for the future, you have to look at what you might say is the worst-case scenario."
As for subdividing the airport or the state hospital, Eisele said he saw no need for either.
"Who wants to subdivide the airport?" Eisele asked. "Who wants to subdivide the state hospital? All those institutions will be here for a long time. They are in no danger of disappearing."
Taking the issue to voters
Eisele said explaining Measure U to voters may be difficult, but it's a problem both sides face. He said his side is aided because of its cause — protecting land — and its supporters, which include the Sierra Club and the Napa County Farm Bureau.
"Both sides have the same trouble selling it," Eisele said. "People are slowly starting to know about it. If the past is any indication, we should win. We want to protect land. Protecting land has been popular in Napa County for 45 years."
Knight said the college will respond with its message, and a request that voters support the county's only four-year college institution.