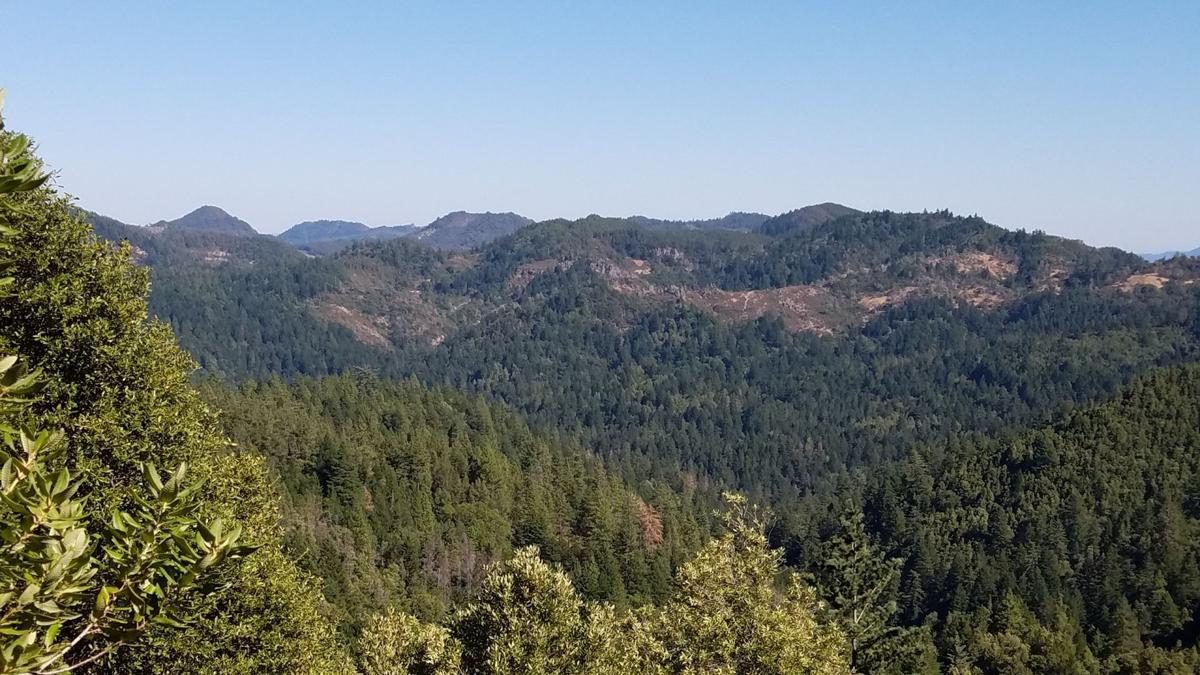 Land Trust of Napa County has secured the biggest development-repelling conservation easement in its history, covering an area near Mount St. Helena comparable in size to the cities of American Canyon and St. Helena combined.
The $11.5 million deal involves 7,260 acres northeast of Calistoga known as Montesol Ranch. Conservation easements retire development rights for land that remains privately owned and closed to the public.
A team effort by The Trust for Public Land and the Land Trust involved finding grants from a variety of federal, state and private sources.
"This was our top biodiversity priority in Napa County," Land Trust CEO Doug Parker said on Wednesday. "It has a large concentration of special status species."
Parker said the 7,260-acre conservation easement combines with Robert Louis Stevenson State Park and other land protected by the federal government, state and Land Trust to create 22,000 acres of contiguous protected land.
"That's really important in terms of wildlife in particular," Parker said. "You have to have large, contiguous areas."
Dave Sutton of The Trust for Public Land in a press release called the property "one of the most significant tracts of wilderness near Napa Valley."
A state Coastal Conservancy report describes Montesol Ranch, which consists of 6,184 acres in Napa County and the remainder in Lake County. This forested area is an important watershed, given that it receives about 60 inches of rain annually and feeds Putah and Pope creeks that drain into Lake Berryessa reservoir.
The ranch includes landscapes of volcanic rocks and serpentine soils. Its mountains, valleys and canyons are home to such rare species as the Rincon Ridge Ceanothus, Morrison's Jewelflower, the Coast Range newt and the foothill yellow-legged frog.
But the property has become a financial burden to the landowner Montesol Ranch LLC, which consists of at least 18 multi-generational descendants, the Coastal Conservancy report said. Montelsol Ranch includes 1,600 acres that are well-suited for vineyard development.
Napa has such a scarcity of vineyard development land that the American Society of Farm Managers and Rural Appraisers says it is "effectively planted out," the report said. The exception is if new land such as Montesol becomes available.
The Montesol property could be divided into 76 parcels that could be sold off for ranchettes, the report said. Development pressure is "intense and immediate."
But the conservation easement allows vineyards on only 100 acres inside a historic working farm and on 7 acres at another location, the report said.
Montesol Ranch began when Horatio Putnam Livermore bought eight acres of land there in 1880 as a sunny retreat for his first wife, who had tuberculosis, according to a March 29, 2001 article in The Weekly Calistogan. His second wife named the land Montesol.
The Livermore family includes such notable Californians as Horatio Putnam Livermore, who helped build Folsom Dam; Norman Banks Livermore, Jr., a member of Gov. Ronald Reagan's cabinet and Bay Area environmentalist Caroline Sealy Livermore, for whom Mount Livermore on Angel Island is named.
Occasional articles in The Weekly Calistogan from the late 1880s onward mention various outings held at Montesol.
Since the conservation easement land is private property, the public cannot go on it. But purchase of the easement gives The Trust for Public Land the option of buying 1,254 acres of the 7,260 acres by the end of 2018 for an additional $1 million, the Coastal Conservancy report said.
Should this purchase deal happen, The Trust for Public Land would transfer the 1,254 acres to the Napa County Regional Park and Open Space District. The purchase would improve access to Robert Louis Stevenson State Park, the report said.
In addition, this possible deal would purchase a trail easement to extend the regional Oat Hill Mine Trail, the report said. That would complete a regional connection among Napa, Pope and Long valleys and intersect with Palisades Trail and Bay Area Ridge Trail.
But that's another possible deal for another day. Parker said another $200,000 must be raised to complete that land purchase.
Sources for the $11.5 million conservation easement purchase are $1.7 million from the Coastal Conservancy, $5 million from the Gordon and Betty Moore Foundation, $3.8 million from the state Wildlife Conservation Board, $500,000 from the California Natural Resources Agency, $300,000 from a private donor and $250,000 from the Knobloch Family Foundation.