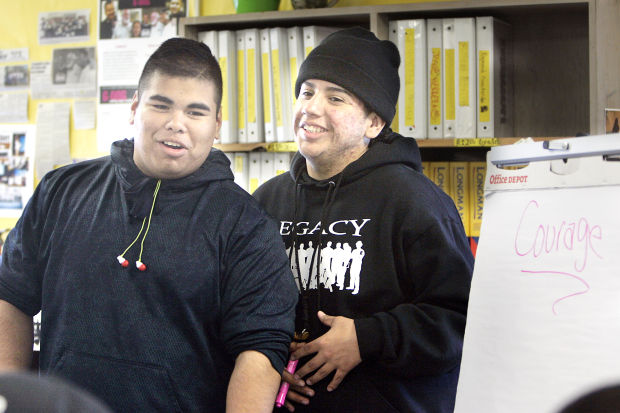 Inside a nondescript, portable classroom tucked away at the far end of the Vintage High School campus is a group of students learning what no textbook or lecture could ever teach.
Dressed in mostly baggy clothes and baseball caps, these students — currently, all males — are developing an identity and motivation they never thought possible.
"You're Mexican, but most people don't know what that means," student Ivan Gonzalez said. "They try to show us who you are and who you can be."
Meeting every day at fifth period, the class begins with a Mayan greeting, known as "In Lak'ech" ("You are my other me"). During class, the students receive academic support, practice leadership development, and learn about history and culture through Chicano studies.
Approximately two dozen students are enrolled in the class at Vintage. An additional 15 are enrolled at Valley Oak High.
Known as the Legacy Youth Project, the program is team-taught by Omar Salem, the high school's police resource officer, and Carlos Hagedorn, a Napa Valley College professor and member of the Napa Valley Unified School District's board of trustees.
"Each one (of the students) is going through some type of struggle," Hagedorn said. "Sometimes, taking a math test is irrelevant when you're going through a major issue in life."
While Legacy is often stereotyped as a "gangster" class, Hagedorn said, his students come from diverse backgrounds.
Some are all-star athletes who need an extra push academically. Others are facing struggles at home or just feel disengaged in school. Some are, in fact, self-identified gang members or gang affiliates.
Almost all are at risk of being sent to an alternative school or not graduating with their class.
"I was going to get kicked out of Vintage because of my grades," student Arturo Rubio said. "Legacy kept me in."
When Ivan Gonzalez entered Vintage at the end of his freshman year, he hardly spoke to anyone and rarely completed his work.
Wearing clothes that were at least three sizes too large, Gonzalez was often approached by gang members, thinking he was gang-affiliated.
It wasn't until this year, his junior year, that Gonzalez found meaning in attending school.
"I came to school just to go to this class (Legacy)," he said. "It gave me peace of mind to come here."
Fed up with stereotypes, Gonzalez cut down the sizes of his clothes. This year, he's wearing shorts to school for the first time.
"If you don't try and change yourself, you end up becoming the stereotype," he said.
Gonzalez started at Vintage with a 2.0 grade-point average. This semester, he earned his first 4.0 and was honored by the school as "Crusher of the Month."
Gonzalez believes students of his skin color and background are often underestimated — they aren't expected to succeed academically.
"You don't really see the Mexican as one of those 4.0 students," he said.
When Gonzalez graduates next year, his plan is to apply to a four-year college or attend Napa Valley College and transfer after two years.
"Then I'm on my way to having a life," he said.
Daniel Villalpando has the potential to become a professional soccer player. Just last year, the high school junior was invited to try out for a professional team.
But Villalpando nearly lost sight of his dream when he entered Vintage as a freshman. "I didn't really care about school. I thought it was a waste of time," he said.
Villalpando wasn't able to play for his high school's soccer team, as he had hoped — and with so many missing credits, he was at risk of not graduating with his class.
"I just regretted everything I did my freshman and sophomore year," Villalpando said. "I just wanted to make my friends laugh."
Villalpando said he was basically "forced" to enroll in Legacy, and it was there that he found the motivation to start over. High school administrators are currently working with Villalpando on a plan to make up credits.
"I want to go to a good college and play soccer," he said. "I'll be the first one to graduate high school in my family. I want to make my parents really proud."
The Legacy Youth Project was launched in the spring of 2013, thanks to the collaborative efforts of Vintage High School and the Napa Police Department.
"When Omar (Salem) came in as our new resource officer, he immediately recognized the needs we had, particularly around Latino students and the gang-affiliated difficulties," vice principal Jennifer Kohl said.
Salem contacted Hagedorn, who joined on as a youth leader and mentor. The two men then developed a program that not only provided support for the school's most disconnected students — but created a brotherhood.
"Everybody here, we give support to each other," student Jesus Rodriguez said.
Through Legacy, Rodriguez has learned the importance of completing his work and participating in class. Having felt ignored by teachers, he now knows how to get their attention.
"You just have to put the effort into it, and they'll help you out," Rodriguez said. "You've got to raise your hand and ask questions — and turn your work in."