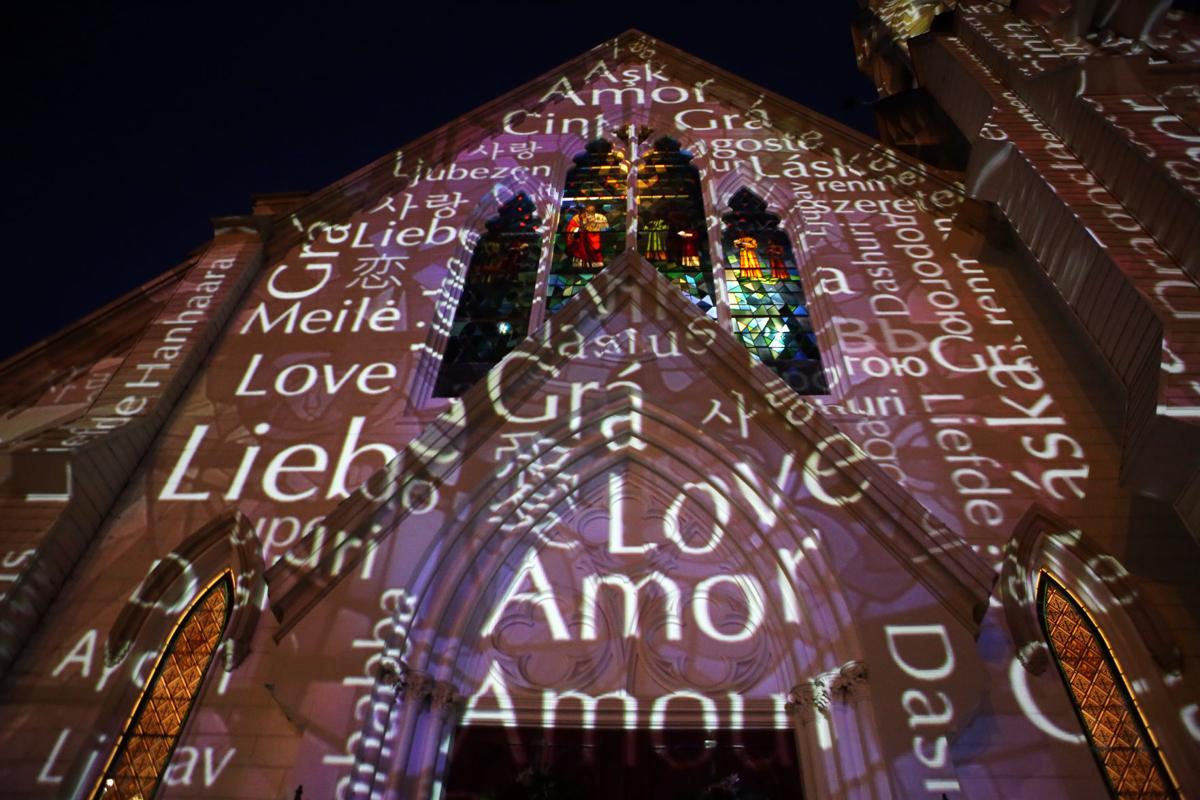 Napa's Lighted Art Festival showed residents and visitors how city streets could be transformed into a large-scale gallery not with paints and stone, but with projectors and video cameras. In January, the festival will return – accompanied by music, lectures and even a parade.
The city parks department announced plans last Tuesday for the sequel to the December 2017 open-air exhibition, in which various Napa buildings became the backdrops to artworks formed from light and video displays. Napa's second Lighted Art Festival will run from Jan. 12-20, with between 12 and 15 installations around town, Recreation Manager Katrina Gregory said during a meeting of the Public Arts Steering Committee.
In addition to creative works formed by video and light projectors, pieces on display in Napa may feature illuminated sculpture, three-dimensional video mapping and interactive technology, according to Gregory. The January exhibition will be subtitled "Beyond" with a focus on ideas "outside our physical limits, surpassing our imagination or demonstrating something that is greater or apart from us," she wrote in a pre-meeting memorandum.
The Lighted Art Festival's debut last year featured nine installations in which projected light and sound systems turned city landmarks into giant canvases. Exhibits ranged from the pulsating geometric patterns of "Line" at Napa's Riverfront to the time-lapse blooming of flowers on the side of the Historic Napa Mill to the bowing of cellos displayed in the Napa Valley College auditorium lobby.
New to the 2019 celebration will be a slate of activities taking place during the nine-day run – including a Lantern Parade on Jan. 18 that will lead participants past the festival's downtown artworks. Guests of all ages will be asked to make their own lanterns for the parade, with some lamp templates to be posted online in advance.
Napa also is organizing several discussions touching on art, light, stained glass and other topics, and musical performances are planned at various downtown clubs, wine tasting rooms and streets. A possible companion event with the Rail Arts District, Art after Dark with RAD, would illuminate six murals along the Napa Valley Wine Train during the festival to allow nighttime walking tours on the Vine Trail.
"There's more things people can enjoy on multiple days we added to the festival, because we wanted community engagement," Gregory said Wednesday.
Shifting the Lighted Art Festival from December to January should make the event more enticing to would-be visitors during a less hectic part of winter than the Christmas season, predicted Gregory.
"Although December is a relatively slow period that we're trying to energize, we want to separate (the festival) from the holidays – some people expect to see holiday lights but the reality is that this is an art exhibition," she said Wednesday.
City staff members and a four-person jury will work with local property owners to select artworks for the 2019 festival, with the full slate expected to be chosen by early October, according to Gregory.
One of the exhibits from the 2017 event, "The Language of Love" by the German artist Birgit Zander, is expected to return to First Presbyterian Church on Third Street for the new festival. "The Language of Love," which has been displayed in several other cities since December, overlaid the words for "love" in numerous languages and colors on the façade of the historic sanctuary, which dates to 1874 and reopened two years ago following extensive repairs after the 2014 earthquake.
Displays will be illuminated from 6 to 9 p.m. from Monday to Thursday, and from 6 to 10 p.m. Friday to Sunday.