VALLEJO — Three new residents are getting the lion's share of attention at Six Flags Discovery Kingdom in Vallejo these days.
Named Tsavo, Amari and Tau, the trio are nearly 3-month-old African lion cub siblings.
The lion cubs, one female and two males, came to California via a Six Flags sister property in New Jersey.
The baby lions will eventually join the three other lions already part of the theme park pride.
The lions already living at Six Flags are mostly an older, more mature, bunch. One lion, Leo, had to be euthanized in December due to kidney failure and other health issues. He was 15 years old and considered "geriatric" for male lions in human care, park officials said.
That leaves two females, Amber and Jendaya, both 17 years old.
A few months ago, another new cub, Cain, joined the park. He's now almost 5 months old.
At the same time, Odin, a popular 17-year-old white Bengal tiger at Six Flags Discovery Kingdom, died in June.
"We are excited to have Tsavo, Amari, and Tau join us as the newest members to our pride," said Animal Care Director Dianne Cameron.
"Eventually our new lion cub pride will be spending time on Tiger Island where our guests will be able to watch them play and interact with each other and their caregivers."
For now, visitors to the park can view the young lion cubs at the park's animal nursery on Saturdays and Sundays.
During a visit on Monday afternoon, the cubs woke from one of their many daily naps for a bottle feeding using the same-size bottles from which human babies drink.
How does a lion cub drink a bottle? Very quickly and with lots of slurping noises.
Big Cat Supervisor Jonah Lime said the cubs currently eat five times daily. Four of those meals are essentially a "meat" milkshake. They also each get a half cup of horse meat.
As the lions get bigger, they'll eventually transition out of the bottle feedings, Lime explained. When the cubs first arrived they were eating every two hours. Now that's stretched out to every four to five hours.
Today, the cats weigh from 20 to 22 pounds each. But in the next three to four years, they will grow to 300 pounds to as much as 500 pounds, said Lime.
As lion cubs, they currently have spots, but those will fade, he said. Tsavo and Tau, the two male cubs, will soon start growing what looks like a "Mohawk" haircut and then later a shaggy lion mane.
On Monday, after draining their individual bottles, the lion handlers began patting the sides of each animal.
Just like a human after drinking a full bottle, "They need to burp," Lime explained.
Snack time over, the lions lolled contentedly. One chewed on a blanket. One sucked a veterinary technician's finger.
The lions sleep 16 to 18 hours a day, said Lime.
Most of the time, the cubs live in their own private nursery in a veterinary building at the park. The lions' room looks like a comfy cat hangout with blankets, a couch, chew toys and pillows to play with or around.
Lime said one the best parts of his job is "being able to educate people about the plight of the animals" in the wild" and being able to hang out with large felines."
"I like cats," he said, simply.
On Tuesday, lion cub Amari decided to lounge in a round pet pillow near a spot of sun, while her brothers decamped to a hiding spot under the couch.
Amari's fur is soft and short. She likes to be scratched, firmly, on her belly and legs, explained one lion caregiver.
What about scratching behind her ears, like a house cat? Not so much.
Her claws were curved and sharp looking, and the sheath around each claw was larger and thicker-looking than a typical house cat.
Unlike many wild animals, the cubs don't have a musky or any other kind of smell. And they don't purr, said Lime. That's a common misconception.
The lion supervisor said the animals definitely get to know their human caregivers. "It's like a parent-type relationship," said Lime, who has been with Six Flags for 26 years.
In fact, the caregivers want the animals to be familiar with humans. During a tour on Monday, Cain, almost 5 months, was hanging out inside his habitat with two Six Flags staffers, including Andrew Barlow.
The lions "are awesome," Barlow said. "It's been fun" building a positive relationship with the cats, from such a young age.
According to a news release from the park, Six Flags Discovery Kingdom is a professionally accredited and certified animal care facility maintaining and exceeding complex and individualized standards of care and welfare that are mandated by the American Humane Association, the Alliance of Marine Mammal Parks and Aquariums, and recently the Zoological Association of America.
The park is also strictly regulated by the state of California Fish and Wildlife and by the federal government, said the release.
Photos: Discovery Kingdom lion cubs make debut in Vallejo
Discovery Kingdom lion cubs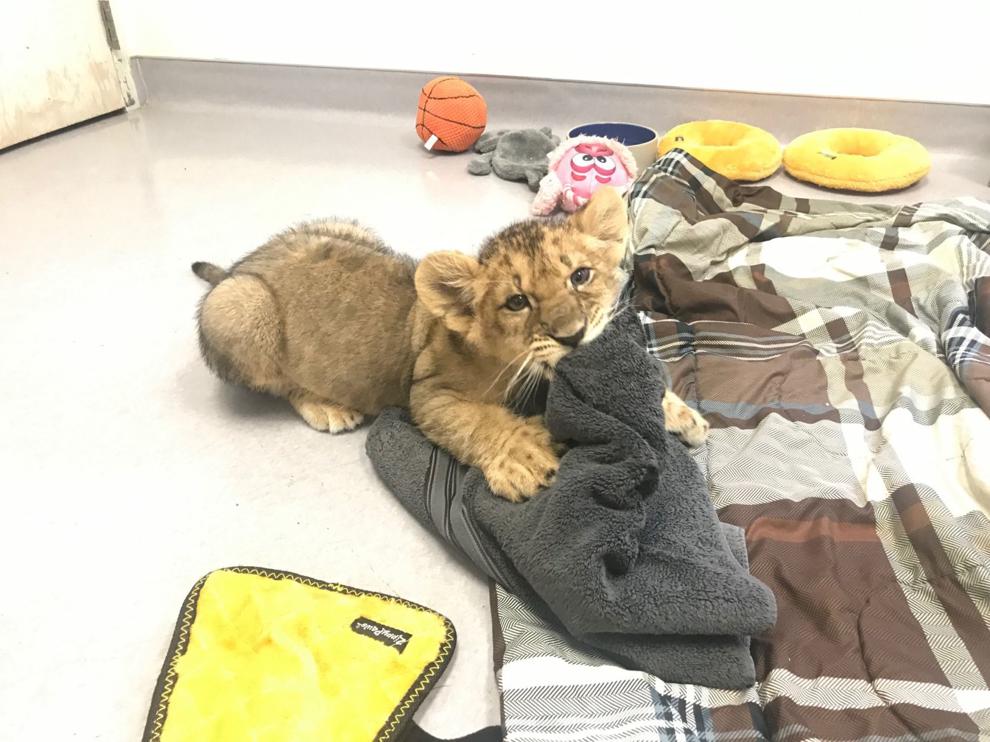 Discovery Kingdom lion cubs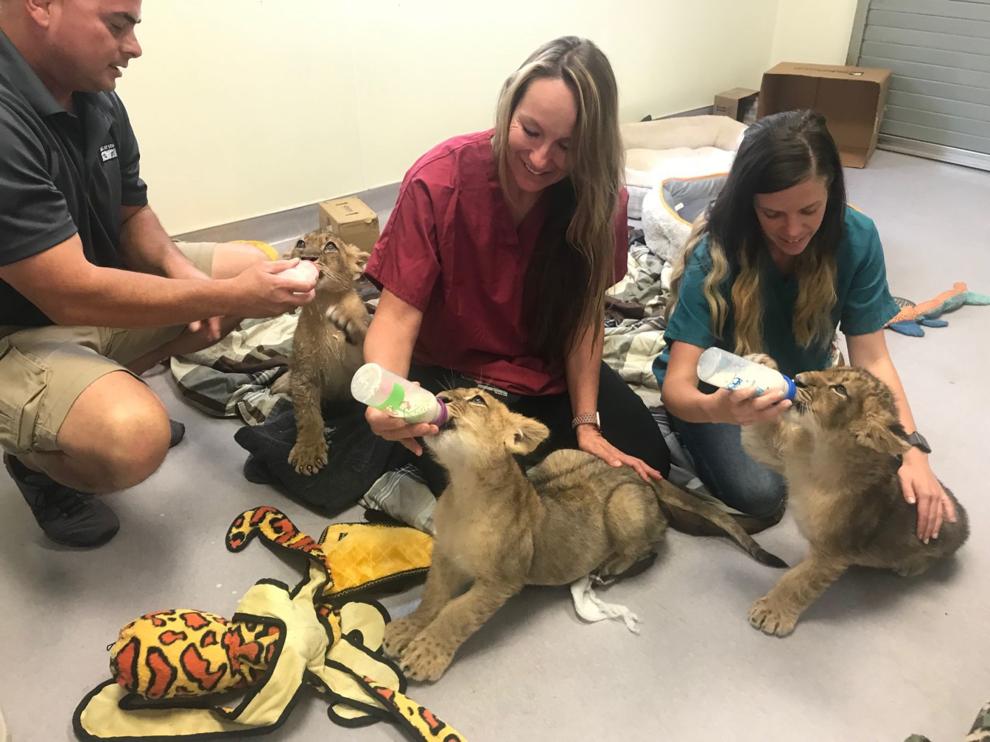 Discovery Kingdom lion cubs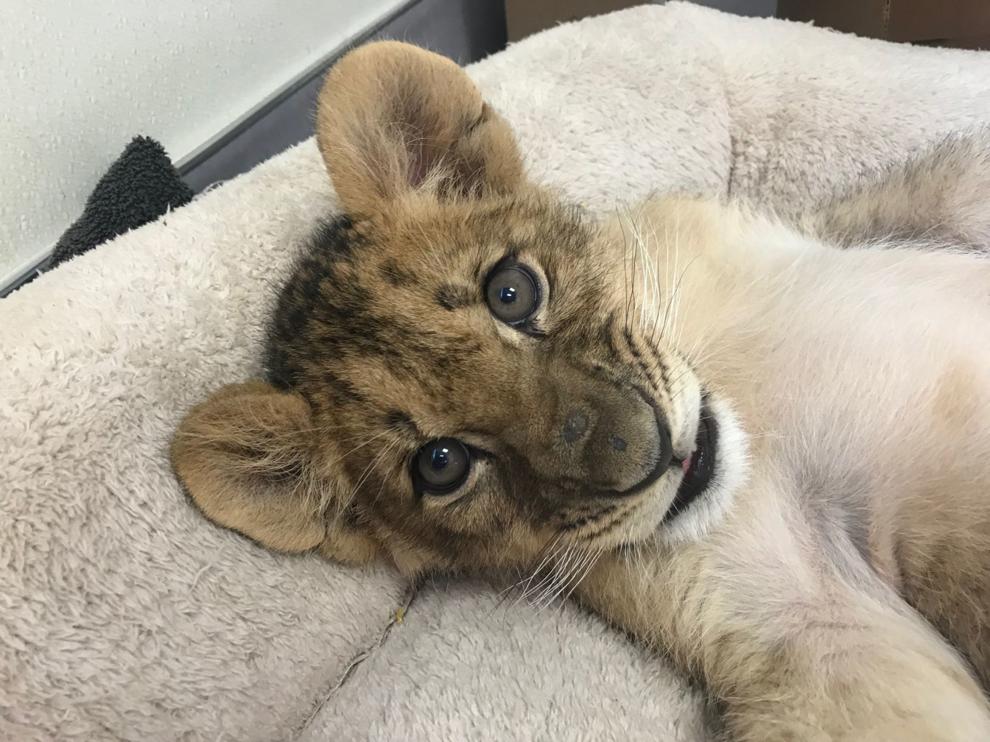 Discovery Kingdom lion cubs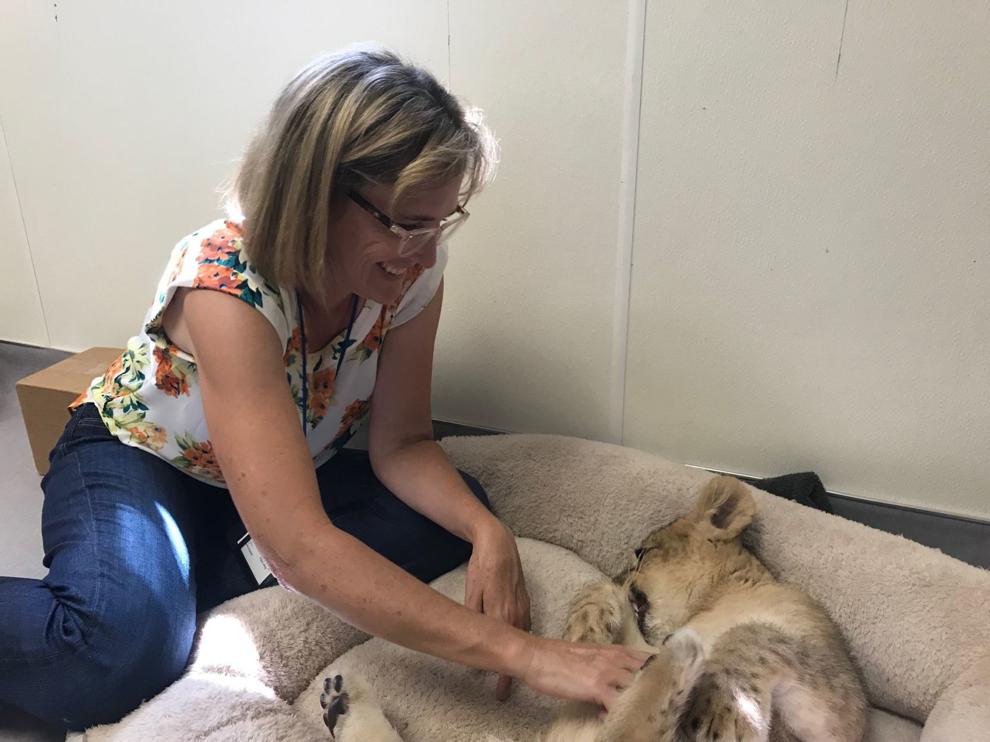 Discovery Kingdom lion cubs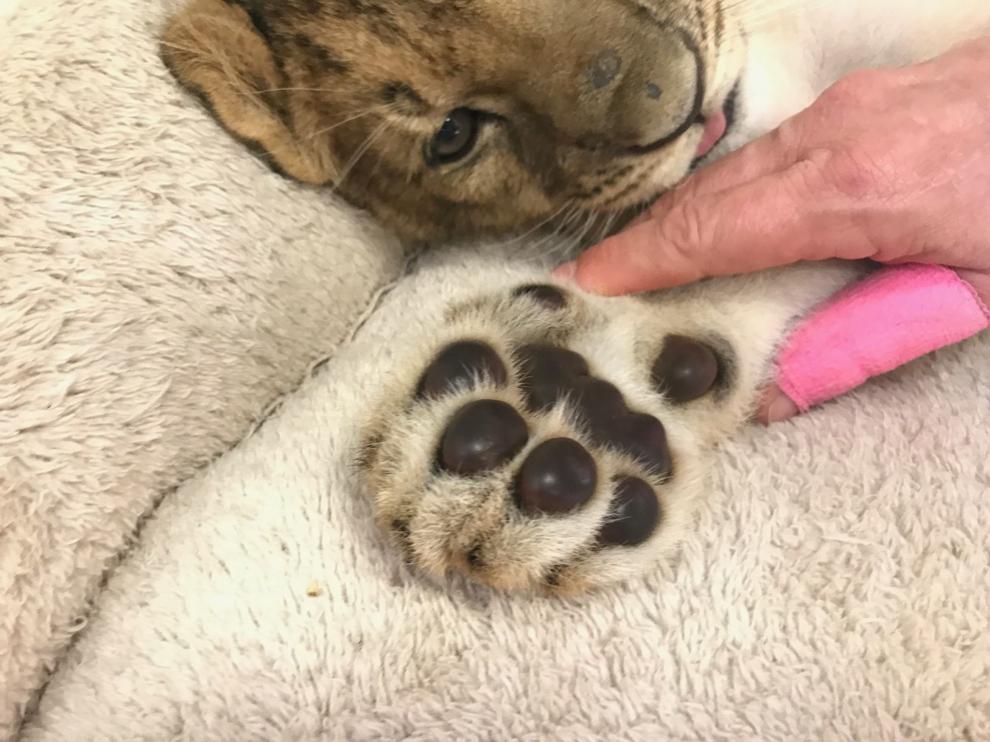 Discovery Kingdom lion cubs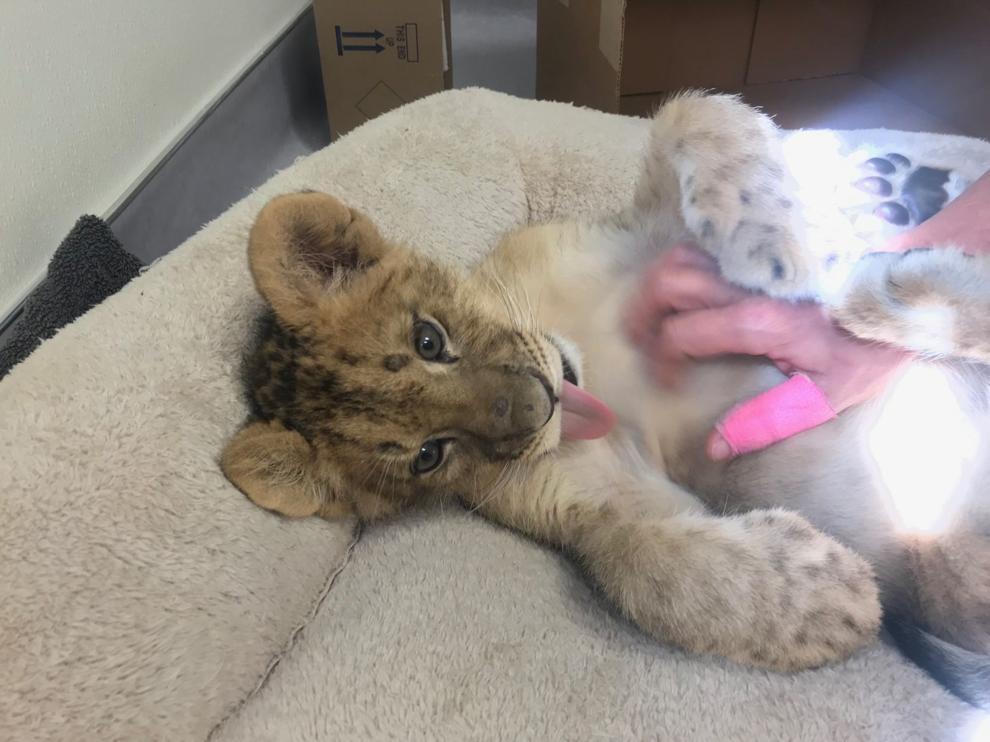 Discovery Kingdom lion cubs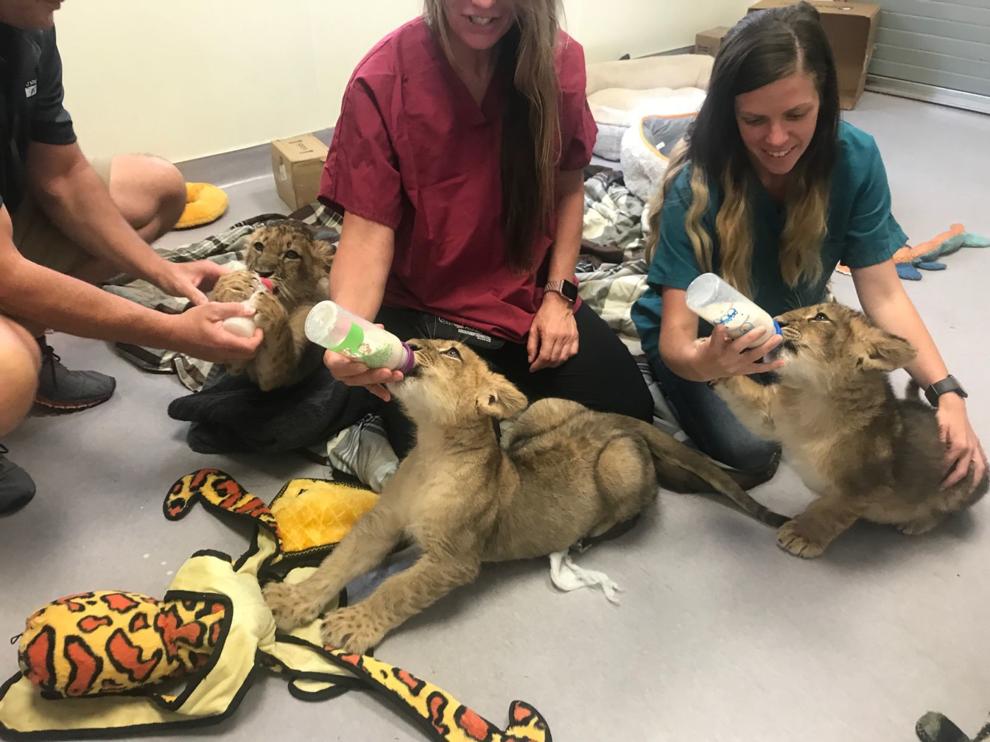 Discovery Kingdom lion cubs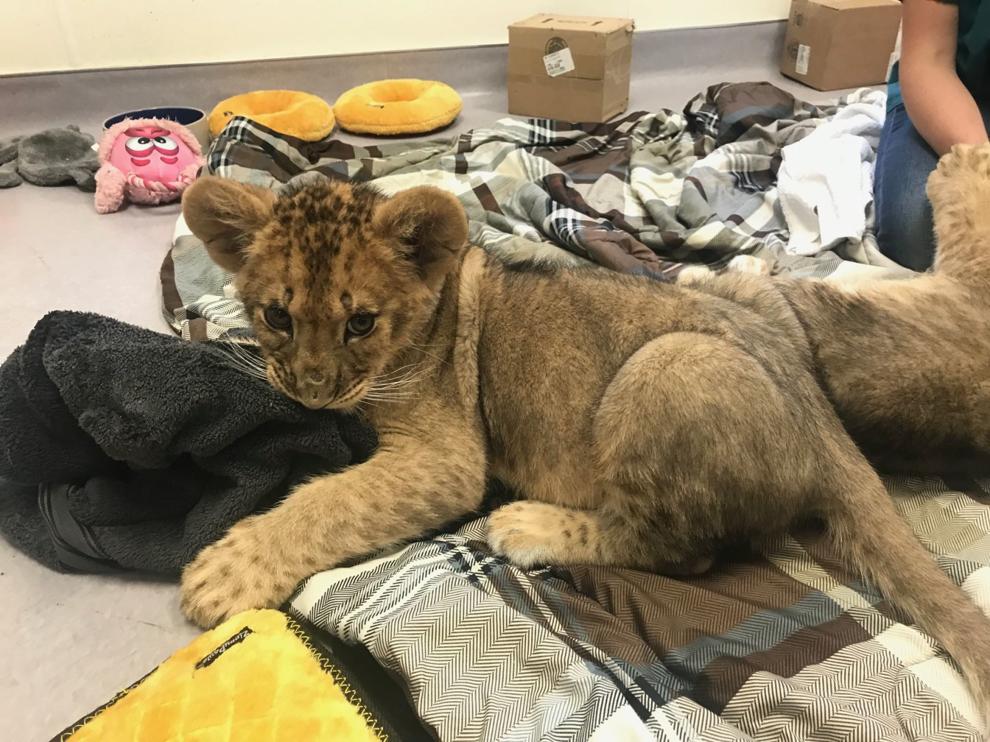 Discovery Kingdom lion cubs