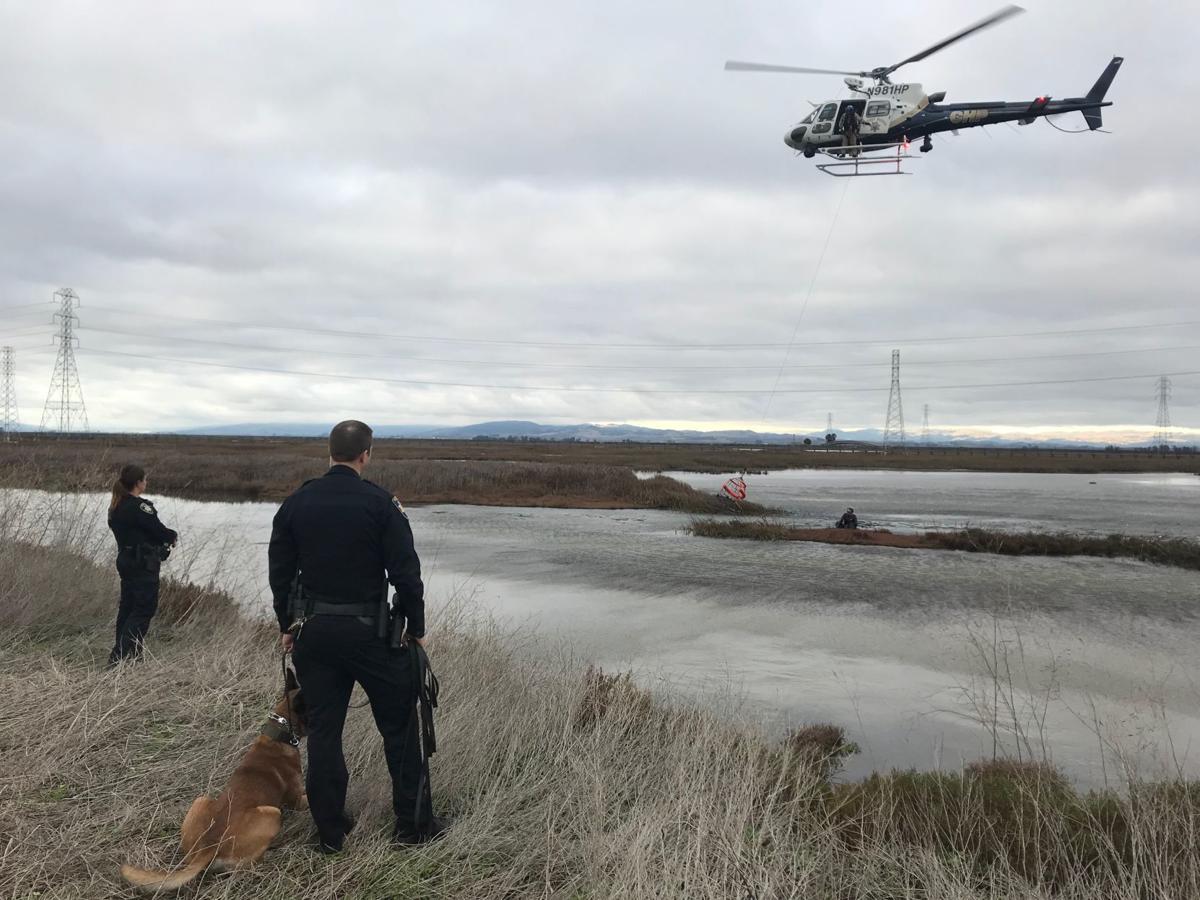 A man was arrested Wednesday on suspicion of seven felonies related to a police pursuit through American Canyon.
The pursuit ended in a surrender after 29-year-old Adam Douglas Branks of Maryland lost two tires on his car and trudged through frosty, waist-deep water, American Canyon police say. Branks was arrested on suspicion of felonies related to domestic violence, recklessly evading officers, attempted murder, false imprisonment, kidnapping, violating his parole, and driving his car into a woman and California Highway Patrol car.
A female passenger in the car was taken to a hospital in Vallejo with moderate injuries after Branks hit her with his car, according to American Canyon Police Chief Oscar Ortiz.
American Canyon Police received a call around 3 p.m. from a person who reported seeing a domestic violence incident in a PT Cruiser, Ortiz said.
American Canyon police located the car while it was heading south on Highway 29, but Branks would not pull over, Ortiz said. A pursuit ensued and the CHP joined as Branks continued west on Highway 37, which was temporarily closed down near the borders between Sonoma, Solano and Napa counties. That caused major traffic backups, he said.
The pursuit continued over the Mare Island bridge just shy of Sears Point Road when two of the evading car's tires began to disintegrate because the driver was swerving, Ortiz said. The car began to slow down.
The car's speed varied depending on conditions of its tires and traffic, but ranged from 20 mph to 70 or 80 mph, he said.
The female passenger ran out of the car as it slowed and a CHP officer saw Branks aim his car toward her, Ortiz said. Branks hit her and a CHP vehicle with his car. The woman suffered moderate injuries, but the officer was uninjured, he said.
Branks fled to the north through a marsh toward Skaggs Island, Ortiz said. He stood on a small island and a long standoff ensued in the surrounding waters.
Branks refused to surrender, claimed he had a weapon and demanded to be shot by police, Ortiz said.
Officer Nicole Dudley, a hostage negotiator for the Napa County Sheriff's Office and American Canyon Police, eventually talked him into surrendering, Ortiz said. He was airlifted away from the scene in a CHP helicopter basket, Ortiz said.
"It didn't hurt that it was getting pretty cold," Ortiz said.
Branks was taken into custody without any additional problems and taken to a hospital, Ortiz said.
The investigation is ongoing.
An earlier version of this report misspelled the last name of the suspect.