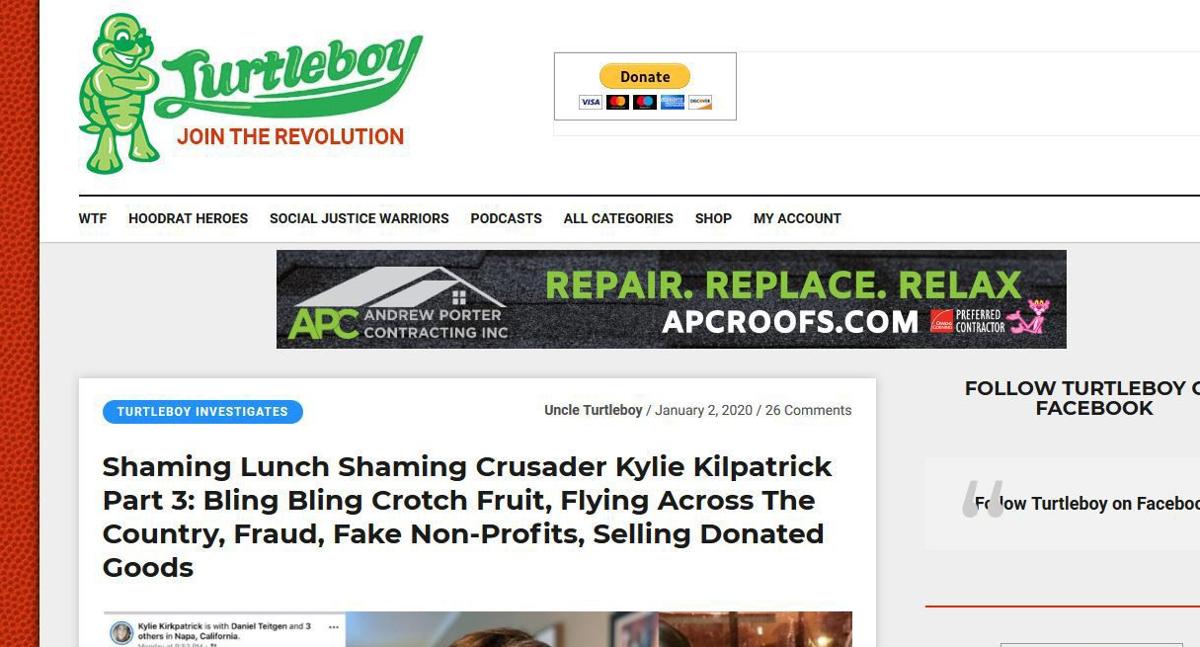 A Massachusetts blogger is aggressively questioning the truthfulness of a Napa woman who rose to fame last year after her son paid off the outstanding lunch debt of his third grade class.
Aiden Kearney, who writes under the name Turtleboy, began a series of posts last week in which he accuses Kylie Kirkpatrick of lying when she told the Register and other media outlets that her son, Ryan Kyote, had paid $74.80 to cover the debts of his classmates after seeing a news story about a girl who was refused service at a school elsewhere because she owed the school money.
Kyote's story went national and led to a series of celebrity appearances for Ryan, including a segment on "Access Hollywood" and photos with Gov. Newsom as he signed a bill preventing schools from refusing service to children because of their debts, known as "lunch shaming." (Ryan's then-school, West Park Elementary, says it already had this policy when Ryan paid off the debt.)
Editor's Note: Napa Police investigators say that the initial payment to the school district did not come from the youth's savings account as mother Kylie Kirkpatrick claimed, but was rather raised by the mother using crowdfunding accounts, according to court documents.
Kearney accuses Kirkpatrick of pushing the story as a way to profit from and exploit her son's fame, and of bullying parents who called her story into question.
"I've been in these people's shoes before," he said on a video posted on Youtube. "Turtleboy needs to be the champion of someone ... (people like Kirkpatrick) need to be called out and silenced."
Kirkpatrick absolutely denies fabricating the original story or that she and the family have profited from their fame.
"In fact, we've lost a lot of money over it," she said Friday, saying that many (though not all) of the public appearances by Kyote, now 10, have been paid out of her own pocket.
She blamed Kearney's crusade on a group of parents who she says are jealous of Kyote's fame and resentful because some people who saw the national stories assumed that West Park engaged in lunch shaming, which it did not.
After the Register first wrote about Kyote's donation in June, a number of parents contacted the newspaper to complain about Kirkpatrick, saying she was not telling the truth or that she was portraying the school in a negative light. Several complained that they had been harassed by Kirkpatrick over this and other issues, some going as far as to file for restraining orders.
Both in interviews with the Register and in court papers, Kirkpatrick has consistently denied harassing anyone, and in fact said she and her son were themselves the victims of a campaign of harassment.
The Register was never able to find any evidence that the original story about the lunch donation was not true and Kirkpatrick has consistently said that the money came from his bank account.
There was a related gofundme account at the time, saying it was going to pay off lunch debt, which many critics had cited as evidence that the money came from donations, not from Kyote's bank account. Kirkpatrick explains that by saying she had attempted to raise money to pay off all of West Park's lunch debt—totaling around $800—but the effort never took hold.
What she told the Register on Friday was consistent with what she told Register reporter Jennifer Huffman before the original June story ran.
She said Friday that the gofundme account raised about $100, which they donated to classes at other schools.
Kearney, a former teacher from Worcester, did not return emails seeking comment and two phone numbers listed for him in Massachusetts did not work.
Editor's Note: Napa Police investigators say that the initial payment to the school district did not come from the youth's savings account as mother Kylie Kirkpatrick claimed, but was rather raised by the mother using crowdfunding accounts, according to court documents.
In several blog posts and videos, Kearney cataloged a series of social media posts by Kirkpatrick which seemed to show Kyote being showered with gifts and money. He accused Kirkpatrick of attempting to sell two pairs of athletic shoes sent to Ryan by Nike.
He also pointed out that Kirkpatrick's website featured a donation button, inviting readers to donate to "enable us to pay down school lunch debt accounts." Kirkpatrick does not, however, run a non-profit organization.
Kirkpatrick denied doing anything nefarious, however, calling the posts "trash talk."
The shoes, she said, were not donated by Nike but paid for out of her pocket. She said she twice ordered the wrong sizes and tried to sell them online before Nike agreed to give her refunds.
The donate tab on the website was a built-in part of the template and she did not actively solicit donations, she said. "As soon as (Kearney) called it to my attention, I deleted it," she said.
She scoffed at the idea that she was committing some kind of fraud while documenting it openly on social media.
"If it was inappropriate, I wouldn't be posting this on a public forum," she said.
Kearney said in his video that he was motivated to cover a story all the way across the country by injustices he himself has suffered. The Turtleboy blog specializes in scathing takedowns of local figures that Kearney says are committing fraud or behaving dishonorably. The posts are often couched in rude and demeaning terms, such as referring to Kyote as Kirkpatrick's "Crotch Fruit."
He said that people in Napa are afraid to confront Kirkpatrick for fear of retaliation. He pointed to a long string of cases in Napa Superior Court where Kirkpatrick had tangled with parents, family and others over various issues, including several requests for restraining orders, either by her or against her.
"She can't do anything to me," he said, adding that he is unafraid of lawsuits or other retaliation. "I'm 3,000 miles away."
Kirkpatrick denied having harassed fellow parents, though she admitted she had gone through a rough legal period more than a decade ago as a result of a pain killer addiction. That experience, she said, has motivated her to live a better life.
She said she has been reading the Turtleboy posts, but has largely declined to respond. Instead, she said, she's focusing on protecting Kyote from the controversy as much as possible. She said she has received threats and harassment online as a result of the posts.
Kearney is promising further posts next week related to Kirkpatrick.
"People like Kylie Kirkpatrick, their reign of terror needs to end," he said in his video. "It needs to end. I am going to end it."
Get local news delivered to your inbox!
Subscribe to our Daily Headlines newsletter.