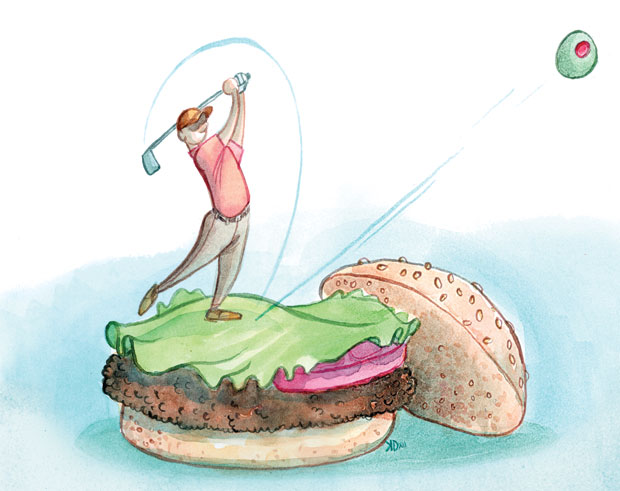 In recent decades, Napa County voters have confronted one curious ballot question after another. Should a delicatessen be built? Can a boat-storage facility at Lake Berryessa expand? What about allowing dining on a restaurant's outdoor deck?
These are Measure J ballot initiatives put to voters by business owners seeking a change in the county's Agricultural Preserve.
Enacted by voters in 1990, Measure J gives the electorate final say on whether agricultural land should be converted to other uses, stripping that power from the county Board of Supervisors. In 2008, voters renewed this process, now named Measure P, for 50 more years.
The county has had 14 Measure J votes; eight have failed while six have passed. A Measure P vote, which would allow the general public to be served at the Chardonnay Golf Course's restaurant, is making its way toward a ballot this year.
These measures have become a firm part of the bedrock of land-use law in Napa County, ensuring agricultural and open-space land is protected, said Volker Eisele, an architect of both measures. The California Supreme Court upheld Measure J in 1995, he noted.
To conservationists, these measures have, in essence, constructed a wall around the Ag Preserve to block out development, and given citizens the key to the gate.
"The voters hold the vision for the community," Supervisor Mark Luce said.
To land-use attorneys representing business owners in the Ag Preserve, however, the measures have meant navigating muddled definitions of what is an acceptable use for agricultural land, and what is an urban use that should be confined to a city.
Is allowing a pumpkin patch on Stanly Lane — and later a deli there — OK? The voters felt so, approving those uses in 1996 and 2008.
What about Bistro Don Giovanni using its outdoors deck? The voters also liked that change, and approved it in 1994.
But expanding the former Pometta's Deli in Oakville failed at the polls twice in 2004. An expansion of the Pope Valley Market also failed that year, as did a proposal to rezone the Napa Sea Ranch's property to allow camping and other uses.
Measures J and P state that provisions governing the "intent and maximum building intensity" of agricultural land won't be changed without a vote of the people. The phrase "intent" has been interpreted broadly, said Tom Carey, a Napa land-use attorney who's worked on 10 of the 14 Measure J initiatives. "'Intent' is the squishy part, and that's the part that's been applied to all kinds of land-use decisions," he said.
"We call it ballot-box planning. In practice, whenever there's a contentious issue it's easier for the county to decide that, 'Hey, this looks sorta like an urban use in an ag area, so let's push this to a vote of the people.'"
Supervisor Diane Dillon disagrees. It's a matter of the government being consistent in its decision-making, she said.
"There are places where we have to say, 'Nope, that's a Measure J,'" Dillon said. "They may seem simple, but there are legal principles involved. It's not good for government to be inconsistent."
As a Board of Supervisors meeting on Jan. 31 illustrated, Measures J and P are often anything but simple. The board attempted to tackle a zoning problem that seemed, at first blush, like it needed only a quick fix.
Current code bars two golf courses in the south county, Eagle Vines and Chardonnay, from serving the general public at their restaurants, only allowing golfers and people connected with golf events. County Planning Director Hillary Gitelman and staff wanted to change the ordinance to allow the public to dine, calling the current code a nightmare to enforce, if it were to be enforced at all. The Planning Commission agreed. Supervisor Keith Caldwell admitted he was a frequent violator.
The quick fix was shot down. Although it was built in 1986, before Measure J, Chardonnay's restaurant sits in the Ag Preserve. A majority of supervisors said the restaurant change amounted to allowing a new accessory use, which they felt required voter approval.
By a 3-2 vote, with Caldwell and Supervisor Bill Dodd dissenting, the board rejected liberalizing who can eat at Chardonnay's restaurant. The board directed county attorneys to begin drafting language for a ballot measure.
Because Eagle Vines is on industrially zoned land, it didn't trigger Measure P concerns. Its zoning problem can be solved with a simple ordinance amendment approved by the Board of Supervisors.
Dillon said issues like Chardonnay's are unanticipated results of the measures.
"There will always be things you can't anticipate," Dillon said. "If I were to look back at 1990 and ask, 'Could it have been anticipated then?' I couldn't say. Does that mean you wish you'd never passed it? No way."
At the heart of the measures is a prevailing populist belief: The people of Napa County are better stewards of the land than their politicians. At a luncheon in 1989, Volker Eisele said he sat with Mel Varrelman, a longtime Upvalley supervisor, and Duane Cronk of Angwin to discuss putting that belief into law.
They were concerned by the results of the 1988 Board of Supervisors election, fearing the new board majority would not be as protective of agricultural lands. They discussed forming a political group, but dismissed that as taking too long. Their attention turned to a ballot initiative passed by Solano County voters in 1986 that limited the power of their Board of Supervisors for 10 years.
Eisele said he went to one of the attorneys involved in Solano County's initiative to discuss crafting a measure for Napa County that for 30 years would strip the Board of Supervisors of its right to change the Ag Preserve. That was the birth of Measure J.
"I went to him and I told him what I wanted," Eisele said. "I said I want to shut it down forever. Ten years in Solano County is not enough. I want at least 50 years. He said it can't be done. I said 45 years. He said forget about it. I said 30. He said he'd think about it."
They began working to draft an initiative to be put to voters at the November 1990 election. The majority of the Board of Supervisors was opposed to it, as were other groups who believed it infringed on property rights, Eisele said. But it passed.
"Measure J won in the polls despite all the opposition," Eisele said. "What the supervisors who were against us misjudged was that the people of Napa County, when you measured their opinions, were two-thirds in favor of good land use. The voters wanted protection."
Legal challenges came almost immediately, the most significant being a lawsuit filed by local landowner Richard DeVita backed by the conservative Pacific Legal Foundation, Eisele said. A trial court upheld Measure J, as did an appeals court. The lawsuit reached the California Supreme Court in early 1994.
Eisele said the court had to rule on two issues: whether a future Board of Supervisors could be legally bound, and whether the citizens had the authority to amend the county General Plan through the initiative process.
The court heard oral arguments in December 1994, and issued its ruling the following March. By a 5-2 vote, it upheld Measure J.
"We cannot say whether Measure J is the best policy for Napa County, or for the state," the court wrote in its ruling. "But we also cannot say that the measure, as it comes to us today, thwarts the basic purposes of the planning law. On the contrary, it appears to be a reasonable attempt to effectuate ... a long-range policy intended to guide the county's development, curb haphazard growth, and promote desired land uses."
Eisele said he was in the Napa County Farm Bureau waiting for a phone call from his attorney when the ruling was issued.
You have free articles remaining.
"I was sitting on pins and needles," Eisele said. "I was elated. I was absolutely elated. It was, for us, a six-and-a-half-year struggle. It all started with that little luncheon."
The ruling stopped short of extending Measure J's protections to the county's housing element, and annexations by the five cities. But, all in all, it was a defining victory, Eisele said.
"We won big-time," Eisele said. "It's a fabulous decision. It's a wonderful decision. That decision is probably the most important environmental decision in the state of California in the last 15 to 20 years."
With the state Supreme Court ruling, Measure J and P haven't been legally challenged since, Eisele said. Yet, he considers their protections incomplete because of the exemptions for housing needs and the cities' annexations.
"It's not a solution, per se," Eisele said. "It buys us time to figure out how we want to do things here. If we want to have agriculture here we should find ways to protect the land. To take the power away from the supervisors, it is a stopgap solution."
Still, by stripping the Board of Supervisors of a land-use power, the measures offer significant protections, he said.
"You can't have a situation where three people on a given Tuesday morning can change the world," Eisele said. "It's too risky."
After the Supreme Court ruling, the definition of an acceptable use in the Ag Preserve became subject to varying interpretation, and Measure J's influence began to grow. The Ag Preserve has two land-use designations for the unincorporated areas of the county: agricultural watershed and open space, which covers huge swaths of open land, and agricultural resource, covering the valley floor and foothills.
The county's General Plan defines the intent of both.
In agricultural watershed, the intent is to provide watershed areas, reservoirs, floodplain tributaries, and geologic and soil conditions that are agriculturally oriented and would be ill-suited for urban development, which would adversely affect those lands. The intent of agricultural resource states that uses incompatible with agriculture shouldn't be allowed, and the development of "urban-type uses" would be detrimental to agriculture. These definitions came to be interpreted more broadly, land-use attorney Carey said.
"There is this difference between what Measure J actually says, what DeVita stands for, and the decisions about the scope of Measure J that have been made in the 20 years since," Carey said.
As a result, businesses in the Ag Preserve, especially those that predate Measure J and have been largely overlooked in the planning process, get squeezed whenever they want to expand, upgrade or modernize, Carey said.
In 1998, he said, the Brix Restaurant on St. Helena Highway wanted to expand within its existing building, but that was considered to be allowing an expansion of an urban use in the Ag Preserve, and thus needed a vote of the people. It passed in November 1998.
Others, such as Pometta's Deli, Pope Valley Market, and Napa Sea Ranch, haven't been as lucky. Carey said winning Measure J votes is an inexact science — he's won five and lost five — but some guiding principles have emerged.
"My experience is, the more it looks like a slick political marketing campaign, the more suspicion is generated in the minds of the rank-and-file voter," Carey said. "The less professional and the more personal and local the campaign looks, the better."
Walnut Creek resident John Campagna and Tom Aswad hired Carey to help them with their successful campaign in 2002 to expand their boat storage facility on Lake Berryessa. They owned 30 acres, but only 6 were built out. Residents along the lake were complaining about noise and traffic from boats being brought in and out of the lake, so an expansion made perfect business sense, Campagna said. All they needed was voter approval.
They campaigned in Napa, bought advertising space on billboards and in the newspaper, and went on public-access television. They also came up with a campaign slogan.
"Tom came up with the slogan, 'A good boat needs a good home,'" Campagna said. "That was really the outreach. We didn't have much of a budget to do this."
Campagna figured the measure would pass easily, but didn't anticipate stiff competition from the Farm Bureau and residents who believed they would use the rezoned land to build a hotel, not a bigger boat storage facility.
"We figured we were a no-brainer," Campagna said. "The biggest opponent was the Farm Bureau. Everybody was worried that we were going to build a hotel. We just wanted to expand our facility."
Campagna estimates it may have cost about $10,000 for the whole campaign. On Election Day, they squeaked by with 51 percent approval.
Looking back, Campagna said he remembers the experience positively because they won. Years after the vote, he said he would run into people in Napa and ask if they voted for him. While they still own the facility, they have no plans for future expansion, he said.
"It's a great story now," Campagna said.
Supervisor Caldwell said Measures J and P are working.
"I think it has done exactly what it has set out to," Caldwell said. "I think the voters are reasonable. I like having Measure J as kind of that safety valve. I don't know why more (proposals) don't get a Measure J."
Carey said every Measure J campaign has to navigate through an ideological frame. "It's framed as a zero-sum game," he said. "We're going to lose agricultural land, so we're going to put it to a vote of the people. It's framed extremely negative. Most of the properties I have been involved in have some kind of long-standing commercial use."
Carey said the most effective tool in convincing voters is explaining how the proposed change would have little effect on the Ag Preserve and only seeks to correct an oversight in the planning process. But given the muddled definition of what is an acceptable use for agricultural land, and what is an urban use, that can be a daunting task.
"The reality is that it's difficult to win the argument that this is not urban if it's not grapes, or farm products, or some kind of open space," Carey said. "Then it's really, really difficult to convince people that it's not an urban use."
Dillon said each proposal voted on amounts to a possible exception to the rule, and each exception can set a precedent.
"Its purpose continues to be served," Dillon said. "The pressure to develop is enormous. If we look back at all these 'just one more thing' proposals, if you added all of those up, this place would look a lot different."
Sandy Elles, executive director of the Farm Bureau, said a big-picture approach is needed to appreciate and understand Measures J and P. The U.S. lost 41 million acres of farmland to development between 1982 and 2007, she said. As the population in the Bay Area grows, so does pressure to convert land in Napa County from agricultural use.
"We're being proactive about not being part of those alarming statistics," Elles said. "We have Measure J and a very strong commitment from the community to protect our agricultural resources. We have, for decades, said urban growth belongs in the cities. And that is the value of Measure J and Measure P."
Eisele said it gives the residents of the Napa Valley time to find solutions to problems that might degrade or destroy agriculture — how to deal with growth in its cities, how to find reliable water sources, and how to handle development.
"If we can do this, we can set a unique example," Eisele said. "This is exactly where Measure P comes in. It buys you time to think about, 'How do we build a community in a sustainable manner?'
"What made the most economic sense for Napa County? Development or agriculture? You know the answer to that debate."
Get local news delivered to your inbox!
Subscribe to our Daily Headlines newsletter.