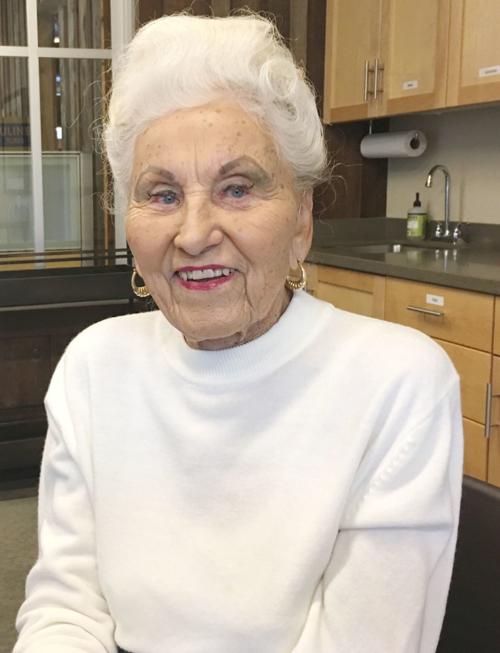 Napa resident Maxine Maas has two drawers full of 29 aprons — one for each year she has volunteered for Auction Napa Valley.
She has been a volunteer for the annual Napa Valley Vintners-sponsored wine auction for many years, starting the year after she moved to Napa in 1986, although along the way, Maas has missed three years. This year, she'll receive her 30th apron.
Maas is one of some 500 people who volunteer for Auction Napa Valley, but she also volunteers each Tuesday at the St. Helena office of the Napa Valley Vintners. On a recent Tuesday in December, she was in the office, rolling posters and doing name tags, after she had brought Christmas ornaments for each person on the NVV staff.
Why the ornaments? "It's an annual kind of thing," she said. "It's a 'thank you', because they're like family to me. I was here when they only had five people (in the office) and five volunteers."
What does Maas means to the trade organization? Linda Reiff, NVV executive director, said, "She is the most important part of the NVV family. She's been here longer than me. She comes every Tuesday to help us and she's at every major endeavor. We couldn't do what we do without her. She's incredible."
Reiff said all of the ladies at the NVV agree "When we grow up, we all want to be Miss Maxine."
Maas said she volunteers for one simple reason: "It's fun. Yeah, it really is. I miss work, actually, which is part of it."
Auction Napa Valley (ANV) is held annually the first weekend of June and brings people from all over the world to Meadowood Napa Valley. Proceeds pay for children's education and health nonprofits in the Napa Valley. It started in 1984.
Maas remembers those early auctions, when Margrit Mondavi and Veronica di Rosa and others would show off and sell their art in a meadow, along with selling Napa Valley wines. For a number of years, before cellphones and copiers, Maas said she was where they served the volunteer meals and ran errands throughout the Meadowood property, carrying hand-written notes and messages back and forth.
More recently, she has been at Suite 16, which is the Napa Valley Vintners' office during the auction. "I sort of hang out, I man the telephones and make sure people are authorized to go in," Maas said. She is one of several "door guards," who also hands out Cokes or water or whatever to the emergency personnel manning their ambulances … which, "hopefully nobody will need."
29 aprons, 29 tablecloths
Besides owning 29 aprons, Maas also has 30 ANV tablecloths and you can bet there's a story behind them.
Years ago, ANV ended with a big formal party. "People would come dressed for the occasion," she said, and one year there was a group of Texans sitting at one table who started a bean fight.
"I don't know what started it, but some guy was picking up the beans and using a rubber band to shoot other people," she said.
It's possible that chili was part of the menu, and there was an awful mess after the bean fight ended.
At that point, the NVV was not renting tablecloths; instead, they were part of what was sold on Sunday, along with whatever was left over from the store, along with linens, art pieces, aprons and T-shirts and flower arrangements. Maas said the bean-soaked tablecloths were beyond washing. NVV employee Stacy Dolan put them on a porch – because they couldn't be in the NVV office – and told Maas, "If you want them, why don't you take them?"
Maas took them home, soaked them and ended up with 30 tablecloths, which she offered back to the Vintners, "but they wouldn't take them."
"Believe it or not, I use them at (the di Rosa Center for Contemporary Art), where I volunteer every Thursday," she said.
Working at age 13
"Miss Maxine" was born in 1925 in San Diego. After her father passed away, she went to work at age 13, which she says is "not unusual" to help support her mother and two brothers. "Talk to any other 95-year-old person and you'd get the same answer," Maas said.
At 13, Maas said she had "several really interesting jobs," adding that she was going to be "this great and wonderful actress, so I took whatever job would promote my career." Her favorite job, one of the first ones, was being a parade girl at San Francisco's Palace Theater.
"You wore a full body stocking and a sandwich board and you walked out between acts. 'Applaud' was on one side, and then you'd turn around, wiggle your rear end. The other side of the sandwich board would tell you what the next act was. That was my big job and it included a pair of sequined-colored silver pumps."
She was 14 and the job paid well. She earned $7 a night, plus tips – whatever the crowd threw at you — three nights a week, Friday through Sunday, because she was still in school. "You could make more money in a week than a man did in a month. It turned out really very well."
Maas said when the plumber was paid and the family was up to date on its bills, her mother would come down to the theater and ask the owner, "Do you know how old that girl is?" Maas added her mother embarrassed her terribly, and then she quit. The owner sent Maas home with her mother. "I had several jobs like that," she said.
At one point, Maas ended up in musical comedies, both in San Francisco and went on a road trip to New York, where she stayed for 18 months, performing in several Broadway musicals during World War II. Those included "Bloomer Girl," "Up in Central Park," and "Marriage Is For Single People," with Cesar Romero, which Maas said was banned in Boston and closed "rather quickly" in upstate New York.
"It was funny, but it was ahead of its time," she said. Her last performance was in 1953.
Marriage and a career
Then marriage happened – she was a Republican and her husband a staunch Democrat – and Maas said she wanted to go to a dinner for President Dwight Eisenhower that was held in San Francisco. She was volunteering at a children's center in Contra Costa County and her husband told her: If you got paid for all the time you spend with those children, you could take me to Eisenhower's dinner. Today, Maas said simply, "Needless to say, we didn't go."
But from volunteering came another job that became a full-time career for Maas. After graduating from UC Berkeley, she worked at a juvenile hall in Contra Costa County, ending up as superintendent in charge of 96 employees and up to 103 kids. She said she enjoyed it, because she spent 41 years there before she retired.
Get local news delivered to your inbox!
Subscribe to our Daily Headlines newsletter.