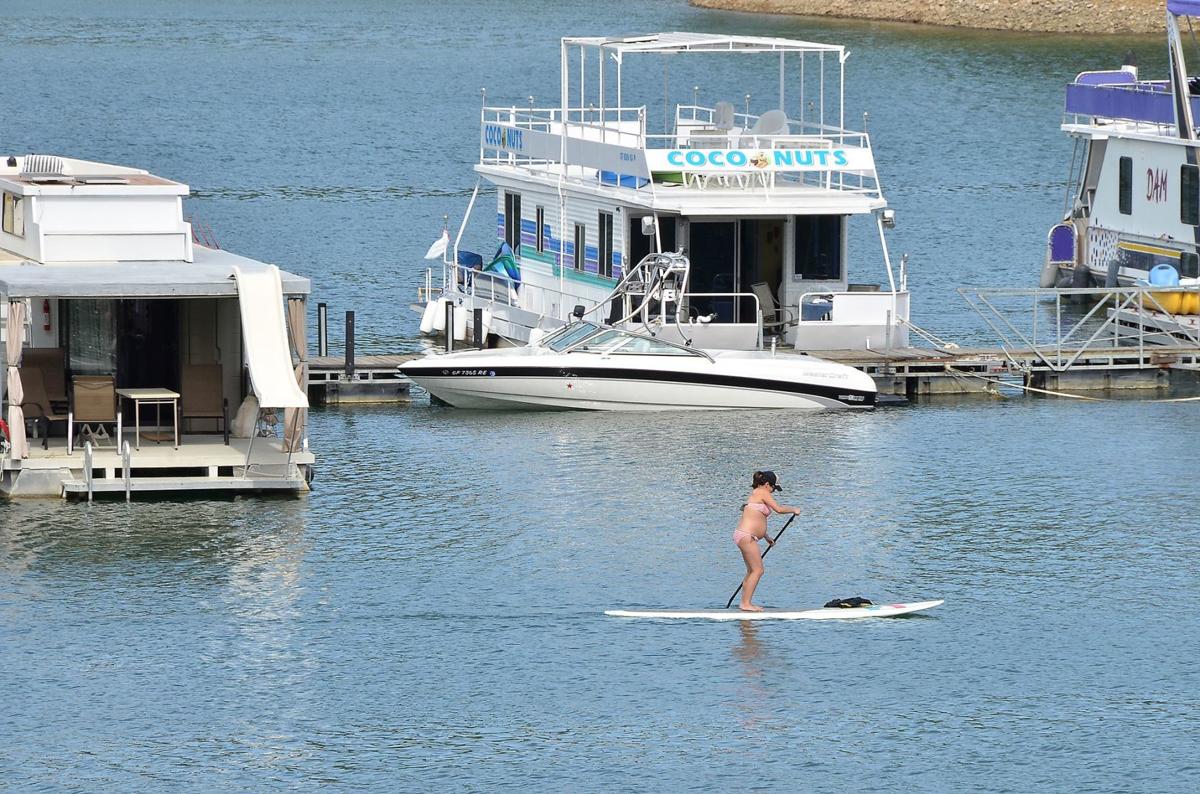 Flag displays, salutes and cemetery visits on Memorial Day are expected to be scarce in a Napa Valley where the coronavirus pandemic continues to block public gatherings.
But recreation is slowly coming to life – though with restrictions on crowding and groups – in the county's water recreation hub of Lake Berryessa, in time for the holiday weekend.
The federal Bureau of Reclamation is easing curbs on boat launches and recreational vehicles at various Lake Berryessa destinations, including Markley Cove, Steele Canyon, Spanish Flat and others. The steps continue a phased revival of lakeside facilities that had gone dormant in March, when the spread of COVID-19 led California to impose a sweeping shelter-at-home order limiting residents to shopping for necessities and working at certain essential jobs.
But while rules are easing enough to allow Napans a weekend of recreation, social distancing rules continue to prevent cities from gathering people for traditional Memorial Day ceremonies. Both Napa and American Canyon have confirmed that public observances will not take place on Monday, and the Veterans Home of California – host to a military cemetery as well as more than 770 retirees and spouses – remains closed to most visitors while the stay-home directive remains in force.
With the prospect of large-scale gatherings still remote in California, Lake Berryessa is emerging as a rare getaway option for the holiday.
The area's awakening picked up speed on Saturday when the Bureau of Reclamation, which oversees marina and campground operators franchised to serve visitors, reopened boat launches at the Markley Cove, Pleasure Cove, Steele Canyon, Spanish Flat and Putah Canyon recreation areas. (Boaters are required to submit to inspections for invasive species before launching.) On Monday, RV parks at Lake Berryessa reopened, followed by the Capell Creek boat launch a day later.
The welcoming of visitors, however, is not yet complete. Tent campgrounds and cabins will remain shut down, as will Lake Berryessa's visitor center, administrative office and day-use areas at Oak Shores and Smittle Creek, the bureau announced in a statement last week.
Only family units and not other guests may launch at boat ramps, and watercraft cannot be tied together. Visitors are asked to maintain social distancing of at least six feet from others at ramp, fuel dock, courtesy dock and around the store, and no more than eight people may be inside the store at any time.
RV campsites also are restricted to families, who must follow Napa county social distancing protocols, according to Pleasure Cove rules. No "commingling" between campsites is permitted.
Elsewhere in Napa County, no public events have been announced for Memorial Day weekend, although some cities are encouraging residents to take time for personal reflection on the holiday.
Napa
The city of Napa will not issue an event permit for a Memorial Day event at Veterans Memorial Park due to the county's still-current guidelines for limiting COVID-19 exposure, Recreation Manager Katrina Gregory said Tuesday. Instead, Napa's Parks and Recreation department will use its social media feeds to encourage residents to observe the holiday and reflect individually.
American Canyon
American Canyon has announced a Memorial Day message will be given by Mayor Leon Garcia at 11 a.m., which residents can watch on Xfinity public access cable television on Channel 28.
Residents also are invited to visit the ceremonial space at the flagpole of Veterans Memorial Park on Broadway for individual reflection. Visitors are asked to stay at least six feet away from all others except for members of their household.
Veterans Home of California, Yountville
With state and county orders restricting large assemblies, the Veterans Home has scheduled virtual observances for Memorial Day.
Yountville town and Kiwanis Club officials will carry out the traditional donation of memorial wreaths, according to Veterans Home spokesman Joshua Kiser. On Monday morning, Lisa Peake, administrator of the home, will meet Mayor John Dunbar and a Kiwanis representative at the facility's welcome sign at the entrance. Peake will then take the wreaths to the Veterans Home ceremony and place them at the Tomb of the Unknown, and a virtual moment of silence will be observed at 11 a.m.
The home's on-campus closed-circuit television station KVET will record and air Memorial Day messages from the administration, chaplaincy,, and state and local elected officials, and musical tributes to fallen service members will be played throughout the holiday, said Kiser. Special photos and videos also will be posted to the home's Facebook page for viewing by residents' family members and the public.
St. Helena
Due to the coronavirus pandemic, St. Helena American Legion Post 199 is not able to host its annual Memorial Day observance this year, as it marks the 100th year of its founding. The service to honor those who have died serving in the U.S. military was first held on May 30, 1920 and is usually conducted at the St. Helena Cemetery.
Post 199 will mark the graves in the American Legion plot at the city cemetery with flags, according to Mariam Hovanesian Hansen, research director at the St. Helena Historical Society.
Calistoga
Calistoga American Legion Post 231 has canceled its Memorial Day ceremonies at both Logvy Park (the Veterans Memorial) and Pioneer Cemetery due to the COVID-19 outbreak. "We hope to be able to hold our November Veterans Day service at the Veterans Memorial," said Jim Barnes, the post's adjutant.
With reports from St. Helena Star editor David Stoneberg and Weekly Calistogan editor Cynthia Sweeney.
Concerned about COVID-19?
Sign up now to get the most recent coronavirus headlines and other important local and national news sent to your email inbox daily.