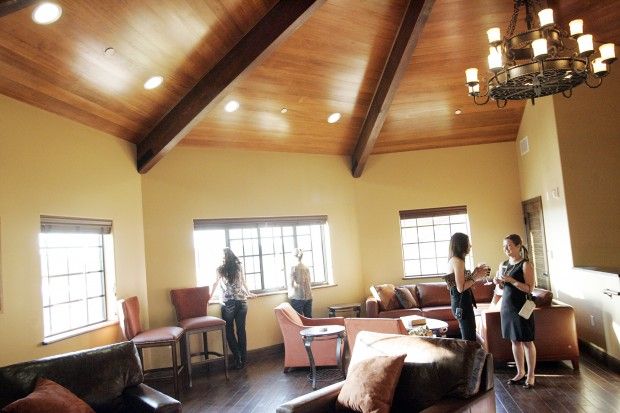 Napa's largest resort wants to get even bigger.
Owners of the Meritage Resort and Spa in south Napa recently showed the city's Planning Commission a design proposal for a 134-room expansion on 9.3 acres just north of their property.
The new hotel would be called "Meritage Commons." In addition to the hotel, developers want to add a multi-use event center with an outdoor lawn area, tasting rooms and a market for hotel guests. The project would also add a wellness spa and several pools, as well as renovating some of the current features.
Meritage Resorts already has 322 rooms, plus access to 180 timeshares at the adjacent Vino Bello Resort. The hotel currently sits on 300,000 square feet; the proposed addition would add about 170,000 square feet.
Pacific Hospitality Group, which owns the Meritage, purchased the land in December 2012. More rooms are needed to satisfy the resort's growing visitor base, which includes conference guests using the hotel's meeting rooms, the company says.
The resort has expanded several times since it debuted with 100 hotel rooms and 100 extended-stay rooms in 2006, according to city staffers.
The most recent expansion was a $40 million addition in 2012, which added 165 rooms, a bowling alley and large ballroom.
Chairman Arthur Roosa said he hoped the expansion wouldn't detract from the resort's connection to downtown. The hotel provides daily shuttles for guests taking the four-mile ride to the city's primary tourist destination.
"I would be concerned if you start developing retail in that area, because it would detract from the retail that's downtown," Roosa said.
Kory Kramer, the chief investment officer for Pacific Hospitality Group, said the hotel wouldn't add retail shops — or anything else — that would compete with businesses in downtown Napa.
The owners have a strong relationship with downtown Napa as one of biggest resorts in wine country, Kramer said.
"Pretty soon in the world, it looks like," quipped Commissioner Gordon Huether.
Commissioners said they were pleased with the design.
"I'm really excited about the expansion, actually," Huether said.
Commissioner Paul Kelley said the project "hits it out of the ballpark."
Kramer said people thought the developers were crazy for developing in south Napa, but now the resort is one of the biggest contributors to the city's tax base.
The 12 percent hotel room tax, or Transient Occupancy Tax, is the city's largest source of income. The expansion will increase Meritage's contribution, he said.