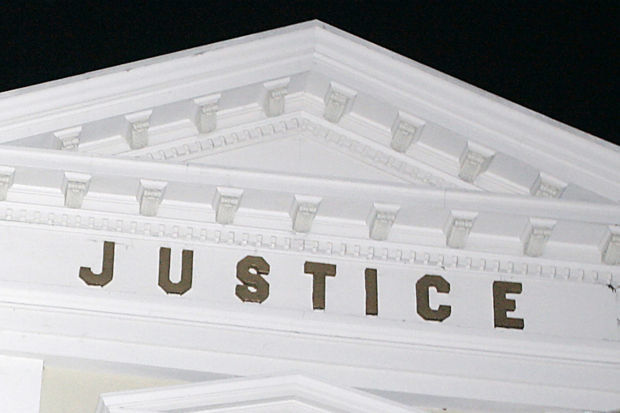 A 17-day trial of two Napa brothers accused of a rape in 2011 ended in a mistrial in Napa County Superior Court Thursday, when the jury was unable to agree on a verdict. Nine of the jurors said they believed Benjamin and Daniel Davidson were not guilty, while three said they believed they were guilty.
The brothers were accused of raping a 23-year-old Napa woman, referred to as Jane Doe, on Sept. 18, 2011 in an alley off of Jefferson Street.
The brothers were not arrested until June of 2013, when DNA testing results from that night found Daniel Davidson's DNA under Doe's fingernail, according to court records.
The Davidson brothers, who have been in jail since their arrest, pleaded not guilty to rape and aggravated kidnapping. They faced 25 years to life in prison if they were convicted.
The majority of the jury did not believe Doe's story, according to defense attorneys Evan Zelig and Victor Haltom, who represent Daniel and Benjamin Davidson, respectively.
You have free articles remaining.
"They did not find the testimony of the alleged victim to be credible," Zelig said. "What she was testifying to had a lot of holes."
While Daniel Davidson admitted to having oral sex with Doe, he said that it was consensual. All three parties have admitted to being drunk and high on marijuana the night of the incident, he said.
"We're disappointed that they were unable to reach a verdict," District Attorney Gary Lieberstein said Friday. "We filed charges that we believe are supported by evidence."
There will be a retrial with a new jury, starting on Oct. 5, Lieberstein said. Meanwhile, the attorneys for the Davidson brothers will argue that their $250,000 bail should be lowered or eliminated.
"I believe bail should be lowered, because the majority of the jury said these men were not guilty," Zelig said. "Hopefully, the judge will allow them to bail out."
The Davidson brothers had already been in jail for over two years before the start of the trial, Haltom said. He attributed the long delay to DNA testing by both sides and trouble coordinating meetings between the three attorneys. Lieberstein noted that there were changes of attorney for each defendant.
Lieberstein said that hung juries are very rare. In his 30 years as a prosecutor, he has seen only a few of them.
Get local news delivered to your inbox!
Subscribe to our Daily Headlines newsletter.