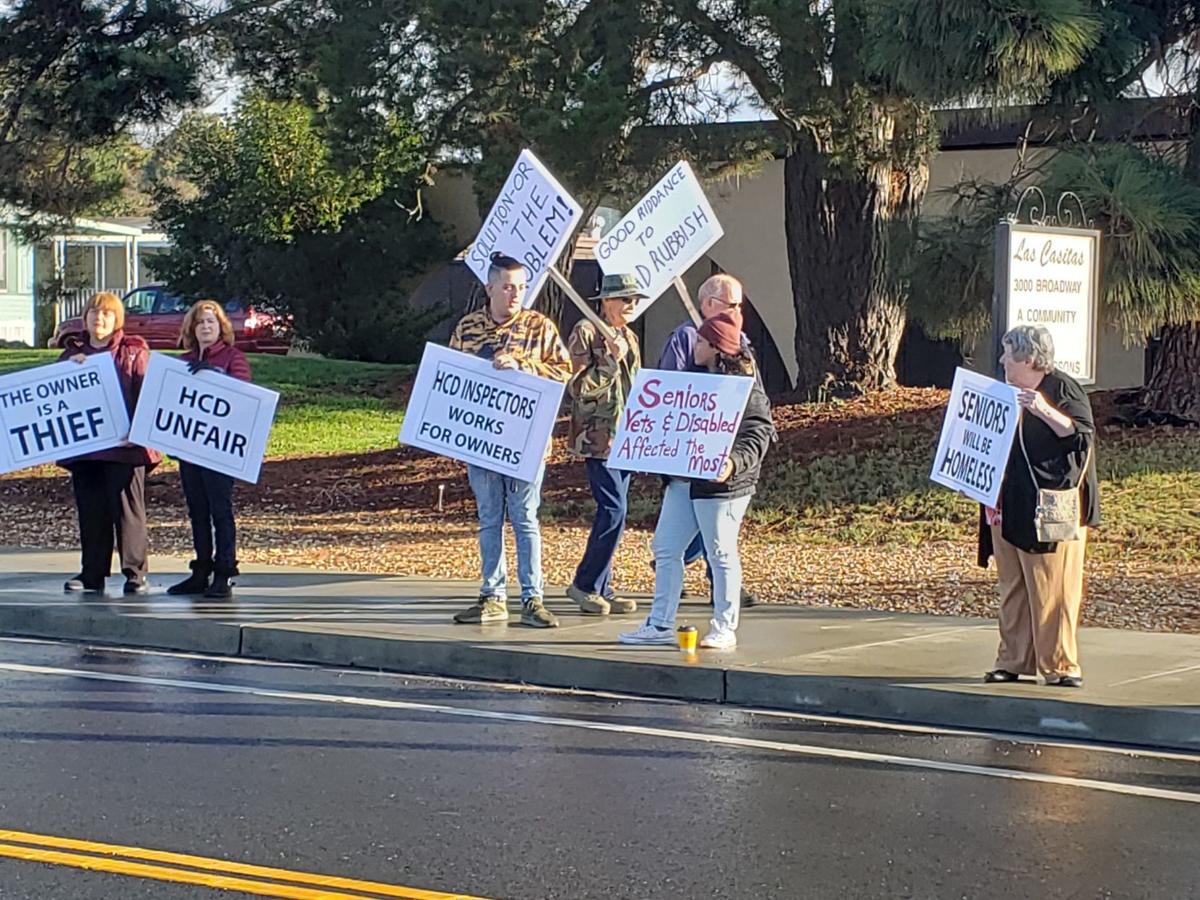 AMERICAN CANYON — Nearly two dozen low-income American Canyon households spent the holidays afraid of imminent homelessness after eviction notices were delivered to their mobile homes before Christmas, spokespeople for the group said.
These notices sparked a demonstration Saturday involving more than a dozen picketers outside the park, with the occasional motorist honking in solidarity.
Signs carried such messages as, "Seniors, vets and disabled affected the most," "Seniors will be homeless," "Hey, hey fix your space or go away" and "the owner is a thief."
Park owner Jonathan Popkin said Monday that he issued the eviction notices to keep the state from revoking his license to operate the park because of unresolved violations.
"I don't want to evict anybody," said Popkin, who has owned the park since the 1970s. "I'm working with the residents who still have issues to resolve those."
Mobile home owners advocate Terri Pohrman, a former American Canyon resident who now lives in Vallejo, said the issue has been partially resolved with the help of State Sen. Bill Dodd and others.
"Yesterday, Dodd said that 18 of the eviction notices have been dismissed, and of the five remaining, two of those are special needs," Pohrman said Saturday.
But the demonstration went on as planned because "there's a principle at issue here, with some of the state's most vulnerable residents at risk of homelessness at the whim of mobile home park owners," she said.
Working with American Canyon city officials, Dodd, D-Napa, said Monday that he brokered an agreement with a state agency and the park's owner to give the residents additional time to fix code violations.
"If you have health and safety violations, you have to address them," he said. "But during the holidays, this is the last thing you want to worry about."
Park manager Bob Lunch said eviction notices went out following a state inspection of the 95-unit senior park for people 55 and older.
"They were delivered on the 20th and the 22nd," he said. "We had 22 violations, the inspector came (again) on Friday and 17 were resolved. Two are awaiting permits and three, I don't know what's going to happen with them."
"Last November, the park was inspected and 23 units were found to have problems," Pohrman said. "They were told to fix the problems – like broken railings, yard problems, the use of extension cords, and other minor issues."
Some of the residents didn't have the money or the ability to fix the problems and were issued eviction notices, they said.
One of those is Theresa Armstrong, a 68-year-old disabled woman, widowed a year ago, who said she's been living at the park for 20 years.
"I had three violations and I tried to fix them myself. I would be homeless without this place," Armstrong said.
Some of the protesters said they think the eviction notices may have been sent in retaliation for residents voting down the owner's plan to have residents pay off the cost of repaving the park's roads over time.
Lunch acknowledged that such a suggestion was made, but rejects the idea that the inspection violations and eviction notices are connected in any way.
While some of the residents have been living in the park for decades, Dan and Elaine Cley are relative newcomers who moved in after the inspections were done.
"We didn't realize there'd been an inspection," Dan Cley said. "Part of this is the responsibility of the HCD (state Housing and Community Development agency). In March, they went berserk, handing out hundreds of violations for ridiculous things, like a tuft of grass in a gutter. A more recent inspection added more."
Cley, who said he is a former industrial inspector, said he chalks some of this up to inexperience on the inspector's part.
Leona and Alan Ross, who live in a nearby mobile home park, said they were at Saturday's protest in support of the threatened residents, and in the hope of getting some help at their own park, where a tree they warned management about recently fell through part of their roof. They can't afford to fix it, they said.
"We're seniors, on a fixed income," Leona Ross said.
"Homelessness is the next stop for most mobile home residents if they are evicted," Alan Ross said.
Others said they think the owners are hoping to force the residents out so they can jack up the rents. While most mobile home residents own their homes, they rent the space upon which they sit.
"I suspect they want to raise the rent," Alan Ross said. "They can only raise the rent 5 percent a year, unless the people move out."
Pohrman and some of the residents said the managers also recently went through the park and changed the property lines, possibly in order to make the placement of longstanding out-buildings like sheds, out of compliance — an accusation Lunch strongly denies.
"Lot lines were not recreated," he said. "The owner was told to identify the plot lines, and we went around and marked the lines and property lines that have been there forever. Painted and put stakes, but none were changed."
Lunch says most of the protesters were paid to show up, a suggestion Pohrman said she finds laughable.
"Miss Terri and her organization brought all these protesters, they were paid for, and I don't think it was right for them to stir a hornets' nest up for nothing," Lunch said.
"Most of them know they had nothing to worry about. The owner has gone out of his way, through us, to help them take care of their violations. They can picket if they want, but maybe they should be in Sacramento," he said.
Get local news delivered to your inbox!
Subscribe to our Daily Headlines newsletter.