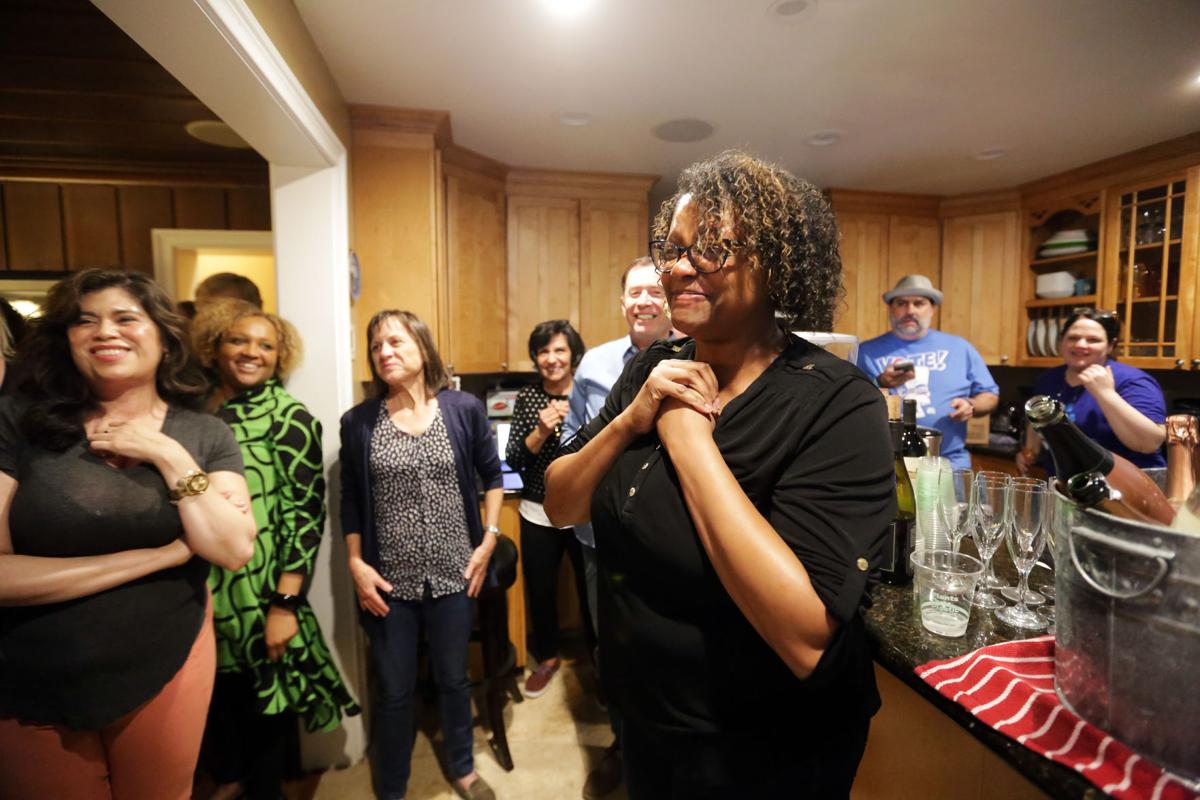 Judge Monique Langhorne will remain on the bench for the next six years after easily prevailing in a rare ballot-box challenge for her seat.
The incumbent Napa County Superior Court judge was well on her way to defeating challenger Clifford Blackman, receiving more than 77 percent of the early ballots counted Tuesday night. Langhorne had been appointed by former California Gov. Jerry Brown in November 2018.
At her election night party in Napa, news of the convincing victory, relayed through a laptop computer, immediately touched off screams, cheers and hugs among more than 40 of Langhorne's supporters, including her parents and nearly a dozen other relatives.
"This is what I've wanted to do since I was 4 years old," the judge said, after embracing numerous well-wishers while fighting off tears. "I had the confidence of the governor, and now I have the confidence of the voters of Napa County."
"I am hippopotamus-happy, elephant-excited and peacock-proud," her mother Shelia Johnson exclaimed before posing with her daughter and family members for celebratory photographs.
Langhorne was one of five Napa judges up for election this year, but the only one to face an opponent. No judge's seat in Napa County had gone before voters since 1984, when six candidates entered the primary election for a place on the municipal court. In November of that year, Judge Ron Young won the seat by gaining 63.8 percent of the vote in a two-person runoff.
When Langhorne learned of Blackman's ballot challenge to her place on the Napa bench, "my first thought was 'OMG—seriously?'" she said minutes after election results came in. "I'd never run in an election; none of the sitting judges here had ever run in an election; and I didn't know who I could lean on to learn what to do."
"The first thing I told her was to calm down," recalled her mother. "I said, 'You need to calm down and call Ray and get your strategy together" — referring to Ray Guadagni, the retired Napa County judge who quickly stepped in to manage the unexpected campaign.
Guadagni and Langhorne soon decided to rack up as many endorsements as possible, as rapidly as possible. In time, the endorsements stacked up overwhelmingly on the judge's side as she gained the support of numerous active and retired judges, local law enforcement chiefs, and elected officials up to state Sen. Bill Dodd, one of the guests at Langhorne's election night gathering.
Meanwhile, Blackman's campaign website listed only three endorsements, none from people with visible connections to the Napa Valley.
"She was a little bit in shock at first; it was a lonely feeling," said Guadagni. "But in 24 hours she was saying, 'Let's win.'"
The race also was marked by a stark contrast in work backgrounds between Langhorne, a Vallejo native with more than a quarter-century of service in Napa County government, and Blackman, a St. Helena resident who was vying for his first public position after more than 35 years as a trial attorney.
After stints in Napa County working in Child Support Services and the District Attorney's Office, Langhorne became a county court commissioner in 2006. In that role, she oversaw cases involving restraining orders, child custody, misdemeanor arraignments, drug court and traffic violations – responsibilities she later described as valuable preparation for her judgeship.
"I have the experience, because I've done every area of the law you can as a Superior Court judge; I've sat in so many different assignments," Langhorne, a law school graduate of UC Berkeley, said in a January interview with the Napa Valley Register.
Blackman, a San Francisco Law School graduate who moved to the county from San Mateo in 2012, promoted his election campaign as a chance for voters to bolster the Napa court's expertise in civil law, his own specialty.
However, he ran an unusually low-profile campaign, missing a candidate forum hosted by the Napa Valley Vintners and an editorial board meeting with the St. Helena Star – absences he attributed to illness. Blackman also took part in a Register editorial board meeting by telephone rather than in person, saying he had traveled to Florida for medical tests.
In 2017, Blackman ran afoul of authorities in his hometown of St. Helena after the city filed a complaint against him for illegally offering his home for short-term vacation rentals, despite a local ban on rentals of fewer than 30 days without a permit.
Blackman, who paid St. Helena $105,000 in taxes and penalties, said the violations took place while he was spending time in Florida with his since-deceased mother and brother and a property manager listed the house on the VRBO home-hosting website.
This story has been updated since first posting with additional vote totals on Tuesday night.