For nearly all of St. Helena, indoor dining at restaurants and coffee houses won't be happening anytime soon.
During a Thursday mid-morning walkaround, several cafes and restaurants were open for takeout service with only Caffe Della Valle being open with tables and seating both indoors and outdoors. It started the transition from takeout only to full service the day before.
At 11 a.m. Thursday, Gott's Roadside Café opened its picnic tables in the back yard to seating and in three hours they had served an estimated 150 people.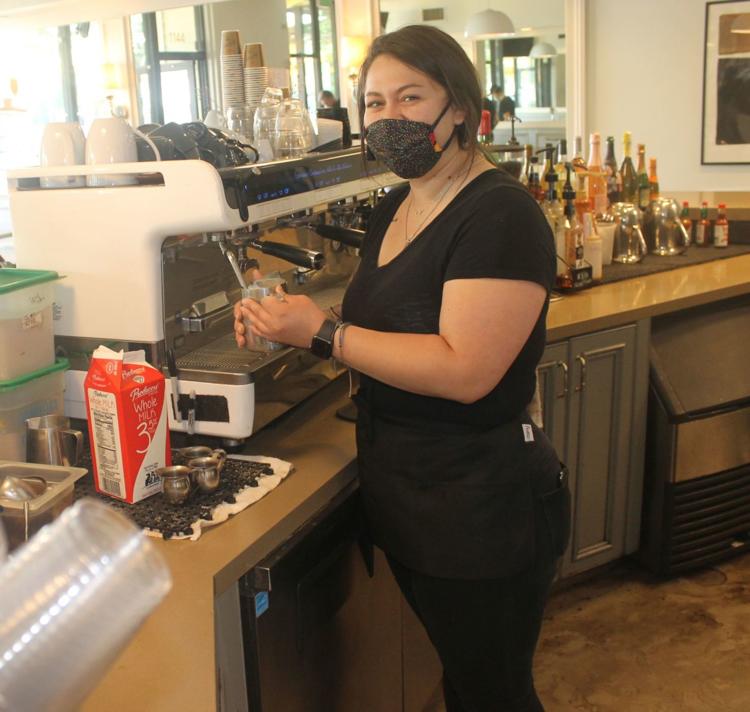 On May 19, Napa County restaurants received permission from state officials to reopen for dine-in service. The move isn't entirely unexpected – Napa, alongside Sonoma and Solano counties – applied for permission to advance into Stage 2 of the state's reopening process despite not exactly fitting reopening criteria outlined by Gov. Gavin Newsom, citing a low number of both cases and deaths throughout the duration of the county's shelter-in-place order.
Napa now joins 39 of the state's 58 counties in the process of orchestrating further reopenings; also on May 19, retail stores were given the green light, and it was announced that the county's schools would be allowed to reopen as soon as June 1 with various restrictions in place, though school officials say they will not reopen that early.
Manager Julio Sarabia said the outdoor seating – there is no indoor seating – is "something we've been very excited about," adding it's been a fairly smooth transition from takeout and delivery to dine in.
The only place people are allowed to sit are at the two dozen picnic tables on the lawn in the back. "They are already six feet apart, so it makes it easier operationally," than the picnic tables in the front of the restaurant, Sarabia said.
He added, "We're looking forward to seeing the smiles on the faces of our longtime guests and employees. And getting back to what normal life is, even though, I'm not sure we're ever going to do that."
Also sitting outside at Caffe Della Valle was St. Helenan Aron Gregory, drinking coffee and practicing rope knots for a planned Yosemite trip and hike through the Sawtooth Mountains.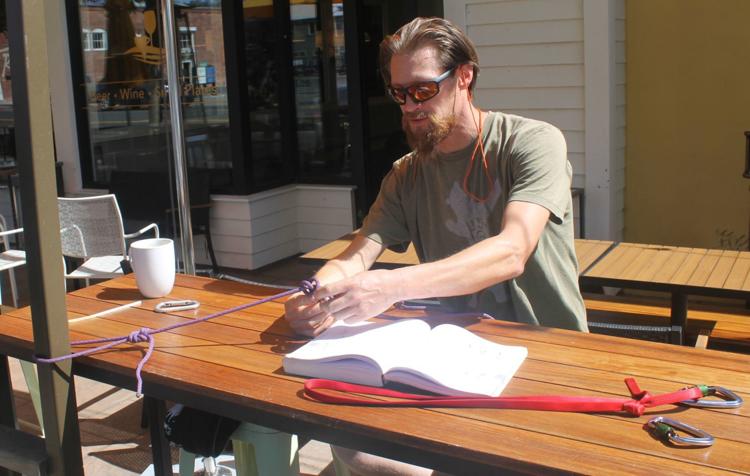 "Quite possibly, this is the last coffee shop open in California and I just like the feeling of normalcy that comes from breathing the fresh air in a clean town where there is plenty of space between inhabitants," he said, adding stopping at Caffe Della Valle has been a regular stop on his travels. "I appreciate them being open and the concept that people are allowed to use their own judgement for their own safety."
A couple of people were inside the café, and even though a Yankees and Boston Red Sox game was playing on the TV, featuring pitcher Roger Clemens, no one was seated at the bar.
Jessica Mendez, barista and bartender, said Wednesday's first day for seating people went really well, adding the staff made sure to follow safety precautions – parties were six feet apart and proper sanitary precautions and paper menus were used. She added, people were really supportive and "really happy to have someplace to come again with indoor and outdoor seating."
The café has been open for takeout since the COVID-19 coronavirus pandemic began and Mendez said she is thankful for the people who have come in and supported them.
Michael Martin, general manager of the Market restaurant, was meeting inside the closed restaurant with others on Thursday morning, discussing future plans. He declined to give an opening date, saying they were talking about how and when to open.
Owner Daniel Villaseñor said his restaurant staff has been doing takeout meals since the shelter-in-place orders began. "At first, it was very scary," he said, "I think everybody was sacred to go out, but it's gotten better, we've gotten good orders from wineries and vineyard management companies."
Villaseñor said he doesn't see indoor seating happening anytime soon. "With all the stuff we need to do to get people in here, there are too many obstacles for us to do it right now," he said, adding that maybe the small outdoor seating area will be used "sometime soon."
Six people are cooking in the back for takeout orders, although his four employees who were waiters and cashiers have been laid off.
When will things get back to normal? "Honestly, I think it's going to be a while. From what I hear, it might come back in the fall. I'm just taking it day by day right now."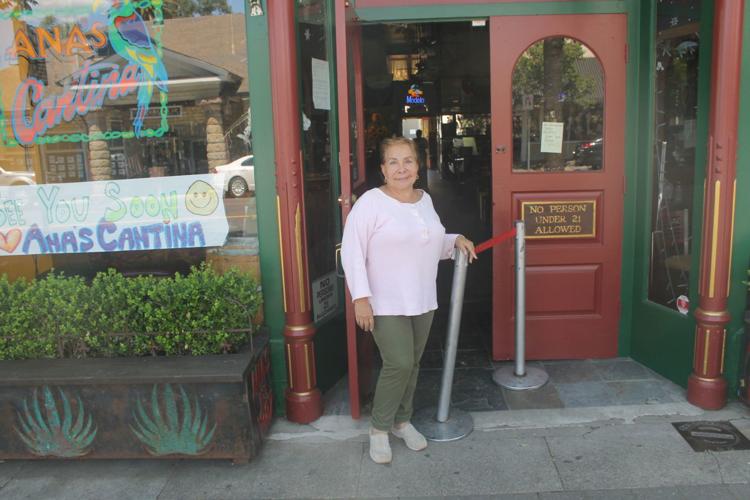 The colorful painted sign on Ana's Cantina, 1205 Main St., reads "See You Soon," although the doors were still locked at 9:10 a.m., Thursday. Later that day, owner Ana Vigil Footman, her husband, Duncan, and her daughters were in the darkened bar. They have spent the past several weeks cleaning, painting and preparing to reopen the kitchen, so they can open to the public.
Footman said she's going to be serving a wide variety of hot dogs and pointed out the new kitchen equipment, still in boxes. She said after a county health inspection, she is hoping to open by Monday, June 1.
Editor's Note: Because of the health implications of the COVID-19 virus, this article is being made available free to all online readers. If you'd like to join us in supporting the mission of local journalism, please visit napavalleyregister.com/members/join/.
Concerned about COVID-19?
Sign up now to get the most recent coronavirus headlines and other important local and national news sent to your email inbox daily.