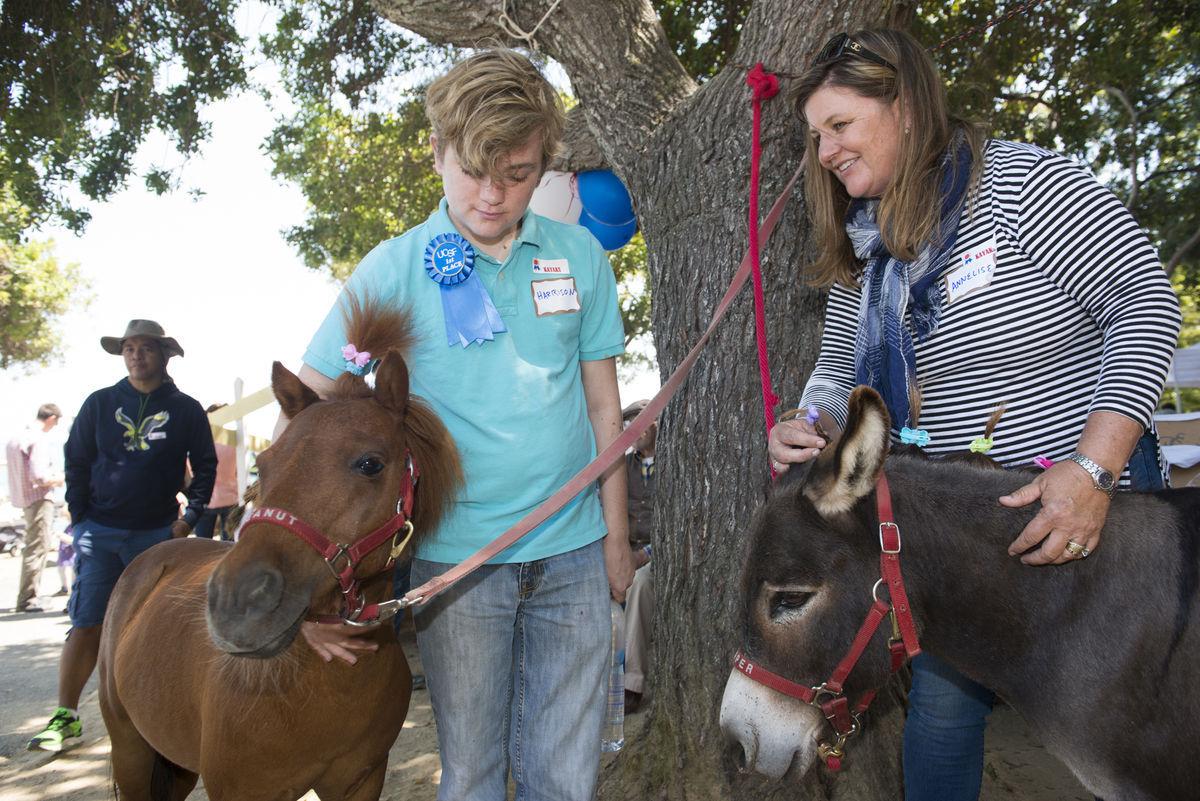 Harrison Schaufel never shies away from the spotlight, so when he was invited to give a speech about his experiences as a kidney transplant recipient, he couldn't refuse.
Schaufel's story is nothing short of extraordinary. Born premature with end-stage kidney disease, he went on dialysis as an infant and received a donor kidney at 22 months old. Today, Schaufel, 14, is preparing for his freshman year at Justin-Siena High School, but keeping his health in check is always his top priority. His mother, Annelise, makes sure of it; after all, she's the one who donated the kidney.
"My mom gave me a kidney," Harrison said. "First she gives me life and then she gives me one of her kidneys. I owe it to her and myself to take extra good care of myself."
"I'm a mom, of course I worry," said Annelise, "but he's a great kid. We make sure he eats right, gets plenty of fluids and rest. It's what you'd want for any teenager, but with Harrison we're always on guard."
Humans are capable of functioning with one kidney, but living with a donor kidney is different. According to the National Kidney Foundation, a person can live with one donor kidney for decades, but the kidney is a delicate organ, so donor kidneys don't last forever. On average, a kidney from a living donor lasts for about 15 years. A kidney from a deceased donor typically is viable for 10 years.
Transplant recipients take immunosuppressant medications for the rest of their lives because the body recognizes a new kidney as a foreign invader and tries to attack it. The immunosuppressants help combat rejection, but they suppress the immune system, which makes patients vulnerable to viruses, infections and even the common cold.
Harrison will be on anti-rejection medications for the rest of his life and at some point down the road, he will need another kidney transplant unless he chooses to go back on dialysis, but he doesn't let that get him down.
"I just try to live in the moment," Harrison said. "I've been through a lot. You never know what each day will bring, so I just kind of go with the flow."
Harrison has been under the watchful eye of the staff at UCSF Benioff Children's Hospital San Francisco since birth. He attends the annual UCSF Pediatric Transplant Picnic each year and said being asked to speak at this year's event was an honor.
"I just wanted to keep it simple. It didn't need to be too elaborate," said Harrison, who participates in musical theater and performing arts in his free time. "The important thing is that transplant kids realize that they are going to be OK. There's a lot of scary stuff that's happening to you at the time and doctors throw around big words, but you're going to make it. You can have a normal life.
"When they asked me to speak, I had no apprehensions. If I can give someone a little bit of hope, then that's what matters. Like I said, if I can make it to high school, so can you."
Marilyn McEnhill, UCSF Pediatric Transplant Program nurse practitioner, asked Harrison to speak at the event, which was held earlier this month at McNear's Beach Park in San Rafael. She said Harrison was the perfect source of inspiration for kids who are just starting their transplant journey.
"I've known Harrison since he was a little thing," McEnhill said. "I first met him in the dialysis clinic when he was about 6 months old and I saw him through his transplant and his routine visits. I've watched him grow up. He's starting high school soon. It's hard to believe, but I couldn't be happier. He's such a fighter."
At birth, Harrison was getting by with his kidneys functioning at 10 percent, but a transplant was inevitable. Before Harrison was born, ultrasounds showed that his kidneys were filled with fluid and weren't filtering waste from his bloodstream like they were supposed to. Harrison was born eight weeks early and doctors hoped to correct the problem with surgery, but they had no instruments to operate on him since he was so small.
Harrison began peritoneal dialysis at 6 months old, which involved being hooked up to a dialysis machine for two hours at a time several times a day. Eventually doctors were able to calibrate a dialysis machine so that Harrison only needed to be hooked up to at night, which offered the family more freedom to go about its daily activities, knowing that Harrison's blood would be cleaned while he slept.
As soon as Harrison was big enough to accept an adult-sized kidney, family members were tested, and Annelise's test results (which include blood and tissue tests) proved her to be the most feasible donor.
Annelise describes her son's kidney transplant as the equivalent of switching out a car battery. After 10 days of recovery in the hospital following the procedure, little Harrison was discharged from the hospital.
"It was the coolest thing," Annelise said. "As part of the kidney disease, he had no appetite, so we had to feed him using a feeding tube. But when he was cleared to go home following the surgery, he said he wanted pizza. So we ordered pizza and he ate it. It was the most amazing thing."
Prior to the transplant, Harrison was also working with speech, occupational and physical therapists to help bring him up to the cognitive and mobility benchmarks for a child his age.
"He'd been in physical therapy to help get him walking, but he preferred to scoot around on his bottom," Annelise said. "He just didn't have the strength to stand, but shortly after the transplant, we took him for his routine appointment, and all of a sudden he was walking. He walked right out of the office. It was like Harrison was coming to life."
Annelise says Harrison's story has been a roller coaster. From dialysis to transplant to treatment, Harrison has had 14 surgeries and spent more than 300 days in the hospital since birth.
The Schaufel family lives in Suisun Valley. As part of Harrison's recovery, he goes to Queen of the Valley Medical Center for monthly blood tests, and he visits UCSF hospital every two months for additional testing. He recently had a biopsy to test his kidney tissue to assess the organ's overall health.
Maintaining a healthy diet and exercise routine is critical for any kidney transplant recipient, but according to McEnhill, teenagers are most at risk for rejection. Young adults have the habit of feeling invincible, McEnhill said, so some kids assume that if they feel fine, they don't need to take their meds anymore, which can lead to kidney failure.
"It can be challenging for adolescents because on the outside they look fine," McEnhill said. "No one can tell you've had a transplant just by looking at you. And kids at that age are so desperate to fit in. They don't want to show any sign of being different."
Harrison said he's open about his transplant and willing to discuss it with people who express interest. "When I tell people I have one kidney or that I had a transplant, sometimes they freak out. I guess it's something you hear about but you don't always get to meet someone who's been through it. It just catches people off-guard at first, especially kids my age. But it's my every day. It's my normal."
Harrison is aware of the severity of his condition and the reality that he may need to go back on dialysis or receive a second transplant, but for now, his focus is getting through the first days of high school.