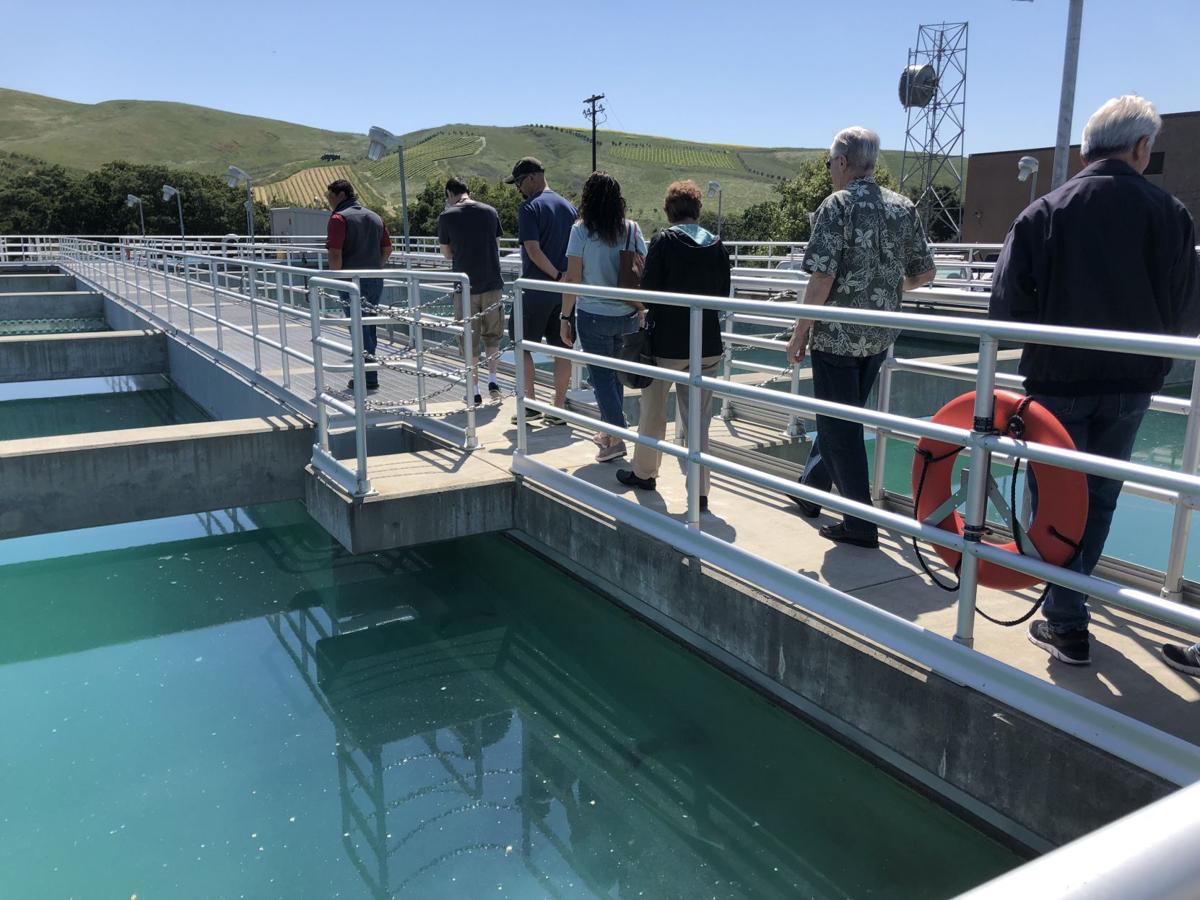 Talk of unifying Napa County's fractured water world has sparked concerns that such a move — if done wrong—might unintentionally weaken farmland protections in famed Napa Valley wine country.
Move cautiously, the California Farm Bureau Federation, Napa County Farm Bureau, Napa Valley Grapegrowers and Winegrowers of Napa County advised. They want to make certain a countywide water agency wouldn't hurt farmland, possibly by influencing land use.
"We're here to preserve agriculture and make sure the ag preserve is not put at risk inadvertently by any policy changes," said Molly Moran Williams of Napa Valley Grapegrowers.
Michelle Benvenuto of Winegrowers of Napa County said centralizing countywide power over water in an agency dominated by cities could put agriculture at risk.
"You create a new layer of government and it does tend to take on a life of its own," said Christian Scheuring of the California Farm Bureau Federation.
Some local leaders don't see a push to create a countywide water agency, but rather the start of a conversation on how to improve Napa County's water situation. American Canyon City Councilmember Kenneth Leary said there is a menu of options.
Leary foresees "further, in-depth studies" before the county and its cities make any policy changes.
Fourteen public agencies deliver water and wastewater services to communities ranging from the city of Napa to the far-flung, rural outpost of Berryessa Estates. A draft study for the county's Local Agency Formation Commission recommends exploring a degree of unity, perhaps even creating a countywide water agency.
Napa County's separate and autonomous water utilities reflect a rural history of city-by-city funding and self-management, the draft study said. A countywide district or agency could have such advantages as economies of scale and shared resources and expertise.
In Marin County, one water authority manages all water treatment, delivery and wastewater services, the draft study said by way of example.
Some local officials say the draft study is merely encouraging an open-minded conversation on the water unity topic, with a countywide water agency one of many possible outcomes. They see no reason for fear.
"I'm very open to having this discussion, " Yountville Town Councilmember Margie Mohler said. "There is nothing preconceived in my mind or this document about having a discussion."
Napa County Board of Supervisors chairperson Diane Dillon said the draft study "leaps at" a countywide water agency by recommending the next step is discussing the topic. But it doesn't present sufficient underpinnings for reaching that conclusion, she said.
County Planning, Building and Environmental Services Director David Morrison said the draft study contains "value-laden" statements in favor of a countywide agency, while not exploring potential drawbacks.
"It does come across as being a one-sided though subtle argument," he said.
The county in a letter expressed concern that the draft study's section on St. Helena mentions the city might someday extend wastewater services to the Meadowood resort and businesses south of the city in unincorporated areas.
Extending services to these areas could lead to the annexation of farmland. That agricultural land would then be without protection from development provided by voter-approved Measure P, which only applies to the unincorporated county, county officials said.
All of this is played out Oct. 5 before an obscure agency called the Local Agency Formation Commission (LAFCO) of Napa County. The agency board considered adopting the draft countywide water and wastewater study, but delayed until Nov. 2.
LAFCO and consultants will do more work on the draft study. That includes addressing a disagreement with American Canyon over that city's water service area.



Watch now: NapSan dredging project
Photos: The Glass Fire's aftermath in Deer Park
Get local news delivered to your inbox!
Subscribe to our Daily Headlines newsletter.