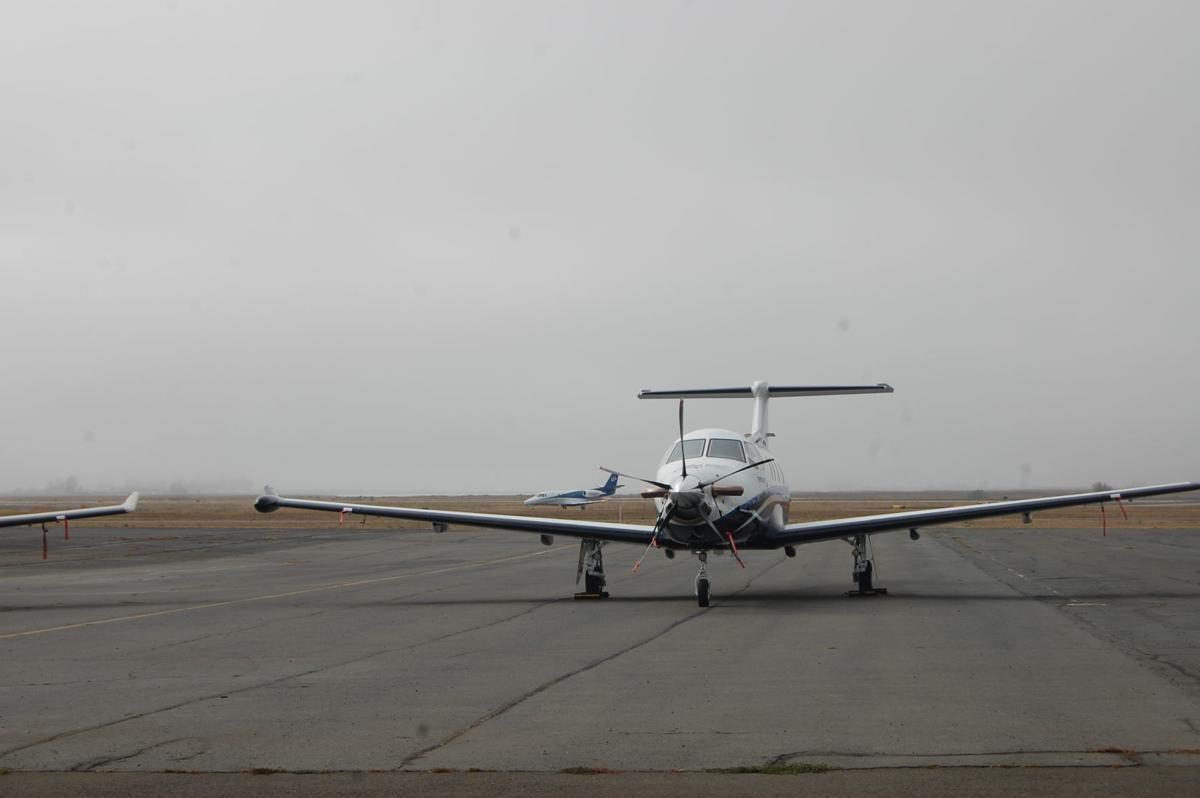 Napa County's goals of having more housing and protecting Napa County Airport could clash at Oat Hill in American Canyon.
American Canyon is entertaining the idea of allowing as many as 174 houses and apartments on 30 acres along the eastern slope of Oat Hill. However, much of that area under the county's Airport Land Use Compatibility Plan could be off-limits to housing.
On Wednesday without taking a vote, the Napa County Airport Land Use Commission decided to send a letter to let American Canyon know it is concerned.
"Airplanes are going to be in very close proximity to all these (possible) residential areas," said pilot and Commissioner Norman Brod.
Oat Hill is a landmark in American Canyon, rising west of Highway 29 from flatlands to an elevation of a couple hundred feet. Napa County Airport is about 1.5 miles to the north.
In August, Rick Hess asked the American Canyon City Council if it might allow housing on his Oat Hill property. A portion of the land is zoned for light industrial with a commercial overlay, so general plan and zoning changes would be needed.
"We all know housing is crucial in the Bay Area and the state," City Councilmember Kenneth Leary said as he and his peers expressed interest. "Making sure working people can live in the county, in American Canyon, I think is important."
The county Airport Land Use Commission oversees policies for land use under airport flight paths. It is guided by the Napa County Airport Land Use Compatibility Plan.
The plan describes zones A through E, with A being the most restrictive. Much of Oat Hill is in Zone D, which covers areas that aircraft routinely fly over creating noise and where aircraft accident risks vary from low to moderate.
Napa County Public Works Director Steven Lederer addressed the commission on behalf of the airport, which is owned by the county. Housing with residents complaining about airplane noise is one of the most damaging thing to airports in the state, he said.
"We are concerned about any land use activity near the airport that could ultimately impact the airport," he said.
American Canyon Community Development Director Brent Cooper said this is the wrong time for the Airport Land Use Commission to take up the issue.
The city has yet to receive an application for an Oat Hill housing project, Cooper said. Changing the general plan and zoning requires technical studies. At this point, there are no facts to support whether housing should or should not be allowed on Oat Hill, he said.
The Airport Land Use Commission disagreed that it should be silent on the issue until a later date.
"For me, it's pretty clear the Zone D is not appropriate for residential development," Commissioner Joelle Gallagher said. "I don't see how this body would support studying that."
Lederer saw a reason for the commission to make a statement at this time.
"As we know, the further along a project gets, the more an applicant invests in a project, the harder it is to say 'no' to a project," Lederer said.
Napa County Airport was built during World War II.
"The airport was there first," Brod said.
Commissioner Jeri Hansen described what the commission's letter to American Canyon should say: The commission supports housing projects, especially affordable housing, but has specific concerns about the suitability of this site for housing.
"We would hope this would be a step in more communication about this issue if necessary between the two jurisdictions, to the degree possible," Hansen said.
If the project proceeds, the Airport Land Use Commission would ultimately vote whether Oat Hill housing is compatible with the airport. Should the commission vote "no," the American Canyon City Council could override the determination by a four-fifths vote.