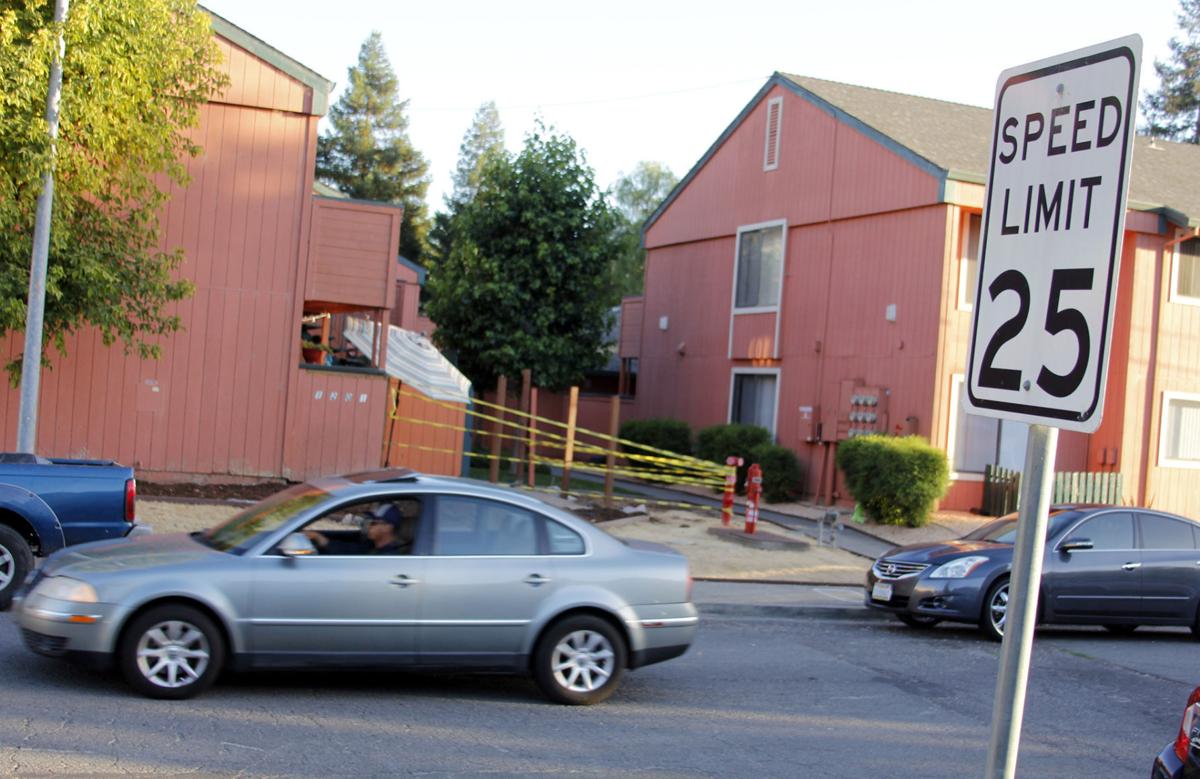 After a vehicle crashed into one of their patios in July, residents at Valley Oak Apartments are asking that the city do more to prevent speeding along Coombs and Spruce streets.
"I'm just really concerned for everybody in our complex," said Monique Lalonde, who has two young children. The traffic issues surrounding the complex have been an ongoing problem. Not only do motorists "fly" down her street, she says, but, on most nights, they even have drag races down the dimly lit street.
Even with her window closed, she said, she can hear vehicles with revving engines at all times — day and night.
Since moving into the apartments six years ago, Lalonde said that she has asked neighbors to slow down, put out her own "children at play" sign and, in one case, has almost gotten into a physical altercation. She says she knew it would only be a matter of time until something happened.
"There are constant near misses," she said. One of those "near misses" happened last month when a motorist drifted off the road and crashed into Kimberly Perry's patio, breaking the fence and some of her belongings.
"I lost a bench and some planters … at least we didn't lose life," Perry said. Luckily, she said, neither she nor her two children were home at the time, but they were supposed to be.
Witnesses said that the driver was heading south on Coombs Street when the motorist lost control of the vehicle and went up onto the sidewalk, hitting the fences at about 12:18 p.m. on July 19, according to Napa City Fire. The driver then backed up and left the scene, firefighters said.
Just a few nights later on July 21, there was another wreck near the intersection of Coombs and Spruce streets at about 2:30 a.m., according to Napa Police. Traffic Sgt. Kristofer Jenny said that it appears that the motorist was travelling south on South Coombs when he veered across the roadway and crashed into a parked car.
When officers arrived, the driver, Beau Gillenwater, 26, of Napa, was still in the driver's seat of the vehicle with the engine running while exhibiting signs of intoxication, Jenny said. Gillenwater was arrested and booked at the Napa County jail on suspicion of driving under the influence.
Napa Police have received complaints regarding speeding along Spruce Street, but have concluded that regular enforcement isn't warranted, Jenny said. Results from the radar trailer, which has been used to monitor speeds on the street three times in the last 18 months, have shown that the majority of drivers are travelling at a speed of 26 mph and that the average speed on the road is between 21.31 and 22.17 mph, Jenny said.
Officers observing traffic in the area had the same finding, he said.
"The conclusion was there may be a few 'speeders' but the low traffic volume and accident rate of less than one collision per year did not warrant regular enforcement," Jenny said. There have been eight traffic collisions in the area since 2008, he said. Speed was cited as the cause in only one.
"At less than one collision per year with varying causes, it does not appear to be a dangerous intersection," Jenny said.
The radar trailer is expected to be brought back out to Spruce Street on Wednesday.
Deployment of the trailer doesn't help, says Ann Buchanan, who has been the apartment manager for 22 years.
Traffic has always been a problem, but it's gotten worse in the last seven or eight years, she said. Because of it, she said, children living in the complex aren't even allowed to play outside.
"It's just too risky," Buchanan said. "This street is like a little Soscol Avenue."
Marcus Williams, who recently moved into the complex, said that he too is worried about his safety and the safety of other people in the apartments.
"I got some major concerns, to be honest," said Williams. Williams was hit by a drunk driver five years ago and is confined to a wheelchair. "I moved to Napa for peace and quiet not to be killed by a traffic incident."
Williams said that he hasn't had that "peace and quiet" since moving to Valley Oak Apartments. Instead, he said, he hears vehicles speeding by the apartments at all times and, since the first wreck last month, he hasn't been able to sleep very well. He even moved his bed frame away from the wall facing Coombs.
"You hear it, right?" Williams said as a Corvette passed by, revving its engine. "This is a busy road," he said. "It's busier than I thought it would be."
Williams described the ramp on the sidewalk at Coombs and Spruce as a ramp leading vehicles right into either Perry's or his own apartment. The only thing protecting them, he says, is two trees.
Even driving on Spruce Street is dangerous, Williams said. When turning left from Spruce onto Coombs it's "almost impossible" to see if the road is clear, he said. "You don't see anyone coming until you're almost hit."
The police department's three-person traffic unit receives between 10 and 20 complaints a week regarding traffic in the city, Jenny said. That includes complaints about speeding vehicles, motorists running stop signs, commercial traffic, loud trucks and parking.
"For the most part, there is some truth to each of the complaints." Jenny said. "Usually we find a few speeders in a short time period, like school drop off and pick up times – then traffic returns to normal."