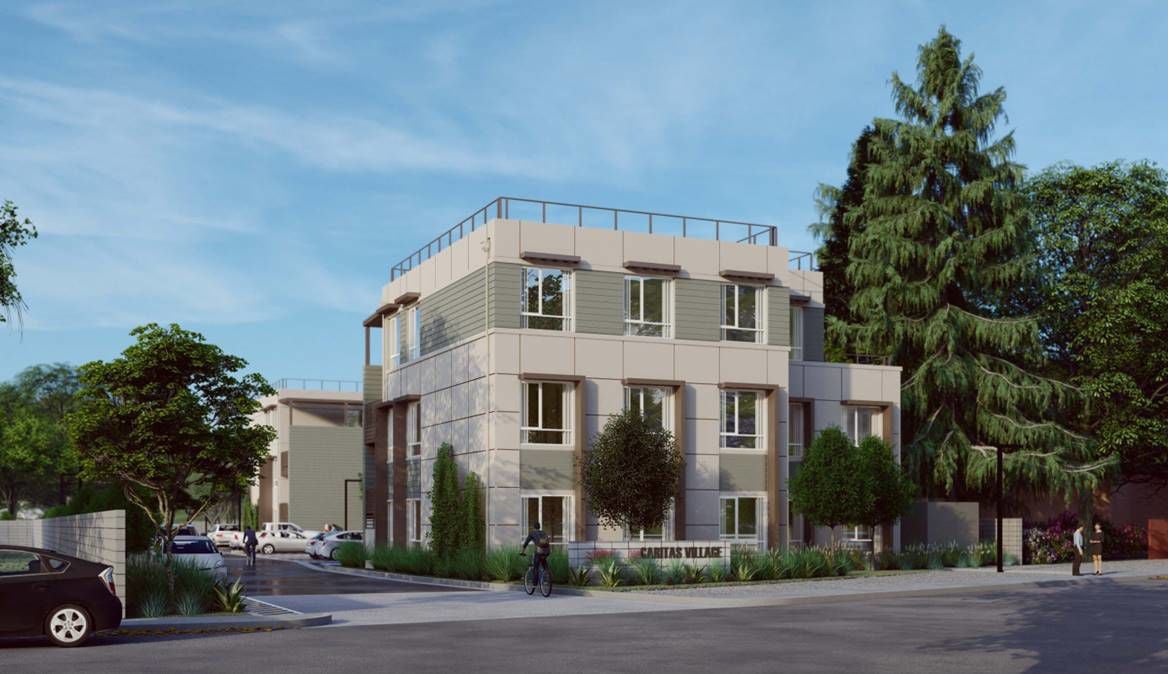 A cluster of 20 apartments approved this week by the Napa City Council will stand out for its potentially time-saving modular design – and as an early example of the city exacting affordable housing as the price for welcoming another hotel into a booming tourism industry.
Council members unanimously supported the rental complex offered by Caritas Corp., an Irvine-based nonprofit developer, for a three-quarter-acre site at 2375 Old Sonoma Road. Half the apartments will be offered to tenants earning less than 80 percent of Napa's median income, with the rest set aside for renters making no more than 20 percent of the median.
The apartment project, which the city Planning Commission endorsed last month, represents Napa's first direct trade of a hotel for affordable housing – a product of the city's 2018 approval of a 253-room Marriott in the Napa Valley Commons. Council members at the time set a condition that the hotel developer Pacific Hospitality Group, which founded the nearby Meritage Resort and Spa in 2006, also build at least 12 units of rent-limited housing, a step long advocated by local housing advocates wary of lower-wage hotel and restaurant jobs they said contribute to traffic congestion as employees drive into Napa from more affordable communities.
The Old Sonoma Road complex will be pieced together from prefabricated units made by Blokable Inc. in Vancouver, Washington, then trucked into Napa to be assembled into a pair of three-story, 10-unit apartment buildings and a third building that will serve as a community space. A playground and picnic area with a grill also would be installed for tenants.
Site work including the demolition of two vacant houses will begin in early 2020 after the rainy season ends, with a goal of having the apartments ready to occupy in 2021, according to Nelson Del Rio, co-chief executive of Blokable.
You have free articles remaining.
Eleven units will include one bedroom and the others will include two. Of the 10 apartments to be reserved for people with below-median incomes, the bar will be set at 80 percent of the median for eight of the units and 50 percent for two others.
No residents spoke out on Tuesday against the Caritas project, which will be surrounded by a mix of apartments and smaller single-family homes around Old Sonoma Road. But Councilmember Scott Sedgley urged his colleagues to stand up in support of affordable housing even when facing stiffer resistance.
"I imagine in some neighborhoods, if this was proposed, there would be a lot of pushback on compatibility and design, but hopefully this council has the courage," he said before the vote.
"If we truly believe in providing affordable housing, we're going to have to include these types of projects around our town. I believe this is the future, and if we truly want to provide affordable housing, this is the model that's going to provide it."
Caritas' project will join a slate of affordable rental housing that has recently opened or won city approval. In November, the 50-unit Stoddard West complex opened on Gasser Drive, as did Napa Courtyards, a 20-unit development on Coombsville Road. Both projects were fully rented out with lengthy waiting lists, and five apartments at Napa Courtyards were set aside for recently homeless tenants.
Howard Yune's memorable stories from 2019
These are the five Register stories I feel had the most impact, or touched people most deeply, in 2019.