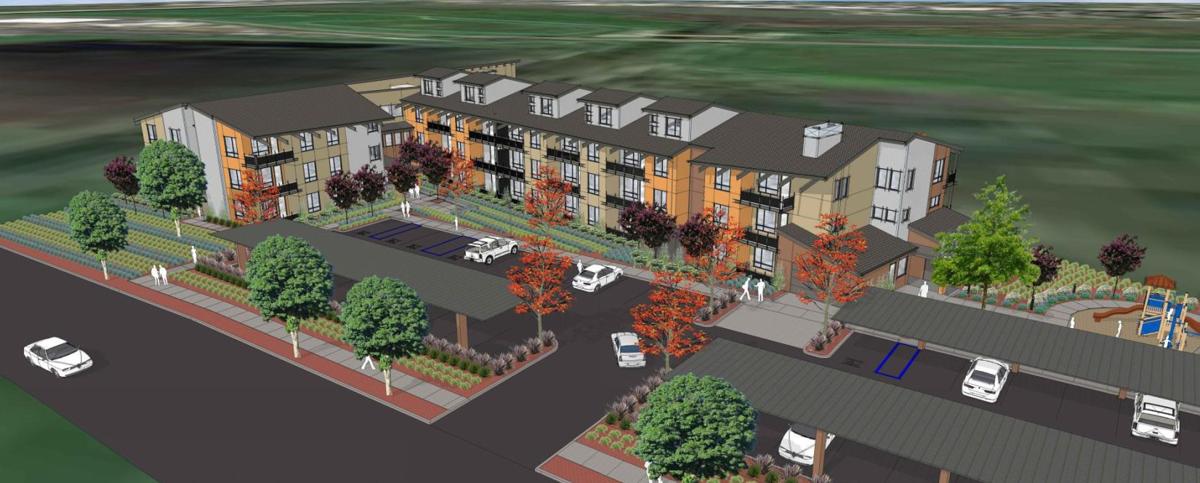 Napa has given its blessing to a new cluster of urgently needed lower-cost rental apartments. Now its developer is preparing for a state decision on a major tax credit needed to turn the housing into reality.
The City Council's approval Tuesday night of permits and a $1 million loan removed the last local hurdles to the Stoddard West Apartments, a three-story building envisioned west of Soscol Avenue on land owned by the Gasser Foundation. Burbank Housing plans to create 49 dwellings of one to three bedrooms, all reserved for families earning less than Napa's median income.
"The Gasser Foundation has so much land that's for profit, and the fact they've made such a commitment to provide housing – for that, I'm a million percent supportive," said Councilwoman Doris Gentry before the unanimous votes on the $24 million project.
Builders now are looking ahead to another milestone in September, when a state agency will decide whether Stoddard West will receive a prized federal tax credit on the project. The incentive allows for a credit equaling about 9 percent of the construction cost each year for the first 10 years after completion, a benefit the city estimated is worth $10.4 million.
The California Tax Credit Allocation Committee distributes the federal incentives and this fall will issue one of its two annual awards, according to Larry Florin, chief executive of the Santa Rosa-based Burbank Housing. Stoddard West will be competing with similar projects in Solano, Sonoma, Marin and Alameda counties, and plans to break ground in the spring of 2018 if approved for a tax credit.
Proposed housing developments are judged on a point system based on various factors, including the amount of funding promised by local governments and nonprofits. Other financing for Stoddard West includes a $2 million Napa County loan the Board of Supervisors approved earlier Tuesday, as well as $1.5 million from the Gasser Foundation and a $3.2 million mortgage loan.
Stoddard West – named in honor of Vernice (Pat) Gasser, a member of the prominent Stoddard family who co-founded the Gasser Foundation in the 1980s – would consist of 50 rental units, with one set aside for a property manager. The remaining units would be offered at rents affordable to families making less than $52,000, 60 percent of the city's median income.
Gasser Foundation spokeswoman Nancy Watt estimated rents will range from $525 to $1,395 per month, depending on the tenant's income and the size of the unit.
A single L-shaped building, 42 feet tall and with three stories, would house all the apartments – 15 with one bedroom, 20 with two and 15 with three. Stoddard West's 100-vehicle parking area would open onto an extension of Gasser Drive, which is currently under construction and will feature a new bridge south to Kansas Avenue.
Plans filed with the city show an exterior of stucco and metal, with a shed-style roof topped by solar panels. The complex also is to feature a courtyard, community garden, community room and a playground, as well as a bicycle room for those using the Napa Valley Vine Trail nearby.